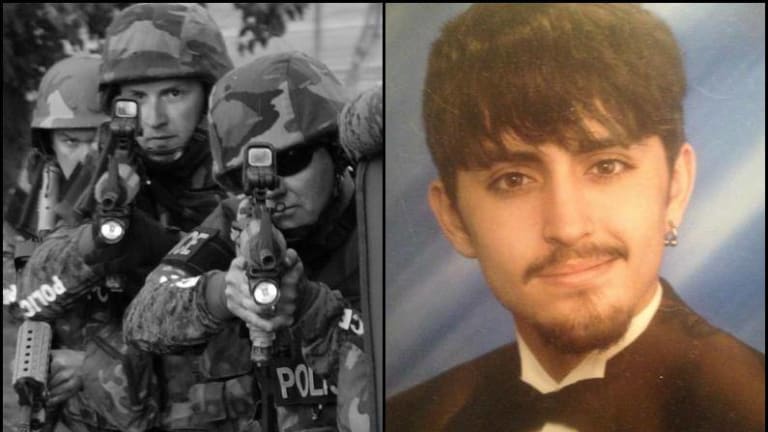 Peaceful Unarmed Man Shot In The Face During Botched Drug Raid
Deltona, Florida - Twenty six-year-old Derek Cruice was shot and killed by police in cold blood this Wednesday inside of his home on Maybrook Drive in Deltona.
Witnesses say that police were conducting a "no-knock" raid where they knocked down the door with a battering ram and entered the home with their weapons drawn. Friends who were inside the home told reporters that police fired their weapons without hesitation, and that it was blatantly obvious that Cruice was unarmed, as he was wearing basketball shorts and no shirt. The friends were also quick to point out that there were no weapons on the property at all.
Cruice was reportedly shot directly in the face by Deputy Todd Raible, and although the police claim that he "advanced" towards the officers, his friends said that this is an absolute lie.
"Volusia County Sheriff's Office narcotics investigators and the Street Crimes Unit were attempting to serve a search warrant at a residence. They were met with resistance and a shooting occurred," Volusia County Sheriff Ben Johnson said in a statement.
"That is completely a lie. I was there; I watched the whole thing. There was no advancement. There was no reaching for anything. The guy was wearing basketball shorts like I am. It's kind of hard to conceal anything or hide anything when this is all you have on," roommate Steven Cochran told reporters.
Friends of Cruice said he is not a violent person, and that he was a great human being.
"I drove by, because it feels surreal and Derek was one of the nicest guys I know. You know, it's not fair for this to happen to somebody like Derek," friend Devin McGraw said.
Cruice was probably a wonderful and generous person just as his friends describe him, and he is not accused of committing any violent crimes, nor is he accused of any theft, or fraudulent activity. He was accused of vending substances that the government has laws against, and that was enough to condemn him to death.
John Vibes is an author, researcher and investigative journalist who takes a special interest in the counter culture and the drug war. In addition to his writing and activist work he is also the owner of a successful music promotion company. In 2013, he became one of the organizers of the Free Your Mind Conference, which features top caliber speakers and whistle-blowers from all over the world. You can contact him and stay connected to his work at his Facebook page. You can find his 65 chapter Book entitled "Alchemy of the Timeless Renaissance" at bookpatch.com.