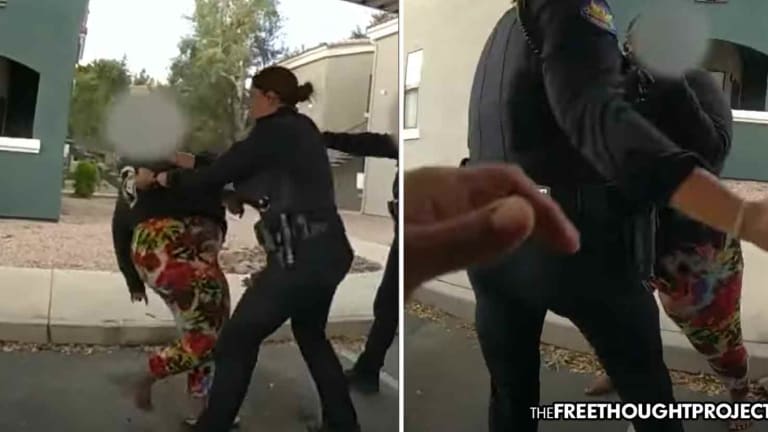 WATCH: 13yo Girl Repeatedly Punched by Police, Tackled for "Getting Too Close:
The Phoenix police department is conducting damage control this week after video reportedly showed officers attacking a 13-year-old girl.
Phoenix, AZ — Phoenix police are conducting damage control this week after video was posted online of one of their officers punching a girl, who is reportedly just 13-years-old.
According to police, the girl was originally suspected of exiting a car that was allegedly stolen. However, it would later be reported that the girl was not in the car at all and was merely walking up to the scene.
As the video shows, the child, whose face is blurred out, is held by several officers as another officer repeatedly punches her in the face. While the abuse is unfolding, the woman filming it is screaming "she's a minor!" over and over. But it had no effect on their actions.
According to police, the girl was arrested for aggravated assault.
"This was a call of an occupied stolen vehicle with several people inside of it, including the minor female in the video. At least two people, including that minor female, were arrested for charges including aggravated assault on a police officer," Phoenix Police Sgt. Ann Justus said, according to FOX 10. 
That was the original statement. However, as mentioned above, police later revised the statement and pointed out that the child was not in the stolen car at all.
Update from PHX PD. Initially, the teen girl was believed to have gotten out of a stolen vehicle. Now we are told she was never in the car but "approached officers" before video shows her punched multiple times by an officer.
A witness to the incident told TFTP that the girl was attacked for recording the officers "racially profile" two young men in a car.
On Tuesday afternoon, police released a statement noting that the girl was too close to officers, so they took her down. They also claimed the girl swung at one of the officers but this is not seen in the body camera footage below.
"A female, who officers later learned was 13-years-old, approached the officers as they were still detaining people. She was warned multiple times to get back. She walked in front of officers as they were trying to put one of the men in the backseat of a police car and was moved out of the way by an officer," Justus explained.

Adding, "The female then passed by the officers who ordered her to stay back, and quickly approached two officers who had a man in custody. A female officer saw her approaching the officers and grabbed her arm to pull her back. The female swung her arm at the female officer, striking the female officer on the right side of the face. The officer's body worn camera was knocked off at that time, and can be seen, on other officers' body camera videos, flying off of her vest. The female officer responded to being hit by striking the female in the face."
As TFTP has reported, the Phoenix police department is known for being a rather violent group of unaccountable officers.
In 2018, we reported on the department breaking a new record, and not in a good way. In only the first eight months of 2018, their officers shot 31 people, surpassing their annual record and they had 4 months left to smash it.
Following the previous record of 31 shootings that was set in 2013, an Arizona State University study was undertaken to examine the phenomena and according to AZ Central, called for "reform and enhanced training" for officers. Such training, as The Free Thought Project has advocated, should include de-escalation training which all Salt Lake City, Utah officers attended. As we previously reported, officer-involved shootings in Salt Lake have plummeted to near zero.
Unfortunately, at the time, Phoenix Law Enforcement Association President Ken Crane appeared to reject de-escalation training as a helpful notion telling The Republic in an earlier interview, "A cop can have all the de-escalation training in the world, but it's not necessarily going to work all the time if you're dealing with extremely volatile, uncooperative people."
AZ Central compared the shootings in Phoenix with two other similar in size metropolitan areas: San Antonio and Philadelphia, both with 1.5 million residents. To date, San Antonio has only seen eight officer-involved shootings, while Philadelphia has a mere four. The 31 shootings by law enforcement officers in Phoenix is almost four times as many as San Antonio and is over seven times as many as Philly.
Unless you desire severe disappointment, no one here should be holding their breath and thinking that the Phoenix police will somehow change course and stop this madness.