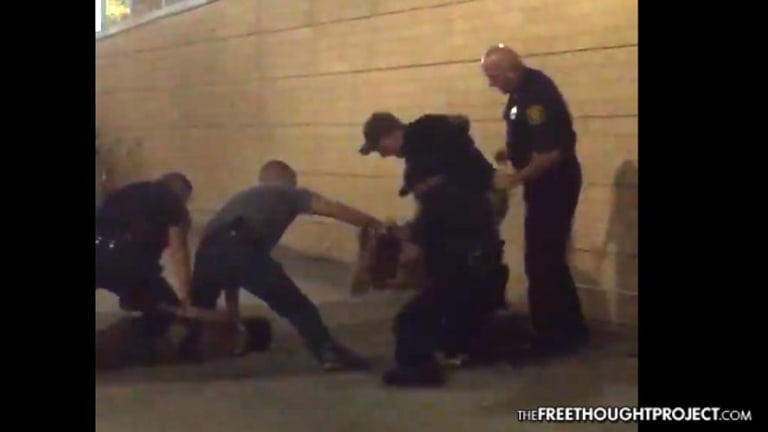 'Use Your F**king Taser Bobby!' Cops Snap, Smash Man's Head Into Concrete Over and Over
In one of the worst cases of police brutality to be captured on video in a long time, Pittsburgh police were seen engaged in a horrifying arrest.
Pittsburg, PA — A horrifying video posted to Facebook this week is now going viral as it shows several police officers savagely beating a seemingly non-violent man.
"It made me sick to my stomach watching it," said Joce Smith, who posted the video to Facebook after she says her cousin filmed it and sent it to her.
In the video, we see five Pittsburg officers conducting a violent detainment of two men, David Jones, 34, who was the man already in handcuffs, and Daniel T. Alderman, 47, who was the man having his head repeatedly smashed into the ground and punched by the officers.
According to city public safety spokeswoman Sonya Toler, Jones was wanted on a warrant for forgery and had previously fled officers during their first attempt to serve him.
"As officers were taking Jones into custody, a man later identified as [Alderman] attempted to interfere with the arrest," she said. "He was forcibly taken into custody and is in the Allegheny County Jail on charges of obstructing the administration of law, resisting arrests, and public drunkenness."
While the interference in the arrest was not shown in the video, the extremely brutal response was, and it shows excessive force, the likes of which equate to Rodney King.
As the video begins, a plainclothes officer is on top of Alderman repeatedly striking him in his head as he yells, "stop resisting!"
Alderman does not appear to be fighting back in any way and only appears to be defending his head from the strikes. After delivering multiple blows to his head, the officer then grabs Alderman by the hair and smashes his face into the concrete over and over as one of the officers yells, "Shut up you fucker! Who the fuck are you?!"
Alderman is on all fours and the only likely reason he's not prostrating himself to be handcuffed is that he doesn't want to be killed by having his face smashed in.
The plainclothes officer then yells, "Use your fucking taser Bobby!" as the officer down on the ground pulls his taser and attempts to deploy it.
"Push the fucking button! God Damn!" the order-barking cop says to the officer who, apparently, is having a hard time deploying his taser.
While the cops keep beating and shocking him, Alderman is repeating, "I was only trying to help you," apparently trying to explain to the officers the reason for his interference.
At this point, after one officer is unable to deploy his taser, the plainclothes cop takes his fellow cop's taser out and deploys it into Alderman back causing him to collapse onto the pavement. He is then placed in handcuffs.
As the Post-Gazette reports, Ms. Toler said the city police bureau began an internal review Wednesday of the use of force. The city's Office of Municipal Investigations and Office of Professional Services are reviewing the incident as well, she said.
Elizabeth Pittinger, executive director of the Citizen Police Review Board, said her office has opened an inquiry into the incident as well, according to the Post.
"I think it's very unfortunate that whatever the facts were, it will be colored by their language and their ferocious efforts to take this person into control," she said.
"For the public to see these officers engaged in that type of violence is disconcerting, it's always disconcerting," she said. "It might have been less offensive if the language didn't enhance the entire thing."
While the language was certainly obscene, you can watch this video below on mute and it will still turn your stomach.
The incident happened late Tuesday night and, according to Toler, none of the officers involved in this horrific act have been placed on leave. They are all currently on active duty. Pittsburgh citizens, beware.