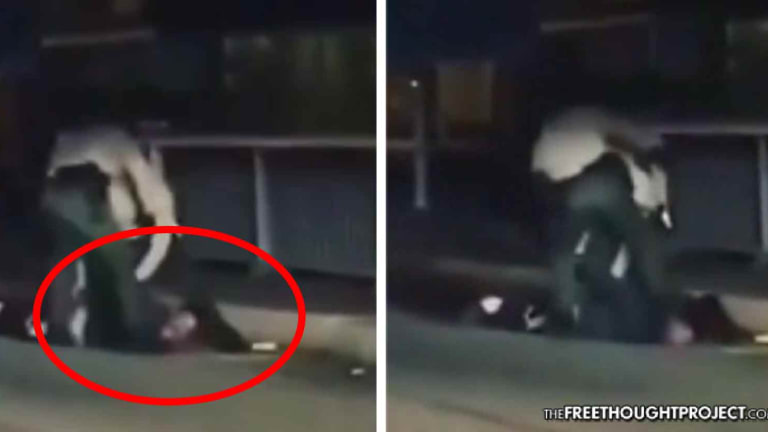 Man Vanishes After Last Seen on Video, Handcuffed, Getting Head-Stomped By Cops
A family is frantically searching for their loved one after he went missing. He was last seen on video in handcuffs, getting his head stomped on by police.
San Bernardino, CA — The family of Gerardo Bernabe Vasquez, 21, is now frantically searching for their beloved family member after he was last seen in handcuffs with a San Bernardino Sheriff's deputy's boot on his face.
According to the family, Vasquez suffered a "mental health episode" last month and they are unsure if he's since relapsed. They are now asking for the public's help in finding him and raising awareness to the fact that he was last seen being beaten by cops while handcuffed.
According to police, the violence started after one officer detained Vasquez for acting strangely. During the stop, a struggle ensued until another officer showed up to help get Vasquez under control. Vasquez was then placed in handcuffs at which point one officer appears to hold him down while another repeatedly stomps on his face.
In the disturbing video, we can hear Vasquez screaming for help as police unleash their fury upon the restrained man.
After repeatedly stomping the young handcuffed man's face, the officers pick Vasquez completely off the ground using the handcuffs as a handle. The pain caused by such an act was likely unbearable and after the abuse, Vasquez appears to be unconscious.
"Nobody deserves to be treated like that," Rose Trujillo, Vasquez's aunt, said.
The incident happened on January 26, and the video was subsequently posted to Facebook until someone submitted to the sheriff's department.
The level of force was so excessive that it has actually prompted a response from the department who noted that the officer has since been given a paid vacation.
Sheriff John McMahon said he is "concerned with the level of force used in the video" by one of his deputies. He added that the department "will conduct a thorough and complete investigation."
However, the department has conveniently failed to release the name of the deputy involved.
Illustrating the entirely unnecessary use of force by officers, Vasquez's only charges stemmed from them detaining him. He was booked into jail last Friday for resisting and obstructing an officer.
Prior to being detained, he had committed no crime.
According to police, Vasquez was held in jail until Tuesday when he was issued a citation and released. He is now missing.
Vasquez's case sounds like the case of 35-year-old Justin Thompson who was also detained by police in a similar manner as he was in the midst of a mental breakdown.
In a video covered by the Free Thought Project, deputies slowly squeeze the air from Thompson's lungs—for 25 minutes—until he finally stopped breathing.
Thompson was brought to the hospital where he was put on life support with no brain activity. For five days, no one even told his family where he was.
Like Vasquez, police told Thompson's family that he was released, so they considered him missing.
When Karen Thompson, Justin's mother called the jail she signed up for automatic text notifications on inmates. On August 7, she got a message saying her son had been released.
They looked for Thompson for over two days.
"I'm frantically calling people," she said. "I called his girlfriend. She had got the note, too, but hadn't heard from him. So, we're calling what friends we had numbers for. I was preparing to drive up there and drive the streets to look for him. We didn't know what had happened to him."
But Thompson was not free, he was in a hospital bed — brain dead.
"On Tuesday afternoon -- the 9th of August -- I have a sheriff's officer here in Kern County that comes in and tells me that my son had passed away and told me he had died of a massive heart attack," Karen Thompson said.
Hopefully, Vasquez is just lost out on the street somewhere and did not suffer the same fate as Thompson.