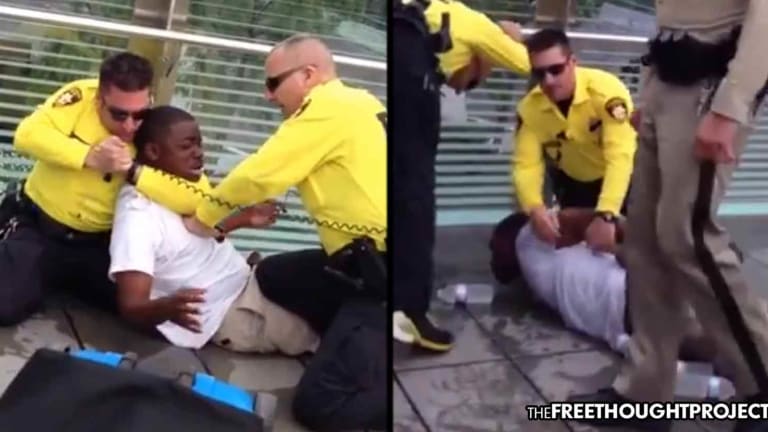 WATCH: Cops Choke and Kidnap Innocent Man for Selling Water on the Street
A disturbing video posted to Facebook this week shows Las Vegas police officers attacking and choking a man for selling bottled water without a license.
Las Vegas, NV — In the land of the free, selling bottled water to willing customers — without first paying the state for the privilege of doing so — can and will get you beaten, choked, and kidnapped by agents of said state. A disturbing video posted online this week shows just how far police will go to make sure you pay them before selling the water.
The video shows a man identified as Jimmy Williams getting manhandled by cops. His only "crime" was trying to earn a living by exchanging money for water in a mutually beneficial arrangement with tourists.
When the video starts, Williams is passively sitting on the ground as one officer has him in a choke hold. Williams appears to be in a state of panic as he struggles to breathe.
"I can't breathe," he manages to say as the cops falsely claim he is resisting.
"Saying he is resisting won't make him be resisting," says a witness, clearly calling out the cops for their sham arrest.
"We're watching you," she says.
As cops continue to act like they have captured this week's most wanted fugitive, witnesses to the violent charade let them have it.
"You're the only one that committed a crime," another onlooker says — and he's right.
Williams had harmed no one. He was not littering, or causing a disturbance, or doing anything to hurt anyone. In fact, his actions were welcomed by folks that day as temperatures soared into triple digits. By any rational measure, Williams was providing a community service. But the cops did not see it that way.
The police officers saw a hardened criminal who would dare to challenge their authority by selling water to willing customers without first paying them for the privilege to do so.
As the video ends, the officers have Williams face down on the concrete having knocked loose a dozen bottles of water. Williams is calling out his phone number so witnesses can send him the video.
Ironically enough, during the attack on Williams, one witness says these cops need "better training."
However, they were doing exactly what they were trained to do. They were acting as the enforcement arm of the state whose job is to collect revenue and punish those who don't pay the government before trying to earn a living.
The disturbing video below was posted to Facebook on Friday with the following description:
This video is someone I know. Jimmy Williams was exercising his right to support himself and/or his family. He was selling water in Las Vegas on a hot day. Do you still think you are free? Do you still think Police are your friends? This is what promoters, water sellers, smut peddlers etc go through everyday on the Las Vegas Strip trying to make a living and trying to put smiles on peoples faces. You have the right to pursue happiness. Whatever that is do it as long as ye harm no one. The police are nothing but a domestic terrorist organization. More people need to wake up. Its not easy. Waking up is hard to do especially when you have been indoctrinated. Rebirth is relearning what you have been taught. Life is not butterflies and crayons. Its not going to be pretty. Its going to a long lonely road but I for one would rather die standing up than to comply. Tis better to burn out than it is to fade cause rust never sleeps.
According to the person who posted the video, the incident happened in 2013 and Williams has since filed a suit against the Las Vegas police department.
BTW this particular incident happened in 2013. Jimmy is ok and is suing the lvmpd.This video is someone I know. Jimmy Williams was exercising his right to support himself and/or his family. He was selling water in Las Vegas on a hot day. Do you still think you are free? Do you still think Police are your friends? This is what promoters, water sellers, smut peddlers etc go through everyday on the Las Vegas Strip trying to make a living and trying to put smiles on peoples faces. You have the right to pursue happiness. Whatever that is do it as long as ye harm no one. The police are nothing but a domestic terrorist organization. More people need to wake up. Its not easy. Waking up is hard to do especially when you have been indoctrinated. Rebirth is relearning what you have been taught. Life is not butterflies and crayons. Its not going to be pretty. Its going to a long lonely road but I for one would rather die standing up than to comply. Tis better to burn out than it is to fade cause rust never sleeps.

Posted by Daman Dashiznit EL on Friday, July 26, 2019