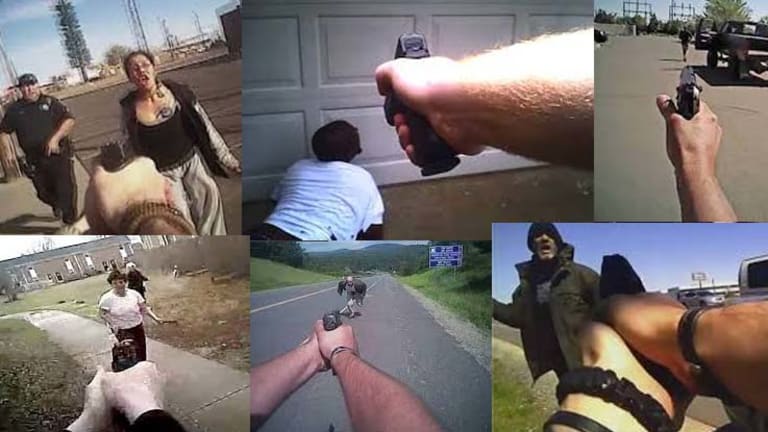 Entire Police Department Just 'Accidentally' Deleted Massive Chunk of Body Camera Video
Oakland Police managed to delete 25% of five years of body camera footage when they made an error during a computer update two years ago.
Oakland, CA — Body cameras should hold police accountable when questions about excessive force are raised — or they would, unless you're the Oakland Police, who managed to delete a quarter of five years of footage the department had stored during a software upgrade two years ago.
Considering Oakland had been one of the first departments in the country to outfit officers with body cams beginning in 2009, the quantity of irretrievable footage constitutes a tremendous loss.
Sgt. David Burke revealed the astonished flub as he testified Tuesday in the trial of two men accused of murdering Judy Salamon in 2013. Though body cam footage represented only a minor facet of that case, the revelation nonetheless evidences pitfalls common with fledgling technology.
"Nothing should have ever been lost from the system," Burke told the court, according to the San Francisco Chronicle. "The settings were set to never delete."
However, human error — not the technology, itself — was responsible for the vanishing the recordings.
Deputy District Attorney Butch Ford, prosecutor in the Salamon murder trial, told the court information technology workers attempting an upgrade of the police department's computer system — that stores 'dozens of terabytes of the body-worn camera footage' — checked the wrong box.
Instead of hitting "preserve everything," Ford explained, the hapless workers chose only "preserve."
The Chroniclereports:
"A month later, Burke said, officers realized there was a problem when they searched for a video and couldn't view it. Metadata revealed that 25 percent of all videos that had been captured since the start of the body-camera program in 2009 were wiped out. A backup system had been purchased but hadn't been set up, Burke said."
Oops.
Fortunately, some footage escaped the accidental mass deletion: anything specifically marked as evidence and footage also stored on an external hard drive. Ford insisted the inept expunging hadn't significantly affected any cases, though how the department discovered the mistake — searching for a specific tape — would seem to show otherwise.
In fact, having the history of an officer's behavior as captured by body cam could be imperative to determining guilt or innocence if allegations of misconduct or excessive force occur in the future.
Oakland, a trailblazer in police body camera policy, didn't necessarily score so well in an August report on such policies in departments nationwide, as RTreported.
In fact, Oakland Police were dinged for — you guessed it — footage retainment policy.
Although activists and advocates have zeroed in on the need for federal law requiring the use of body-worn cameras to reduce police violence, a surprising study published in August found that might not be such a good idea.
Researchers with Temple University's Fox School of Business wrote:
"Surprisingly, we found that the use of wearable video cameras is associated with a 3.64% increase in shooting-deaths of civilians by police. We explain that video recordings collected during a violent encounter with a civilian can be used in favor of a police officer as evidence that justifies the shooting. Aware of this evidence, the officer may become less reluctant to engage in the use of deadly force."
On May 1, 2015, the Justice Department announced $20 million would be expedited as part of President Obama's three-year, $75 million plan to outfit 50,000 officers with body cameras.
Whether or not violence increases when police use the wearable technology, body cams are becoming commonplace everywhere in the United States.