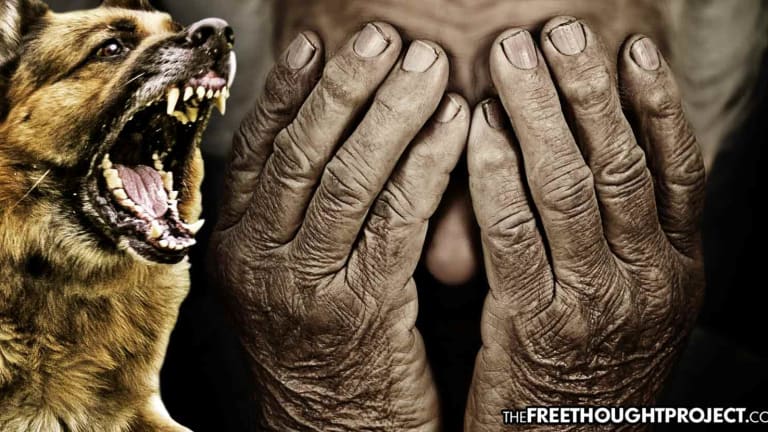 Grandma Allowed Cops to Search Her Garden for a Drug Dealer and Their K9 Mauled Her to Death
"The dog had punctured and broken her arm, ripped her other arm, and then managed to bite off her calf muscle after it had been restrained."
Proving just how dangerous it can be to give police permission to search your property, a 73-year-old woman died after being mauled by a police K9. She had just given police permission to search her garden for an alleged drug dealer before the dog attacked her.
Irene Collins, who'd been battling lung cancer and emphysema, was attacked in her own home by the police officer's German shepherd as Cleveland police searched her property for a drug dealer.
During the course of the search at her home in Middlesbrough, North Yorkshire, officer Mark Baines let his dog loose and it went inside the home of Collins.
"On 16 July 2014, officers from Cleveland police received information regarding a male suspect involved in a drug transaction. It was believed the suspect may be in a garden at the rear of Penrith Road," assistant coroner Karen Welch said at the opening of the hearing this week, according to the Guardian.
"In the course of the search, a dog handler, PC [Mark] Baines, and his police dog Dano were brought in. Irene Collins gave permission for her garden to be searched and remained inside her home.
"You will hear that Dano gained access to Irene Collins's home and bit her on more than one occasion. Police officers responded quickly and gave first aid. She was taken to James Cook University hospital, but despite the best efforts of medical professionals, she died on 20 July 2014."
As TFTP reported in 2014, one neighbor reported that "she wasn't bitten, she was mauled. A relative told me the dog had punctured and broken her arm, ripped her other arm, and then managed to bite off her calf muscle after it had been restrained."
As a report in the Guardian notes, the pathologist recorded the cause of death as cardiorespiratory failure due to COPD, cancer of the lungs and dog bites.
"Dr Egan recorded at the time she would not have died when she did – notwithstanding her medical difficulties – had it not been for the dog bites," Welch said.
According to the Guardian:
Giving evidence to the inquest, Sgt Neil Yates, an armed response officer who was in charge of the police operation, said he went into the house when he heard the dog's handler say over his radio that Collins had been bitten.

He described finding the dog savaging her right arm. "PC Baines had Dano by the collar. Dano was wearing two collars and he had him by the larger, more substantial one," he said.
"Looking down to her right lower leg, she had an injury to her leg. I came to the conclusion the dog had also bitten her there. There was quite a lot of blood on the floor," he said as he pointed out that the entirely innocent elderly woman hadn't done anything to provoke the dog.
The hearing is expected to last five days to determine the exact cause of Collins' death. However, to those who knew her, the cause of death is obvious.
As TFTP has previously reported, being innocent or even an elderly woman is no defense against being mauled by a police K9. An 81-year-old grandma was hospitalized last year after she was attacked by a police K9 while cleaning her shed in her own backyard. Police then claimed that they 'acted appropriately' when they unleashed their dog on this innocent woman.