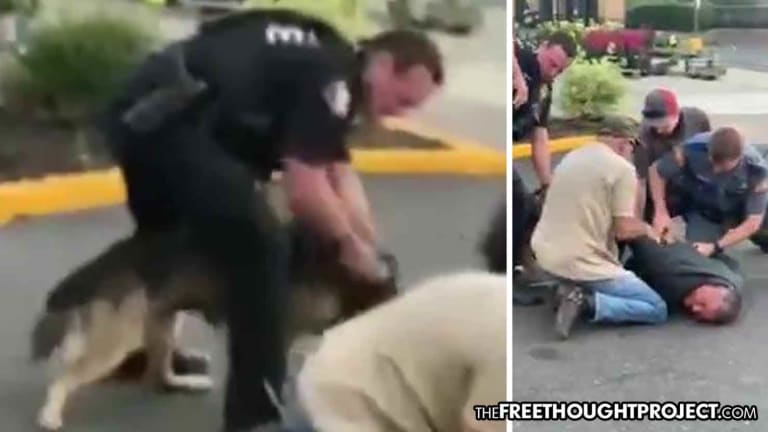 Disturbing Video Shows Cop Forcing K-9 to Maul Pinned-Down Man
Police say they followed proper procedure when they sicced a K-9 on a man who was pinned down by three men.
Yakima, NY -- A disturbing video was shared with the Free Thought Project this week showing a traffic stop for a suspected DUI end with a police officer forcing his K-9 to maul a man as several people held him down.
"He was in control of the situation," Lt. Chad Stephen said of the suspect, 53-year-old Jose L. Zaragoza. "If he wasn't doing anything wrong, why did he not stop for the police?"
But the witness who filmed the interaction disagrees.
"There was already a state patrolman on top of him, civilians on top of him, yet they chose to have the dog come out and bite him," said Noemi Sanchez, who witnessed the incident and began recording it.
According to the police, as reported by the Yakima Herald, the situation unfolded as follows:
The trooper first spotted Zaragoza driving a red GMC Sierra east on U.S. Highway 12, partially crossing the lane three times, according to a probable cause affidavit. When the trooper tried to stop him, Zaragoza headed to North 40th Avenue and pulled into the parking lot at Fred Meyer, where he drove 20 mph as he made a loop around the lot, the affidavit said.
Zaragoza then "suddenly" stopped his vehicle, the affidavit said, he got out and refused the trooper's orders to get on the ground. As he walked to the store, Zaragoza was wrestled to the ground by the trooper, and a bystander assisted the trooper in holding him down until backup arrived.
During the struggle on the ground, Zaragoza refused to put his arms behind his back, the affidavit said, and a Yakima police officer brought in a police dog who bit Zaragoza's leg until his hands were cuffed, the affidavit said.
According to Sanchez, Zaragoza couldn't understand the officer's orders because he didn't speak English -- possibly explaining why he didn't stop when he was walking into the store.
"Any time he was given directions in English, he could not follow it, but when it was translated into Spanish he could," Sanchez said.
Stephens disputed Sanchez's claim that Zaragoza could not understand English commands.
"That is absolutely 100 percent false. He spoke English, but he preferred Spanish," Stephens said. "When he was questioned later, he understood English."
However, during his hearing this week, he required the assistance of a Spanish interpreter.
According to the Herald:
Deputy Yakima County Prosecuting Attorney Heather Thorn argued for $20,000 bail, noting Zaragoza's three prior DUI convictions in 2012, 1997 and 1993, the fact that he was driving at 20 mph in a store parking lot where people were walking, and his resisting arrest.
But defense attorney Paul Kelley argued there was no probable cause for eluding since Zaragoza did not drive at high speeds on the highway or North 40th Avenue, and that his speed in the parking lot was debatable.
Below is that video:
While Zaragoza escaped with only injuries to his legs, others have not been so lucky and were even killed.
As TFTP reported, Irene Collins, who'd been battling lung cancer and emphysema, was attacked in her own home by a police officer's German shepherd as Cleveland police searched her property for a drug dealer.
She had committed no crime and had only granted police permission to search her back yard.
During the course of the search at her home, officer Mark Baines let his dog loose and it went inside the home of Collins. The dog mauled her to death.