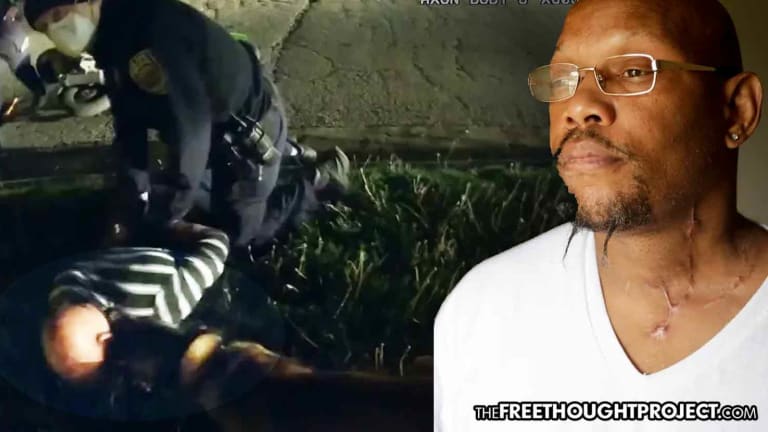 Horrifying Video Shows Cop Make K9 Maul Non-violent Man by His Neck After He 'Fit the Description'
Richard Bailey Jr. was not violent and only verbally argumentative when cops took him to the ground, released the K-9 and had it maul his neck.
Lafayette, IN — Richard Bailey Jr., a black man from Northwestern Indiana, fit the description of a man accused of assault and would nearly be killed because of it. Newly released video shows cops released a K-9 on Bailey — despite only passive verbal resistance — and allowing it to maul the man by the neck for over 30 seconds, nearly killing him.
The three officers involved in this "extraordinarily violent" attack on Bailey are now the subject of an investigation. According to the Journal & Courier, on June 11, Tippecanoe County Prosecutor Patrick Harrington requested a special prosecutor to investigate the battery and resisting allegations against Bailey and to investigate the three Lafayette police officers — K9 Officer Josh Saxton, Officers Nicholas Klimek and Victor Sikorski — for possible crimes against Bailey during the apprehension.
According to police, as reported by WLFI, officers responded to a 911 call at 12:24 am about a reported fight happening at a home on Brampton Dr. When they arrived they found 46-year old Richard Lee Bailey Jr., who they came to arrest for suspected battery and intimidation. According to police he fought with and threatened to stab the three people living in the home on Brampton Dr.
Bailey's attorneys disagree, however, and say that the 911 dispatch gets the story wrong, and that Bailey himself was the one who was attacked.
As the video shows, when police stop him, Bailey is clearly agitated but he is non-violent and sitting on his scooter that is not even running.
"I was loud and everything because I was scared a little bit," Bailey said of his encounter with Klimek and Sikorski. "… I was trying to plea my case to the police.
"I was on my moped trying to leave. The moped wasn't even started yet," Bailey said, admitting he'd had a couple of beers that night before his encounter with the police.
When Saxton arrived at the scene, Bailey is heard on the video loudly asking, "What probable cause do you have, sir?"
"He's a suspect in a battery," Saxton said, according to his body cam. "If he's going to act like that, he can be detained."
Saxton said, "Hey. There's a dog in that car. If you fight, you're going to get dog bit."
After going back and forth a few time, officers then pry Bailey's hands from the scooter's handlebars and throw him to the ground.
Before Bailey could even react, police released the dog who went straight for the man's neck.
"Here! Here! Here!" Saxton called to his dog. "Right here!"
The dog latched on and tore into Bailey's neck for over 30 seconds — easily enough time to kill the man. Bailey tried to stop the dog from tearing apart his neck, but he was unsuccessful.
"Stop moving!" the officer yells at a man whose neck is being shredded by the K-9.
"I wasn't fighting the dog," Bailey insisted. "All I did was reach up and grabbed the dog's mouth 'cause he's on my throat. That was the natural reaction. I'm not fighting the dog or trying to hurt the dog. The dog's hurting me."
That's about all Bailey remembers. He would wake up six days later after slipping into a coma with a tube in his throat.
Bailey recorded what the doctor told him during a follow up and the description is chilling to say the least.
"The dog, when he bit you, lacerated your windpipe, … and it had hit the main artery that goes to your brain on this side (left). And that's completely blocked off," the doctor said on the recording.
"You had a tear in your trachea," the doctor said. "What I did, I fixed where they put the tube in so you could breathe. Then we put this in through the injury site.
"Then the rest was just muscle and other tissue that had been torn apart, and we put that back together again."
"They must have been trying to kill Richard Bailey that night, they must have been," said one of his lawyers, Fatima Johnson. "If a dog bites your neck, its obvious what's going to happen."
"The force was just extraordinarily violent," another of Bailey's attorneys, Swaray Conteh, said last week during an exclusive interview with the Journal & Courier. "They didn't have to do that. Two of them could have placed him in handcuffs and took him wherever they wanted to. They didn't need the assistance of a K9."
What do you think? Do you think the deployment of the K-9 on a non-violent man was justified in the video below?