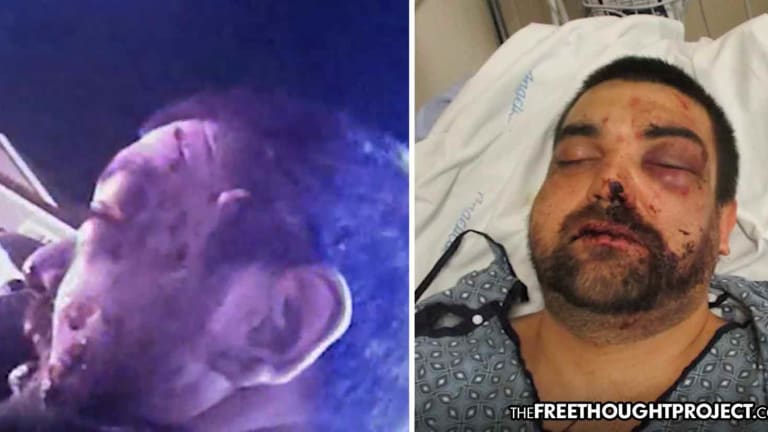 WATCH: Cops Hold Man Down as Fellow Cop Smashes His Face In with His Boot
A man was left severely injured after police officers held him down while another officer began kicking him in the the face.
Fresno, CA — Police officers across America deal with horrific and often tragic cases on a daily basis. From coast to coast, they have to tell families that their child has been run over or their mother committed suicide or that their father has been killed in a car wreck. This job can be incredibly stressful and gut wrenching, which would make one think that adding extra stress to the job would be a terrible idea. However, cops, like the ones in the video below—on a daily basis—create more stress for themselves by turning people against them by committing despicable acts of unnecessary violence.
A rather disturbing video was just released this week showing Richard Bernier being held down by officers as he gets a boot directly to his face. Bernier was not a threat, was not resisting, and was subdued when the unknown officer delivered the face shattering blow.
"It's very evident that at the point he was kicked in the head he was no longer a threat to authorities. It looked like there were at least two maybe three officers attending to him on the ground," said Kevin Little, an attorney representing Bernier in an excessive force lawsuit.
According to police, Bernier was suspected of DUI in November 2017 and ran from police, on foot, as they attempted to apprehend him.
The video was taken in front of Bernier's home after police had him on the ground. It shows more than one officer on top of Bernier, who appears to only be vocally protesting. Then, without reason, an unidentified officer kicks him in his face.
The kick was so hard that it broke Bernier's orbital bone and caused him traumatic brain injury. As you can see in the video, he eye turned black from the hemorrhage before he was even placed in the cruiser.
After Bernier was arrested, he made bail and was hospitalized. A few days later, all the charges against him were dropped.
Because he was savagely attacked, Bernier then filed a complaint with the department and notified them of the lawsuit. In a seemingly blatant act of retaliation—despite dropping the charges months before—after Bernier filed a complaint, prosecutors brought up new charges against him.
"A person's decision to pursue civil liberties against officers should not dictate whether or not charges are filed against him," said Little as he referred to the charges as retaliatory in nature. However, that is exactly what appears to have happened.
Bernier pleaded not guilty to all the charges of evading arrest and DUI.
As ABC 30 reports, Little still doesn't know who kicked Bernier, so he filed his case against three separate agencies, saying they're all responsible for staying professional even in stressful situations like a chase.
"We don't want to have an armed goon squad patrolling our streets," Little said.
Police officers who are unable to control their aggression should be the shame of the entire occupation as their violence—on top of cops locking people in cages for illegal substances—is one of the most effective ways to taint your public perception. Until the good cops start calling out, kicking out, and arresting the bad ones, we can expect this public image to continue to deteriorate.