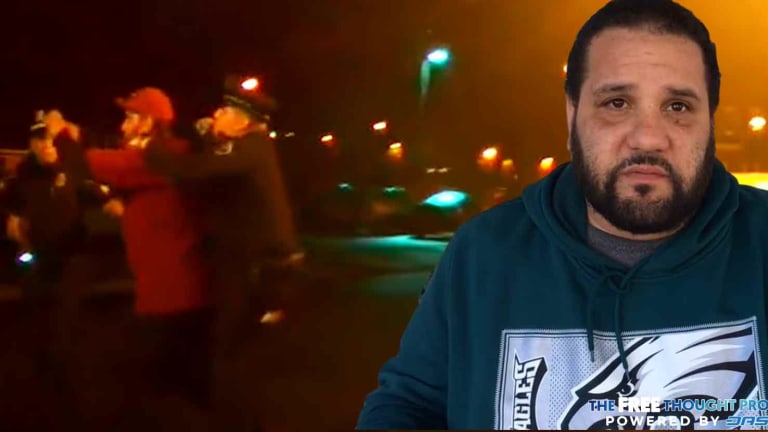 WATCH: Cops Punch Innocent Man in the Head 12 Times & Joke About It with Fellow Cops
Infuriating video shows police beat up, kidnap, and charge an innocent man and then laugh and joke about it after.
Camden County, NJ — Edward Minguela had done nothing wrong and was simply walking home last February when he was attacked by Camden County police officer Nicholas Romantino. The subsequent attack was captured on video and immediately sparked outrage. Now, however, a new video has just been released of the officers laughing and joking about beating up this innocent man.
On February 22, Minguela was walking home from a nearby store, and as the surveillance footage shows, he was approached by Ramantino. Officers claim they were responding to a call about a man with a gun, but Minguela had no such gun.
As the video shows, police run up on Minguela with guns drawn and he immediately complies with their orders to put his hands up. However, as they attempt to handcuff him, he appears to slightly pull away. That's when all hell broke loose.
Romantino slams the non-violent man to the ground and begins punching him in the head. Boom, boom, boom, Ramantino delivers blow after blow to the head of Minguela as he yells at the man who is simply trying to defend himself from being killed by police to "put your hands behind your back!"
In total, Romantino would deliver 12 massive blows to the head and face of Minguela who is begging the officer to stop, asking, "Why you hitting me like that bro?"
After bringing Minguela to the car, Romantino pats him down—finding nothing on or near the scene. At one point, Minguela accused Romantino of kicking him after he called him a name.
After he was kidnapped and thrown in the back of the cruiser, Minguela continued to ask the driver, Officer Peter Sanchez, why he was arrested. "You'll have to ask the officer that arrested you," he replies.
In the video obtained through a FOIA request by NJ.com, it then shows Romantino laughing about beating the innocent man, showing off his swollen knuckles as a trophy.
"That guy. He's always giving us a hard time, that guy," Romantino said.
"Not anymore," he said as his comments were met with laughter by his fellow cops, who seemed entirely resolute in the notion of attacking, beating, and kidnapping an innocent man.
According to Minguela, he was then brought to the hospital to be treated for his injuries. But police, who then turned off their body cameras, told Minguela that if he got treated for his injuries they would fabricate even more erroneous and even felony charges against him.
Minguela says this forced him to forgo the treatment and he left. However, on the advice of an attorney, Minguela went back to the hospital the next day and was treated for a concussion and a fractured wrist.
According to Devon Jacob, Minguela's attorney, who is threatening to sue police over the alleged civil rights violations, the call to police is a recurring problem. Someone is apparently using police to punish Minguela by making anonymous calls to the police to report him.
Thanks to the actions of Romantino, it has worked and now Minguela has not only been brutally beaten, but he's also facing charges of resisting arrest and obstruction.
Jacob has since asked the prosecutor to throw out the charges, however, they still remain active.
According to NJ.com, the Camden County Prosecutor's Office said last week that no charges will be filed against Romantino, because video of the incident shows Minguela was resisting by pulling his arms away from Romantino's grasp. However, he remains on unpaid leave as the police department conducts its own internal affairs investigation.