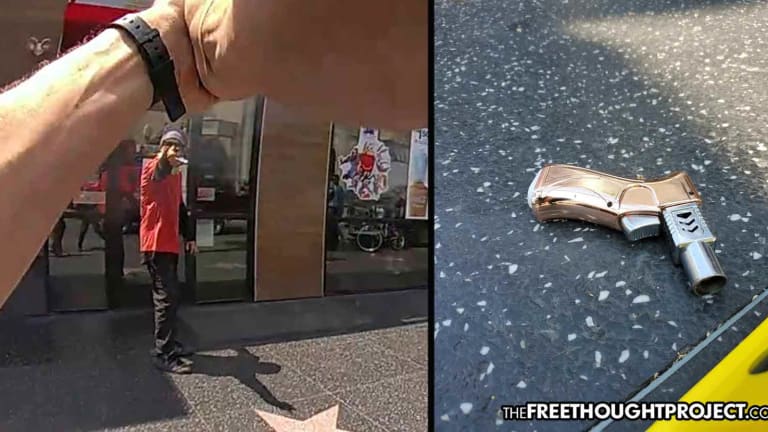 Police Shoot Innocent Woman While Killing a Man Holding a Cigarette Lighter
Police claimed the man was "armed with a replica handgun" but it turns out that wasn't true. He was holding a lighter.
Hollywood, CA — If you read the statement from the Los Angeles police department last week after they killed a man on the Hollywood Walk of Fame, you would think that their victim "pointed a replica gun at police officers" — because that's what they told the public. However, that was not true and their victim was "armed" with a cigarette lighter, not a gun.
Under a new state law that went into effect on July 1, the state Attorney General's Office is investigating the shooting which not only killed a man holding a lighter, but also injured an innocent bystander who was making a purchase in a store nearby.
According to police, officers received a call reporting a man with a gun. The department said when officers arrived on the scene at Highland Avenue, they "saw a male matching the description armed with a handgun."
"Today around 11:20 Hollywood area officers responded to the 6700 block of Hollywood Blvd. They were responding to several separate radio calls of a man armed with a gun. The comments of the radio call indicated it was a male white armed with a handgun walking on Hollywood Blvd," the statement read.
"When officers arrived in the area they saw a male matching the description armed with a handgun. At that time there was an officer involved shooting. The man was struck by gunfire and transported to a local hospital where he has died," according to police.
"People started scrambling, and there's kids crying and moms trying to get out of there and tourists confused," a local witness told the LA Times, adding, "It happened so fast. We were just in shock, like, 'Whoa, what just happened here?'"
According to police, the unidentified man pointed the "replica handgun" at officers when the officer or officers opened fire on the man, killing him. Police even released a photo of the lighter — which had a pistol-grip handle — and still referred to it as a "replica handgun."
"There is a replica handgun at scene. No officers were injured."
After they released the photo, however, people began calling them out and local media had to retract their stories claiming the man was "armed with a replica handgun."
Police also noted that an innocent bystander was brought to the hospital for injuries sustained during the melee.
"A female who was nearby was transported to a local hospital for an injury sustained during the incident," police said. It would later be revealed that her injuries were not from the man holding a lighter, but from officers killing that man.
"Our hearts go out to all those involved in this devastating incident,'' Attorney General Rob Bonta said in a statement Friday, according to the City News Wire. "As required under AB 1506, the California Department of Justice immediately took action to initiate our investigation that will ultimately lead to an independent review of this police shooting.''
"As we work to gather all of the facts, I'm grateful to the LAPD for their ready collaboration, and quick and committed efforts to work with us on the ground,'' Bonta said. "We will take every step necessary to ensure a thorough, impartial investigation and review is completed. Now, more than ever, we must work together in the spirit of this new law to build and maintain trust in our criminal justice system for all of our communities.''
No one here is arguing that the officer likely perceived a deadly threat as the man is clearly taking a shooting stance and pointing an object at the officer in the photo. However, the LAPD still chose to claim he pointed a replica gun. They were arguably justified in the shooting, yet still chose not to be transparent. Shameful indeed.
For those surprised by police killing a man for holding a lighter, police in California have killed others for less. As we reported at the time, Alfred Okwera Olango was killed cops in El Cajon because he was holding a Vape Pen.