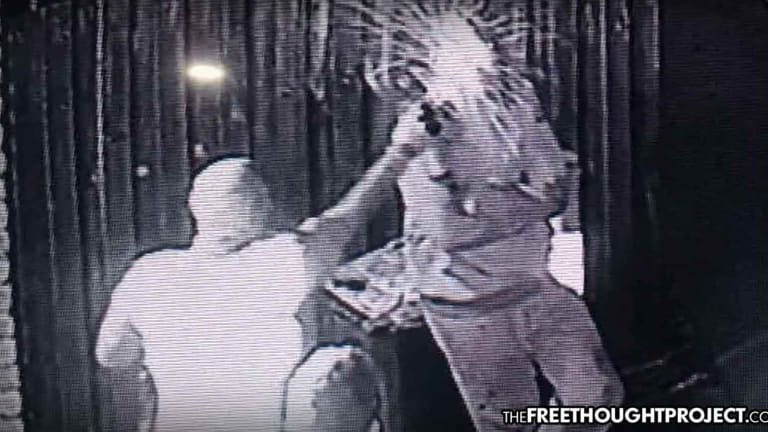 WATCH: Cop Triggered Over a Joke, So He Blasts Innocent Man in the Face with Pepper Spray
After an innocent man, who needed the police for help, made a joke, he was pepper sprayed at point blank range directly in his eyes and assaulted.
Shocking surveillance footage was released this week showing police respond to a man who needed their help by blasting him in the face with pepper spray at point blank range. The man had done absolutely nothing to provoke the officers and was simply leaning against the fence with his arms crossed when they attacked.
"I didn't do anything to deserve that. Like, they're there for my safety. That wasn't for my safety," Mecal Hansen told 9 News. 
According to Hansen—who is a caring father and husband—his wife had called emergency services that night to get help for Hansen over concerns that he was feeling suicidal. However, when police showed up they received everything but help.
"I felt pretty bad for calling the police on him, but needed to be done," Hansen's wife Jessica said. "Very disappointing because that's not what they were called here for."
As the video shows, officers had Hansen surrounded as one of them held a large can of pepper spray. These type of capsicum canisters are usually reserved for in instances of crowd control as they release a high pressure stream with an equally high volume.
"I just said as a joke 'are you going to mace me?', and he said, 'no I just carry it around because it's easier,'" Hansen explained to 9 News.
But then they actually did use it on him.
Hansen says as he sat calmly against the fence, he made a wise crack and that is when all hell broke loose.
"Didn't move, didn't flinch, didn't do anything," Hansen said.
As the video shows, the officer holding the spray unleashes a deluge of the chemical weapon at point blank range right into Hansen's eyes. Instead of arresting their fellow officer for assault on an innocent man, the other officers then joined in on the attack and pounced on Hansen.
"(They) tried to bend me in ways you don't bend and handcuff me… More than excessive. Completely unnecessary," he said. "Excruciating… It was the worst pain, I didn't want to open my eyes."
Jeremy King, an attorney speaking to News 9 explained the officers' behavior toward Hansen was entirely inappropriate.
"The use of OC spray in that situation is entirely inappropriate and not in accordance with police procedure. You cannot use OC spray to punish someone 'cause they've made a comment that you don't like," he said.
According to News 9, police claim to be investigating themselves and if they find any officers revealed to have displayed "unacceptable or disproportionate use of force," they "will be held to account."
Hansen says that he did have a positive experience with two other officers, however.
"The two officers that stayed with me in the hospital, I can't praise them enough. The way they treated me, the way they spoke to me - that is how you treat someone when you're there to do a welfare check."
In a statement released after News 9 aired the video Tuesday night, police responded, noting:
Victoria Police is aware of this incident and has initiated an investigation to determine all of the circumstances and gather all available evidence. As the matter is now under investigation it would be inappropriate to comment on the specifics of this case.

Victoria Police will not tolerate any unacceptable or disproportionate use of force and should this or any investigation reveal those behaviours, the police involved will be held to account.

Managing people with mental health and drug issues is complex and challenging for police, but we are committed to ensuring our officers have the awareness and training they need to confidently and sensitively interact with people experiencing mental health issues, and connect them with the support they need, when they need it.

Victoria Police is investing significantly in the way we manage mental health issues in the community.

Dedicated mental health training has been compulsory for all police recruits since 2011.

From July 2018, a baseline training package on effective communication and de-escalation tactics has been included in the bi-annual training that all police, protective service officers and police custody officers are required to complete.

This training includes strategies regarding effective communication with people experiencing a mental health issue.

We expect all officers to be respectful of our community and their human rights. Everyone should be treated with the dignity and respect they deserve.
If they actually expect all their officers to be respectful of the community and human rights, then all four cops who responded to Hansen should be fired immediately for violating this trust.
SHOCKING: When young mother Jessica saw her husband was having a breakdown, she called police for help… What followed is hard to watch, and begs the question: did they use excessive force?#9ACA | WATCH THE FULL STORY: https://www.9now.com.au/a-current-affair/2018/extras/latest/180919/cop-that?ocid=Social-9ACA

Posted by A Current Affair on Wednesday, September 19, 2018