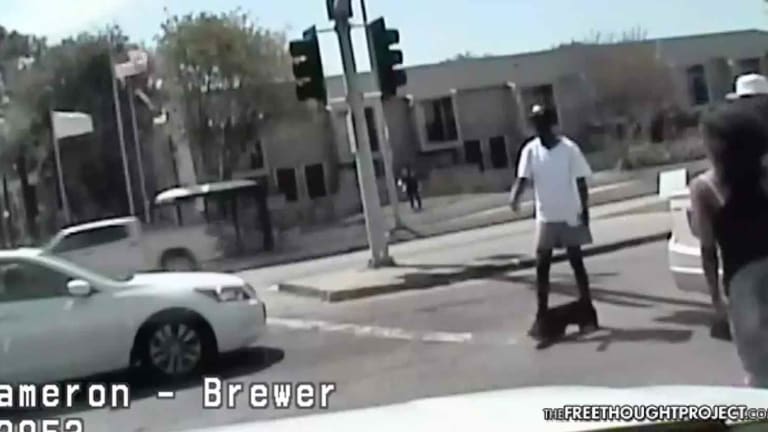 Police Release Dashcam of Cop Killing Unarmed Man with His Pants Around His Ankles
Houston police have released the dashcam footage of a deputy shooting and killing an unarmed mentally ill man walking around with his pants around his ankles.
Houston, TX — Last Thursday, a Harris County Sheriff's deputy pulled up to an intersection where a mentally ill man was causing a scene, walking around with his pants around his ankles. Within just 30 seconds of arriving on the scene, Deputy Cameron Brewer exited his car and summarily executed 34-year-old Danny Ray Thomas.
As TFTP reported on Monday, the incident was captured on a bystander's cellphone video. However, on Monday night, the Harris County Sheriff's Office released the deputy's dashcam footage showing how senseless the killing was.
Witnesses said Thomas was "walking in the middle of the intersection of Imperial Valley and Greens Road with his pants around his ankles, talking to himself and hitting vehicles as they passed by," according to a press release Friday from HPD.
According to police and the video, Thomas—obviously in the midst of a severe mental break down—was wandering in the street when he slapped the hood of a white car. The driver of the car then got out and confronted Thomas before Brewer saw the altercation and stepped out of his SUV.
Police claim Thomas "had an object in his hand." However, it is perfectly clear from the dashcam video that there was no such object.
The driver of the car proved how little of a threat Thomas was as he shoved the mentally ill man in the chest and received no retaliation. The officer saw this happen as well, yet he still chose to pull out his pistol instead of a taser, pepper spray, or baton.
"Get down, man! Get on the ground, I'm gonna fucking shoot you," the deputy screams as Thomas refuses to listen. Seconds later, a single gunshot rings out as bystanders scream in horror. The shot would kill Thomas.
On Monday, as the NY Times reported, the Harris County sheriff, Ed Gonzalez, vowed that the shooting would be fully investigated and said the department had released the dashboard video as a sign of its transparency. The Houston Police Department is leading the investigation of the shooting because it occurred within the city, but the sheriff's department is conducting a separate administrative review, Sheriff Gonzalez said.
"We are going to take this very seriously," Sheriff Gonzalez said at a news conference on Monday. "We are going to review all policies and procedures to see how we can continue to be better and learn from these situations."
When asked why there was no body camera video released—despite Brewer being issued one—the department claimed that the camera was off and still charging in his patrol car when he came upon the intersection.
Convenient, indeed.
Before the video was released, HPD claimed that the deputy "feared for his life" because the mentally ill man with his pants around his ankles somehow appeared to be a serious threat.
"Fearing for his safety, the deputy discharged his duty weapon, striking Thomas once in the chest, " Houston Police said.
However, we see that the man whose car he slapped did not think so, and in fact proved it by shoving him.
As TFTP reported on Monday, family members said he was the father of two young children who died in 2016 after their mother allegedly drowned them in a bathtub.
Marketa Thomas, Danny's sister told reporters that she and her brother had both struggled with depression and that there was "no justification" to kill him.
"Knowing that he was OK when I woke up every day made me fine," she told reporters at the scene. "And knowing that my brother is no longer here - you think I'm going to be fine? I'm not going to be fine. That's my brother."
Below is the disturbing video.
Dashcam:
Cellphone video: