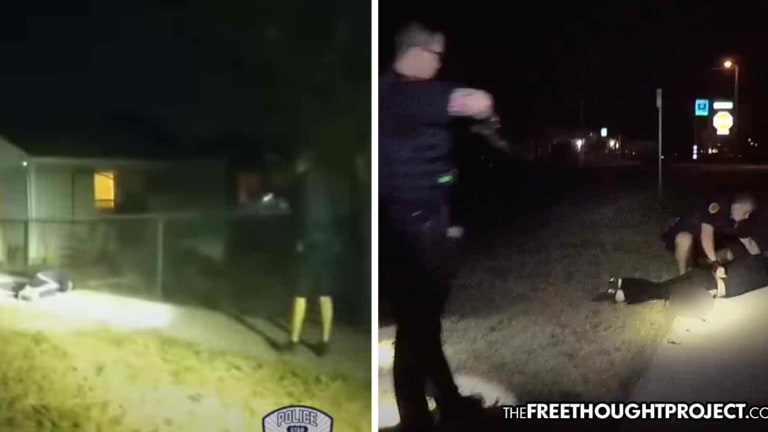 Newly Released Video Shows Cop Shoot 13yo Unarmed Autistic Boy 12 Times as He Runs Away
Harrowing body camera footage was released showing a police officer shoot an autistic 13-year-old boy for simply running away from officers.
Salt Lake City, UT — As TFTP reported the Salt Lake City Police Department apparently thinks unarmed little autistic boys are considered a threat and fair game to fill with holes. The country was shocked earlier this month when learning that police shot a 13-year-old autistic boy after his mother called for help. Now, body camera footage has been released which is even more shocking.
Linden Cameron, a 13-year-old little boy with autism was having a bad day earlier this month after his mother returned to work for the first time in a year. Cameron suffers from severe separation anxiety and when his mother left, he went into a crisis.
Linden's mother, Golda Bartonsaid she called police that evening and requested a crisis intervention team (CIT). She told them her son was not armed and was in the midst of a mental breakdown and she needed help to get him to the hospital.
"I said, he's unarmed, he doesn't have anything, he just gets mad and he starts yelling and screaming," she said. "He's a kid he's trying to get attention, he doesn't know how to regulate."
"This is how to deal with people with mental health issues. So, you call them, and they're supposed to come out and be able to deescalate a situation using the most minimal force possible," she said.
As the recently released 911 calls show, Barton explained to police that her son previously had an interaction with police and he had a toy gun during that time. She told police he may have that toy this time. However, police have made no mention of finding such a toy after shooting 12 rounds at her son. It is also not visible in the body camera footage, and police initially said they found no weapon.
Nevertheless, when cops showed up, one of them fired a dozen times at an unarmed child.
"We need him to go to the hospital," the mother told an officer, according to bodycam video. "I need him to go to a hospital. I can't get him to get there on my own. And I cannot do this every night."
Police entered her home and moments later, her child ran away. Barton says she heard, "get down on the ground" and several gunshots rang out. Police would later explain, as the body camera footage shows, that Cameron ran from them.
"Get on the ground now!" one officer yelled, according to body camera footage released Monday.
Then one of the officers opens fire, shooting a dozen rounds at the reportedly unarmed child.
"Show me your hands!" the officer continued to yell after Linden had fallen to the ground.
"I don't feel good," Linden said after being filled with bullet holes. "Tell my mom I love her."
Thanks to the release of the body camera footage, we now see how entirely unnecessary and ridiculous this shooting was. Not a single one of the five body camera videos released by the SLCPD Monday night shows justification for shooting the child. What's more, during the press conference before it was released, police didn't answer any questions.
Police have only said after the shooting that they found "no indication" the boy had a weapon on him.
"It's horrible," Wesley Barton, Linden's 17-year-old brother, said of the video footage. "To see your little brother bleeding out, saying his last words. It plays in my head over and over."
As the Salt Lake Tribune reports, the brother said Linden ran from the police officers because he was scared. He said that after police yelled for Linden to show his hands, they didn't give him time to respond before bullets started flying.
Linden was riddled with bullet holes from top to bottom. Though the footage cuts off before we can see it, Barton says cops then handcuffed the child's unconscious body as one of the officers on the scene apparently scolded his fellow cop.
As KUTV reports, she thought her son was dead and the officers didn't immediately say if he was or was not dead. They handcuffed him, according to Barton. Additionally, she said she heard from someone that the other officer could be seen grabbing his own head in disbelief for what had happened. He said out loud, according to what the mother was told, "He's just a child, what are you doing?"
Salt Lake City Mayor Erin Mendenhall released a statement saying this shooting is a tragedy on many fronts.
"This shooting is another tragedy – a tragedy for this young boy, for his mother, for families and individuals who have acute mental health needs, and for our community, who may look at this situation and see themselves or a loved one reflected in it," she stated in part. "We are at the beginning of an evolution to the way our city addresses public safety, and through this work we will live in a Salt Lake City that is safer for its residents and the officers that serve and protect them."
According to a GoFundMe page launched to help pay for the boy's medical bills, Linden suffered injuries to his shoulder, both ankles, intestines and bladder. "Linden is 13 years old. He loves video games, four-wheeling, and longboarding with his older brother, and building things. He is always looking for ways to help people out. Linden is very important to his family, and his mother and brother are supporting him through his recovery."
According to his family, Linden is still in a Salt Lake City hospital. As the Tribune reports, Barton said his brother is still hospitalized and will be for a while. He recently was able to transfer himself from a hospital bed to a wheelchair, Barton said, but still has trouble speaking because it's painful. Linden has lost feeling in his arm, and Barton said it's unlikely he'll be able to walk normally again.
"He's a small child. Why didn't you just tackle him? He's a baby. He has mental issues," his mother said. We agree. When police open fire on a small child in a mental health crisis, it is high time we reexamine the role of law enforcement in America. This has gotten way out of hand.