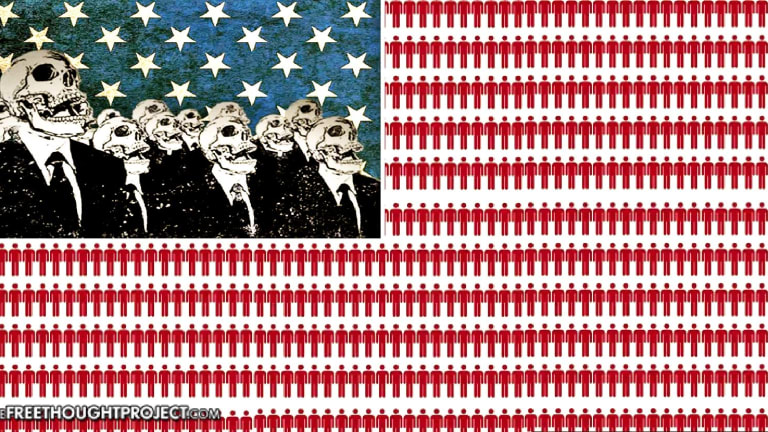 283 People Have Already Been Killed by Police this Year, Setting Record Pace
Only because of vigilant citizen reporting do we know police officer killings of citizens is on track to exceed 1,000 deaths in 2017.
There are detailed mortality statistics, maintained by the government, on just about every cause of death of Americans, with the exception of one category; death by cop. Perusing through the FBI's database, there's even a category called "Law Enforcement Officers Killed In The Line Of Duty." However, as The Free Thought Project has previously reported, there are still no statistics on the number of citizens killed by police officers.
There exists, however, a citizen-run database which estimates the number of people killed by police has exceeded 1,000 per year since 2014. So far, according to Killed By Police's findings, 2017 will be no different. This year, if the pace of police killings doesn't change, at least one thousand people will lose their lives in officer-involved shootings.
During the first quarter of 2017 (and it's not yet over), based upon media reports alone, police officers around the country have killed 283 people, while only 28 police officers have lost their lives in the line of duty. Of those 28, only a few (8) were killed as a direct result of violence.
The number of those killed by police may be much higher, as the Killed By Police website relies on data mining of news stories to compile its statistics, an unreliable method at best. The fact the government does not maintain such an invaluable database serves as fodder for conspiracy theorists, who may conclude the government is trying to cook the books and hide the real numbers.
In October, FBI Director James Comey addressed the lack of transparency. In San Diego, addressing a gathering of police chiefs from around the nation, Comey said Americans believe there's an "epidemic" of police brutality because "those are the videos they see over and over again," referring to the internet and news reports. Obviously, relying on video evidence alone is not enough to substantiate the claims an epidemic of police on citizen violence is occurring.
In the same speech, the FBI director then admitted the truth. "Americans actually have no idea whether the number of black people, brown people, or white people shot by police is up, down, or sideways over the last three years, five years, or 10 years," Comey acknowledged, "They have no idea whether Black people, or Brown people, are more likely to be shot during (police) encounters than White people are." In the end, as TFTP has concluded, no one will ever know unless the government chooses to pass a law requiring all police-involved shootings to be recorded in a national database.
Comey's comments mirror his concerns from 2015 when he testified before a House oversight committee.
I think it's embarrassing for those of us in government who care deeply about these issues, especially the use of force by law enforcement, that we can't have an informed discussion because we don't have data. People have data about who went to a movie last weekend or how many books were sold or how many cases of the flu walked into an emergency room, and I cannot tell you how many people were shot by police in the United States last month, last year, or anything about the demographics, and that's a very bad place to be.
Following the meeting with the chiefs of police, the FBI announced it will begin to collect information and data from police involved shootings and use of force by law enforcement officers. But submitting the data is voluntary on the part of police departments, so it's unclear just how reliable such a database will ultimately be. Such a volitional requirement is disturbing to civil rights groups. According to one source, "The American Civil Liberties Union has objected that voluntary reporting programs on police-community encounters have failed in the past. The ACLU seeks greater accountability and imposition of financial penalties for failure to produce such data."
Will 2017 be the year of greater transparency, higher levels of accountability, and the year the government finally takes the matter serious enough to initiate such a database? These questions and more remain unanswered. In the meanwhile, vigilant citizens will continue to do their part to record those killings when they find them. Unfortunately, the citizen-led database will continue to depend on news stories for its data. But many times, people who are shot and killed by police, have their names withheld until family members can be notified of their death. As a result, it can be presumed, many deaths simply do not get reported in our nation's press.
Comey might be right. There may not be an epidemic of police killings but until modern policing methods and academies change the way they address their "use of force" policies, the number of humans killed by police will likely rise, as the true statistics remain hidden from public view.