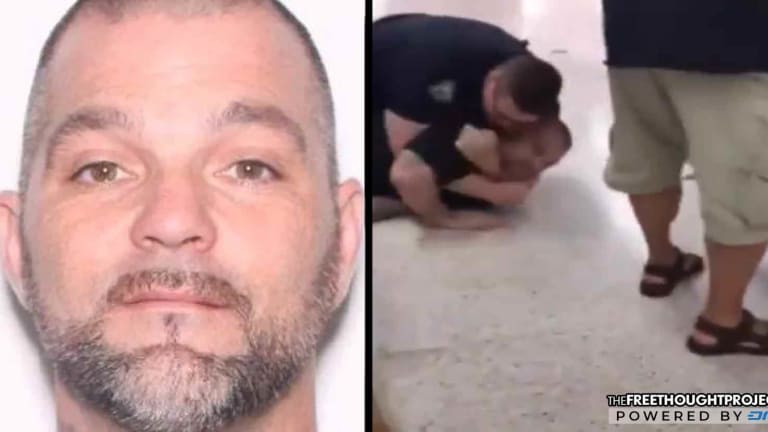 'Don't Choke Him!': Witnesses Watch in Horror as Cops Taser, Choke Unarmed Man Until He Dies
An unarmed man, who had harmed no one was killed this month, on video, as he was forcibly removed from a Publix grocery store by two police officers.
West Melbourne, FL — Dramatic cell phone video has emerged of a police involved death this month that took place in broad daylight in front of dozens of witnesses inside a Publix grocery store.
Last Monday, Donald Edward Whitmer Jr. became unresponsive after police placed him in a choke hold and began tasering him. During the altercation, Whitmer lost consciousness and moments later he would be pronounced dead.
The incident began earlier this month at a Publix grocery store in West Melbourne. The manager of the store noticed Whitmer "acting strangely," so he called police. The first call was at 10:40 a.m., after which Whitmer left.
Several minutes later, however, Whitmer would return and the manager would call police again. The manager told police that Whitmer seemed to be "very confused" and possibly on drugs.
"He's questioning things but can't come up with a coherent question," the manager told 911 dispatchers.
Officers Jacob Mathis and Kevin Krukoski responded to the second call. When they approached Whitmer, police say he became uncooperative.
As the video shows, Whitmer is certainly uncooperative, however, he appears to be completely non-violent. The only struggle appeared to be police trying to bring the very large man to the ground.
Once Whitmer was down, one officer pounced on his back and put his arm around his neck.
"Calm down, sir," a woman tells Whitmer, before telling the cop, "Don't choke him."
Moments later, one officer says to Whitmer, "Hello?" But it was too late, he was dead.
In what seemed like a deliberate move to exonerate their officer in the choking death of an otherwise innocent men, the very next day, the West Melbourne police released a statement about the incident, claiming Whitmer had "no gross trauma" to his neck.
According to the Orlando Sentinel, an autopsy on Donald Edward Whitmer Jr. of Palm Bay was conducted on the very next Tuesday. A cause of death is still pending, police said.
According to reports, Whitmer has a girlfriend who apparently has a child. Although witnesses say Whitmer was accompanied by a woman and child in the Publix that day, it is unclear if this was his girlfriend and her child. However, in the video, a girl off-camera can be heard repeatedly saying "dad."
In an interview with WKMG, Whitmer's neighbors told reporters that he was a good man who kept to himself but was very polite.
"He's a pretty cool guy. You just know him as a neighbor and say, 'hi' and 'how are you'?" Whitmer's neighbor said.
Whitmer—who was unarmed and had not harmed anyone—was in need of medical help that day. Instead of help, however, he received a heavy dose of escalation of force. Sadly, he was unable to survive this force and he will never get the help he so desperately needed.
"The men and women of the West Melbourne Police Department would like to extend our deepest condolences to the family and friends of Mr. Whitmer," West Melbourne Police Capt. Richard Cordeau said. "We know this is a difficult time for them as they cope with his passing."
Although the officers were wearing body cameras, police have yet to release the footage. The 911 call as well as the dispatch audio of police responding to the scene has been released, however. It is below.