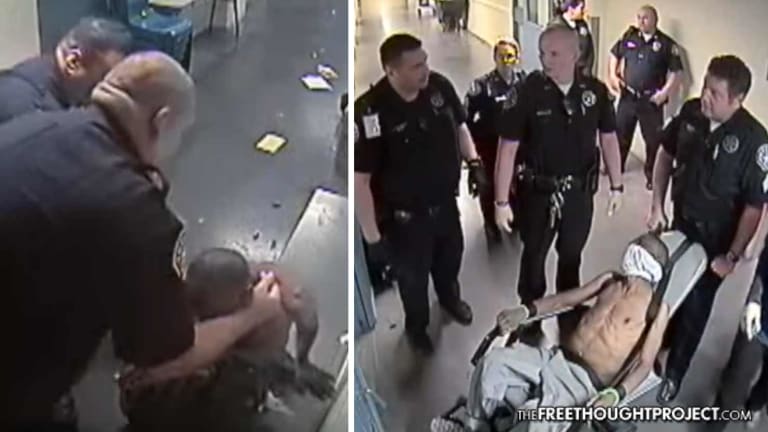 Police Want to Use Graphic Video of Them Killing a Man to Train Cops on "Good Use of Force"
Denver cops want to use a deeply disturbing video of them killing a man, which was the impetus behind the suspensions given to several officers, for training.
Denver, CO — Two Denver Sheriff Department deputies received suspensions after video emerged showing their involvement in the killing of Michael Marshall. However, because of a severely broken system, on Friday, a judge overturned those suspensions—despite taxpayers shelling out $4.6 million in a wrongful death lawsuit.
After they were found to have used excessive force in the killing of Michael Marshall, Deputy Bret Garegnani and Deputy Carlos Hernandez were each suspended by Stephanie O'Malley, the director of the Department of Public Safety.
As the Denver Post reports, Garegnani was given a 16-day suspension for continuing to apply pressure on Marshall's upper body even after nurses asked him to ease up for fear Marshall could aspirate on vomit. Hernandez was suspended for 10 days for using his nunchaku to apply pressure on Marshall's right foot while trying to restrain him.
The force used against Marshall was enough to kill him, yet the Denver Sheriff's Department publicly stated that they'd 'love to use it' to train their officers as it can be used "to show future deputies a good example of how to use force," according to the Post.
In November of 2015, Marshall—who is described by family as mentally ill but who loved all things—was killed during a psychotic breakdown he experienced while in jail. The incident unfolded as Marshall was isolated in a secured hallway called a sallyport as he waited to be reassigned to another cell.
Clearly delusional and entirely unresponsive to commands, Marshall—shirtless and carrying his blanket around like a child—attempted to walk out of the sallyport. At this point, Garegnani pushed him in the chest, causing Marshall to rock backward and forward and then fall.
More massive cops then piled on top of their tiny victim—who weighed only 112 pounds—as they turned Marshall onto his stomach. As they applied more and more pressure, Marshall began to asphyxiate on his own vomit. Instead of listening to the nurses, who were trying to tell the deputies they were killing Marshall, they continued their pursuit.
As the video shows, when they wheel Marshall into the hallway, his was completely unresponsive. He had asphyxiated.
Naturally, the deputies claimed Marshall was extremely strong and this force—which was enough to kill him—was necessary.
Deputy Eishi Yamaguchi, who trains deputies on the proper use of force, said during the appeals hearing, "I have zero concerns about anything they did. I was expecting to see something different. Actually, I would love to have the video just for training … "
Mari Newman and Darold Killmer, the Denver attorneys who represent Marshall's family, disagree.
"The idea that attacking a 112-pound man who is in the throes of a mental health crisis is good law enforcement is petrifying," Newman said. "It's beyond shocking. It's hard to find words to describe how profoundly out of touch he is."
Daelene Mix, a safety department spokeswoman, issued a statement Monday decrying the decision to overturn the already weak punishment for the deputies.
"The hearing officer's decision to reverse our disciplinary orders severely undermines our authority as an employer and prevents us from appropriately disciplining deputies who have violated department rules and regulations," the statement said. "The hearing officer should not have substituted his judgment for that of the department's."
The idea that police would want to use a video of officers using enough force to kill a small man as a training video—to show a good example of force—is shocking, to say the least. Even the safety department agrees.
"The trainer's statement is very concerning and it does not align with the department's position on use of force and the de-escalation tactics employees are required to follow," Mix said.
Below is a deeply disturbing video showing the level of incompetence police exhibit when dealing with those in a mentally diminished state. Marshall should've never been in jail in the first place as it was his mental illness that landed him there in the first place for disturbing the peace. Sadly, he was either too poor or too mentally impaired to pay his bond—which was set at $100.
Camera angle one, from the sallyport:
Camera angle two, from the opposite side: