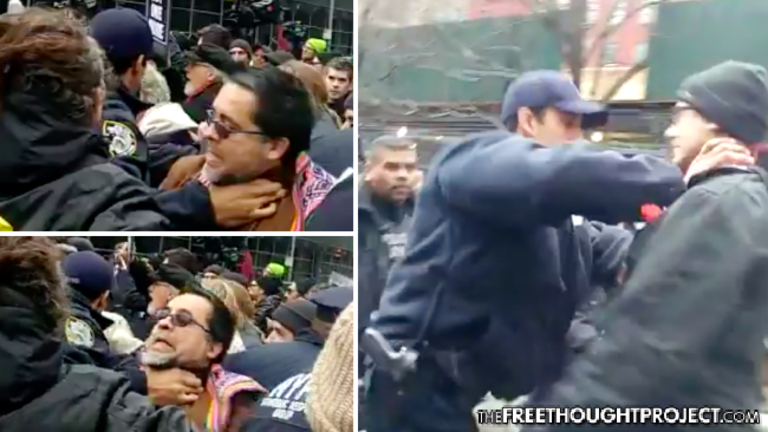 WATCH: Raging Cop Caught on Multiple Videos Choking People for No Reason
A police officer was caught choking various protesters, seemingly at random, in multiple videos posted on social media.
New York City – Multiple videos have surfaced online showing an officer with the New York Police Department violently shoving and choking protesters during a demonstration in protest of the detainment of an immigration rights activist.
One Twitter user posted a video compiling cell phone footage from bystanders that shows the officer walking up to two different individuals who were not threatening him—appearing to choose them as random targets from the crowd—and choking them for no apparent reason.
The protest began after Ravi Ragbir, an immigrant from Trinidad and executive director of the New Sanctuary Coalition of New York, arrived at the federal building for a check-in with ICE officials and was detained. A crowd of nearly 300 people gathered outside the building in protest of Ragbir's detainment. The Hill reported that Ragbir has been "contesting a deportation order since 2006 and was granted prosecutorial discretion," which means that Immigration and Customs Enforcement "delays execution of a final order of deportation for immigrants who are considered low priority."

The Washington Heights Patch reported that according to the NYPD, officers began arresting protesters after "a group of people blocked a roadway near Foley Square." A total of 18 individuals were arrested, including two city council members—Ydanis Rodriguez of Washington Heights and Inwood, and Jumaane Williams of Brooklyn.
Rodriguez was vocal about his opposition to the protest on Twitter and called out officers for using an illegal chokehold to assault protesters.
"This is NOT how you treat people who are protesting for Human Rights," Rodriguez wrote. "This is NOT what democracy looks like. We can't call ourselves progressives and pro-immigrants when the [NYPD] is doing chokehold to us. Injusticia!"
While some reports claimed that Ragbir was put in an ambulance to be taken to a hospital after officers said he passed out during the meeting, the report from the Patch claimed that immigration officials "decided to act on an 11-year-old deportation order against Ragbir, even though there a hold on the order was in effect until next week."
The aggressive chokehold being used multiple times by at least one officer is concerning, especially when the officer was using such a move in broad daylight, in the middle of a crowd, knowing that he was surrounded by people and his actions were likely being filmed.
Keegan Stephen, the Twitter user who posted a video of the officer's aggressive and illegal actions, also posted a close-up photo that appeared to show the officer's last name is "Amador."
Stephen also posted a Tweet that shows a civil rights complaint submitted by a citizen named Daniel Teitell, who claims he was harassed, assaulted and detained by "P.O. Numael Amador" and another officer referred to as "John Doe" in 2015.

"Mr. Teitell was standing in the park when he saw P.O. Amador and P.O. John Doe approach and interrogate a man seated on a bench. Mr. Teitell filmed the interaction with his cell phone. One of the officers saw Mr. Teitell filming and immediately walked over. Twice the officer asked Mr. Teitell for identification and Mr. Teitell responded, 'Am I being detained, or am I free to go?' The officer then took the phone out of Mr. Teitell's hand and placed him in handcuffs with the assistance of the other officer."
The complaint went on to claim that the officers threatened Teitell, claiming that they could "simply issue him a citation for being in the park illegally, but they were choosing to arrest him because he asserted his rights."