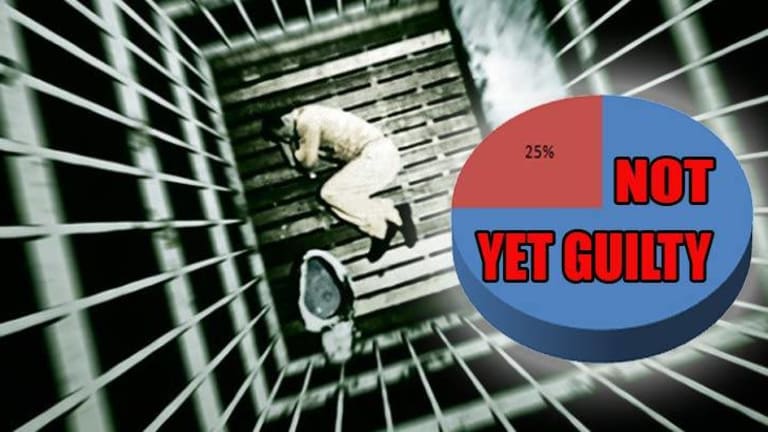 3 Out of Every 4 People Who Die In Jail Have Not Been Convicted of a Crime
A new report shows that the tragic case of Sandra Bland is shockingly common. Every day, two people who've yet to be convicted of a crime, die in a local jail.
A new report released by the Bureau of Justice Statistics has shown that an overwhelming amount of inmates who die in police custody actually haven't been convicted of a crime.
As we have seen recently with the cases of Sandra Bland, Rexdale Henry, Sarah Circle Bear, and others, many of the deaths that occur in prison happen under extremely suspicious circumstances and are labeled as "suicides" without proper investigation.
In fact, the report indicated that 31.3% of all inmate deaths in 2012 were eventually labeled as suicides. So, it seems the jail deaths that have been appearing in the news recently are not just a recent trend, but an everyday occurrence.
The most alarming revelation in the report is the fact that 75% of the people who die behind bars actually have not been convicted of a crime.
Although the US justice system prides itself on the "innocent until proven guilty" ideal, it doesn't seem to be playing out that way in reality. In addition, it is apparent that police officers are allowed to act as judge, jury, executioner and are able to kill people who may not have even done anything wrong in the first place.
The details behind these deaths are largely unknown, and in most cases the blame is put on the inmate, either for health reasons, or alleged suicides.
According to the report, of the 12,623 deaths reported in local jails from 2000-2012, only 3,105 of them were actually convicted of a crime. The other 9,518 inmates were never found guilty before dying in their cages.
Let that sink in. On average, 2 people die in jail every single day, who've never been found guilty of a crime.
In 2012, 4,309 inmates died while in the custody of local jails or state prisons—an increase of 2% (67 deaths) from 2011. The number of deaths in local jails increased, from 889 in 2011 to 958 in 2012, which marked the first increase since 2009. These deaths accounted for 97% of the total increase in deaths in jails and prisons in 2012. The overall mortality rate in local jails increased 4%, from 123 deaths per 100,000 local jail inmates in 2011 to 128 deaths per 100,000 in 2012. Suicide continued to be the leading cause of death in local jails (40 suicides per 100,000 jail inmates); however, the suicide rate declined 4% in 2012 and has declined 17% since 2000.
It is important to point out that even those cases which are eventually labeled as "suicides" are still the responsibility of the arresting officers. Regardless of the circumstances of the arrest, if they have detained a person, it is their responsibility to see that the person faces their charges alive.
John Vibes is an author, researcher and investigative journalist who takes a special interest in the counter culture and the drug war. In addition to his writing and activist work he organizes a number of large events including the Free Your Mind Conference, which features top caliber speakers and whistle-blowers from all over the world. You can contact him and stay connected to his work at his Facebook page. You can find his 65 chapter Book entitled "Alchemy of the Timeless Renaissance" at bookpatch.com.