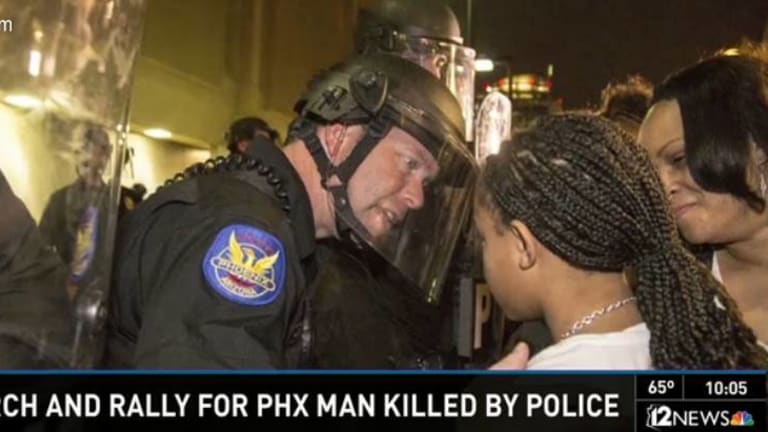 Riot Cop Apologizes To Daughter Of Unarmed Man Who Was Killed By Police on His Doorstep
Phoenix, Arizona - Last week we broke the story of Rumain Brisbon, a 34-year-old father who was shot and killed by a police officer on his doorstep as he brought dinner home for his family.
Despite a consistent effort from the mainstream media to slander Brisbon and sweep this issue under the rug, his case has gained national support, and large protests have developed in the Phoenix area demanding justice, and and also asking that police release the name of the officer who was responsible for the murder.
It was announced Wednesday that Brisbon's killer is officer Mark Rine, and according to the Phoenix Police Department he has been "reassigned to non-enforcement duty pending the outcome of an internal investigation."
However, Brisbon's family and friends said that they want the officer to be charged with murder.
When we initially covered the story last week, we also published a heartbreaking open-letter that Brisbon's 9-year-old daughter wrote to the officer that killed her father, who at that time was still anonymous. In the letter, the young girl promised that she would be on a mission to seek justice for her father and she has followed through on her promise, leading many of the large protests and marches that have taken place in Phoenix.
During one of the marches, she was approached by an anonymous police officer in riot gear who apologized to her for the death of her father. The family has said that it was a nice gesture on the part of that specific officer, but it obviously doesnt change anything about the situation.
"It was nice, but it does not bring back her father. It doesn't change things," Marci Kratter, an attorney for the Brisbon family told reporters this week.
Family members and friends of the victim have said in multiple interviews that they do not believe that this is an issue of race, but of a police state that is growing out of control.
As we reported last week, police claim that the officers involved were investigating Brisbon because some neighbors allegedly told them that someone in an SUV was selling drugs in a nearby apartment complex. From the start, this story seems suspicious as police often use fabricated "anonymous" tips as a justification to search and harass people who they are interested in profiling. The family also suggests that a false report may have been possible.
Brisbon's family says that he was simply going out to get dinner, and had returned home with two McDonald's bags when he was attacked by police.
The officers claim that they approached Brison's SUV, and say that he seemed to be moving things around in his vehicle and moving things around in his pockets. When police attempted to interrogate him, Brisbon reportedly fled into the apartment complex.
The officer hunted him through the apartment complex and tackled him, wrestling the man into the doorway of his own apartment. In the scuffle, the officer shot and killed Brisbon in the doorway of his home, in front of his girlfriend and their small children. After searching the man's body, police found that the object in Brisbon's pocket was just a bottle of pills, and that he was actually unarmed during the chase.
"When our officer lost his grip on the suspect's hand — in close quarters with the suspect — our officer fired two rounds, striking the suspect in the torso with both rounds, ending the confrontation with the individual," Phoenix Police Sergeant Trent Crump said in a statement.
When police went back and searched his SUV, they did find a legally owned firearm. However, Brisbon actually made the conscious decision to leave that gun behind so it stands to reason that he had no intent on hurting the officer.
Also found in the car was a small amount of marijuana, which he was also legally licensed to possess under Arizona state law, a friend of the family told The Free Thought Project last week.
As for the bottle of pills in his pocket, his family says that they could have been legally prescribed to him from a work-related injury. The police department has neglected to mention these facts to the media, but instead, has instructed them to paint Brisbon as a criminal, suggesting that the legally owned weapon and legally prescribed drugs were evidence that the man was a drug dealer. E
ven if he was a drug dealer, which it seems that there is a very good chance he was not, the police should not have a right to take his life.
John Vibes is an author, researcher and investigative journalist who takes a special interest in the counter culture and the drug war. In addition to his writing and activist work he is also the owner of a successful music promotion company. In 2013, he became one of the organizers of the Free Your Mind Conference, which features top caliber speakers and whistle-blowers from all over the world. You can contact him and stay connected to his work at his Facebook page. You can find his 65 chapter Book entitled "Alchemy of the Timeless Renaissance" at bookpatch.com.