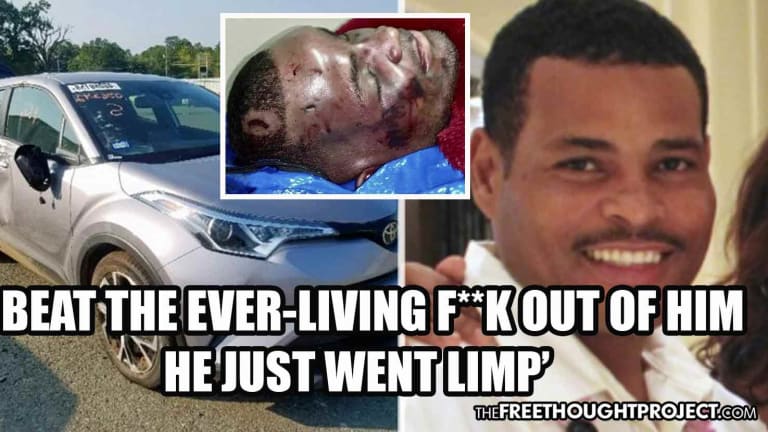 Police Claimed Man Died in Crash But Video Shows They Beat Him to Death
The family of a Louisiana man was told by police that he died in a minor fender bender but new video shows he was beaten to death by cops.
Monroe, LA — The family of Ronald Greene as well as the public at large were all told a story about this 49-year-old Louisiana man's last moments alive. According to officials, Greene died after his car crashed into a "tree/shrub" just outside Monroe on May 10, 2019. However, they have since learned everything they were told was a lie after body camera video surfaced and painted an entirely different picture. Greene's death was not a result of the crash and the department engaged in a coverup.
According to police, Greene was targeted for a traffic stop for a unknown violation on that night. Before he could pull over, Greene wrecked his car. When we look at the photos of the car which were released by the family last year, it looks like a minor fender bender. Nevertheless, the Louisiana State Troopers claimed that Greene died in the wreck.
Troopers made no mention of the use of force — or even arresting Greene — in the State Police crash report obtained by the AP but they did state in their notes that he was not wearing a seat belt in the crash.
"We were told that he died in a high-speed chase of head injuries after crashing into a tree," Greene's mother, Mona Hardin, told the AP. "There was no major damage to the car."
But this was not true. Greene was alive and well after the crash and records released this week by the Associated Press tell the truth of what happened that night.
According to the AP, the records are the first public acknowledgement by State Police that Greene was mistreated, and they confirm details provided last year by an attorney for Greene's family who viewed graphic body camera footage of the May 2019 arrest and likened it the police killing of George Floyd. The video shows troopers choking and beating the man, repeatedly jolting him with stun guns and dragging him face-down across the pavement, the attorney told AP.
Though this is the first public record released, as noted above, the family and their attorneys were able to watch the body camera video in October. What they witnessed was utterly shocking and horrifying.
At one point, an officer is seen placing a foot on Greene "while another hogties him," attorney Lee Merritt said. One trooper can be heard calling Greene a "stupid son of a b——," Merritt said, while another cautions that "we shouldn't tase him any more."
The violence was entirely uncalled for, according to the family's attorneys, as Greene had immediately surrendered after the crash.
"Ronald immediately surrendered at his first contact with law enforcement. When the vehicle stopped, he put his hands up and said, 'I'm sorry,'" Merritt said. "His dying words were, 'I'm sorry.'"
One of the main culprits in the beating was Louisiana State Police Trooper Christopher Hollingsworth.
The only portion of the video that was obtained by the media was a 27-second audio clip. The clip is essentially a confession from Hollingsworth in which he is heard telling a fellow cop, "I beat the ever-living f--- out of" Greene and "he was spitting blood everywhere, and all of a sudden, he just went limp."
The photos of Greene's body released by the family last year show what appear to be handcuff marks all over Greene's face and head — as if he was beaten with cuffs like brass knuckles.
After he was put on notice that he was under investigation last year, Hollingsworth died in a single car crash.
This week, the AP reported Master Trooper Kory York also participated in the beating death of Greene. He was just suspended without pay. York was seen dragging Greene "on his stomach by the leg shackles" following the beating doled out by Hollingsworth, according to the report.
Naturally, prosecutors claim that releasing the entire video would damage the case, saying it "would be detrimental for that video to be made public while it is in fact evidence that they are considering."
Governor John Bel Edwards agrees and says the rest of the video will not be released until the investigation is complete. Apparently it takes nearly two years to watch a video of troopers beating a man to death and to act on it.
"While the video may fall within the exception of Louisiana's public records law, it is imperative that in an effort of full transparency and public trust the video be released immediately," the Louisiana Legislative Black Caucus said in a statement.
The family has since filed a wrongful death lawsuit against the State Troopers and they will undoubtedly win.
"It is now undisputed that Trooper York participated in the brutal assault that took Ronald Greene's life," said Mark Maguire, a Philadelphia civil rights attorney who represents Greene's family. "This suspension is a start but it does not come close to the full transparency and accountability the family continues to seek."