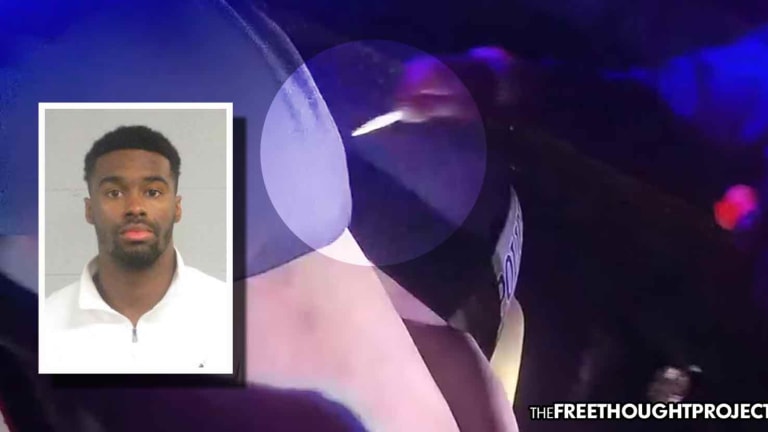 Sadistic Cop Seen on Video Stabbing a Handcuffed Man With a Key Multiple Times
A woman beating cop was arrested after body camera footage showed him stabbing a handcuffed man in the ribs with a key.
Louisville, KY -- The Louisville Metropolitan Police Department is no stranger to controversy. The department has been caught in every scheme imaginable -- from running child sex rings, to the wholesale execution of innocent people in their own homes like Breonna Taylor. Their brazen disregard for the law is palpable which is why the following incident is shocking but not surprising.
LMPD officer Robert Jones was in court this week after he was arrested for beating his girlfriend. While domestic violence among police is certainly a noteworthy subject, that is not what this article is about. Jones should have been arrested well before beating his girlfriend after body camera footage caught an utterly sadistic act on video.
Officer Jones' conduct was so disturbing that it actually prompted other officers to turn him in after they witnessed it. The officer's arrest prompted an open records request for the body camera footage which shows Jones stabbing a handcuffed man in the ribs with a key.
As the video shows, Jones is with another officer arresting a shirtless man for unknown reasons. The man is not resisting in any sense of the word and as he is hunched over the hood of the patrol vehicle, Jones grabs a massive key, jabs it into the man's ribs and twists it to deliberately cause pain and suffering. Then for good measure, he does it again.
"Dude, that hurts," the suspect says.
"You'll be fine," Jones replies.
The man has no idea what is happening to him other than he is experiencing extreme pain.
"Ow, what is that?" he says.
The abuse was so over the top, Jones' partner tells him to knock it off.
"Jones, stop," the other officer says.
According to the open records request, that officer would later tell the LMPD Professional Standards Unit investigators that Jones stabbed a man with a key for no reason and Jones was subsequently investigated for a use of force violation.
"He pretty much went underneath the suspect's right arm and got him in, poked him the rib, and pretty much jabbed it," one officer told PSU investigators, according to WAVE 3.
During the investigation, Jones would go on to claim his emotions got the best of him despite not being involved in the chase that led up to the man's arrest.
"I made a bad mistake and I'm not attempting to justify what I did at all," Jones wrote.
TFTP actually reported on Jones back in April when he was originally arrested and it turns out he had a history of violence.
Jones is accused of invading a woman's home, holding a gun to her head, and beating her for several hours while keeping her prisoner in the basement. He now faces charges of first-degree burglary, first-degree unlawful imprisonment, first-degree wanton endangerment and fourth-degree domestic violence assault causing minor injury, according to court records.
Jones was apparently a repeat offender and a previous partner of his accused him of using violence as well but Jones was never fired.
"He has threatened her," an investigator testified during court. "He has exhibited some mental health issues towards her. He has also threatened to burn her house down."
Apparently the department never acted on any of this information and Jones was allowed to keep his job until he actually broke into his ex-girlfriend's home and nearly killed her. This is the problem with blue privilege.