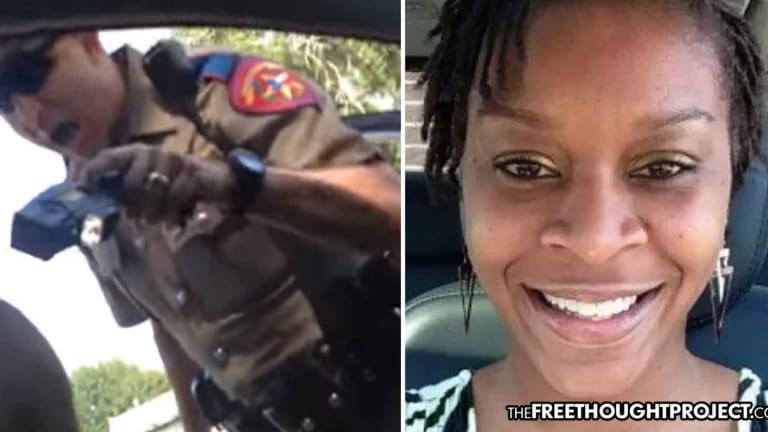 It's Been 5 Years Since Sandra Bland Died in a Cage Over a Turn Signal Violation — Still No Justice
It has been five years since Sandra Bland was kidnapped, caged, and died in a jail cell and no one involved has been arrested.
Waller County, TX — In 2015, the United States got a glimpse into the deadly nature of the police state and how a traffic stop over failure to signal can and will lead to death. Sandra Bland — who died in jail after being arrested over failure to use her blinker — became the symbol of America's horrific problems of in-custody deaths over ridiculous arrests. It has been five years since the death of bland and the family has yet to obtain justice outside of their civil suit.
It is important to point out that even if you fully believe the official story that Bland hung herself, Bland's suicide in jail was entirely preventable and all began because the state is addicted to pulling people over for victimless crimes and extorting them. Police even covered it up.
Last year, we learned that Bland filmed her own arrest that fateful day and her video was suppressed for nearly four years.
Until then, the only video of Bland's arrest has been the highly controversial footage from the arresting officer's dashcam, which TFTP confirmed was edited in 2015. Using this footage, former state trooper Brian Encinia – who has since been fired for assaulting an officer – claimed he "feared for his life" during the arrest. But this asinine assertion was proven wrong. Then, thanks to the cellphone video, we see who was in actual fear of their safety and it wasn't the man armed with a badge and a gun.
In the footage, we see Encinia as the aggressor. Instead of simply writing Bland a ticket for improper signalling, he pulled Bland from her car while pointing a taser in her face. The entire time, Bland is asking why this is happening over improper signalling.
When Bland is pulled from the vehicle, the aggressive trooper demanded she turn off her phone. Bland refuses several times, knowing it is her right to film a traffic stop. But this trooper continued to escalate threats of violence—forcing her to turn it off.
"I will light you up! Get out! Now!" Encinia says as he aims the taser into Bland's face.
The footage from Bland's phone had been covered up by investigators for years, according to the family, who reportedly never told them about it. After learning of the video from WFAA, the Bland family called for a new investigation last year.
"Open up the case, period," said Bland's sister Shante Needham after she was shown the video.
The family explained how they feel the video was intentionally withheld as it's damning to the defense.
"We also know they have an extremely, extremely good cover-up system," Needham said.
According to WFAA, Texas Department of Public Safety officials declined an on-camera interview but said the video was not withheld.
"The premise that the video was not produced as a part of the discovery process is wrong," DPS said in a statement. "A hard drive containing copies of 820 Gigabytes of data compiled by DPS from its investigation, including the dashcam videos, jail video footage and data from Sandra Bland's cell phone, was part of discovery."
While the DPS claims it was released during discovery, the attorney for the family says otherwise.
Cannon Lambert, the attorney who represented the family during their lawsuit — which ended in a $1.9 million settlement for the family, without the video — noted that the video was not produced during discovery, which was done under seal.
"I've not seen it," said Lambert, when shown the video by Brian Collister, chief reporter with the Investigative Network, according to WFAA.
"If they had turned it over, I would have seen it, Brian. I've not seen that," Lambert said.
According to WFAA, as part of the settlement, the Bland family was required to return all evidence given to them as part of the federal court proceedings. They say the cellphone footage was never part of the discovery they received.
The Bland family later claimed the video proves the officer knew Bland was not a threat. He knew she was merely holding a cellphone and nothing else and had no reason to escalate.
In the video, Encinia even tells Bland to "get off the phone."
"He sees exactly what's in her hand," Lambert said of the cellphone recording. "How can you tell me you don't know what's in her hand when you're looking right dead at it. What did she do to make him feel his safety was in jeopardy? Nothing."
As TFTP reported, Bland was first allegedly stopped by police for failing to signal before changing lanes, but the situation quickly escalated.
Encinia claimed she was "argumentative and uncooperative" during the stop, prompting him to remove his Taser from its holster and threaten her, saying, "I will light you up." She was then forcibly removed from her vehicle and slammed on the ground.
However, the cellphone video shows Bland did nothing but ask why she's being pulled from the vehicle over a turn signal—a question anyone would likely ask.
What's more, another officer on the scene, Prairie View police officer Michael Kelley, claimed that he had wanted to share certain information about Bland's arrest, but was scared into silence by fellow cops.
Kelley told Charleston that Encinia lowered his microphone when he was out of earshot of the car and told his supervisor, "I have no idea what I'm going to arrest her for, but we'll figure it out when we get to the county jail."
Kelley also claims that information he submitted in a written statement to the Prairie View police chief was excluded from the official Department of Public Safety report, a claim the department denies.
Bland was charged with assaulting an officer. Encinia claimed she swung her elbows and kicked him in the shins. Whether or not those alleged injuries were sustained during the very physical arrest remains unknown.
Sandra Bland's case illustrates how a predatory police force can and will kidnap, cage, and allow you to die in that cage, for simple traffic violations like failure to use a turn signal.
It's been five years and we will not forget Sandra Bland.