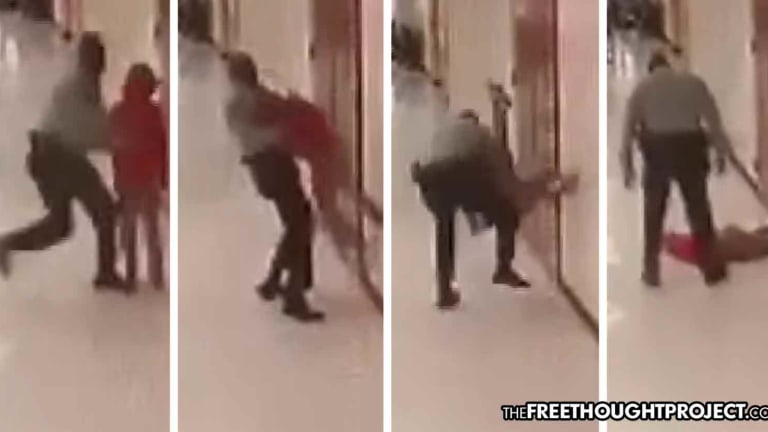 WATCH: School Cop Savagely Beats a Tiny Little Boy, Then Drags His Body Away
Utterly horrifying video has surfaced of a school cop savagely attacking a tiny sixth-grade boy for no reason, smashing him into the ground twice.
Henderson, NC — An utterly shocking and infuriating video was released showing a school resource officer in North Carolina savagely attacking a tiny child. The school cop was immediately placed on paid administrative leave pending an investigation.
After watching the video, the fact that this officer was initially still receiving a paycheck and has not been arrested is insulting. As the video shows, the child — who is not identified because he is so young — was not fighting or trying to run away, or doing anything that warranted such a violent response from the school cop.
As the officer walks next to the boy, we see him grab the child, pick him up into the air, and then violently slam him to the floor. The attack was entirely unprovoked. Then, for good measure, he picks up the boy's limp body and slams him down once more. He then violently yanks him up and drags the child off camera. The condition of the boy is unknown.
"I was stunned and shocked because I have eight grandchildren, four between the ages of 8 and 13," Vance County Sheriff Curtis Brame said Friday. "To see a child that small reminded me of one of my grandchildren."
Despite being "stunned and shocked" the sheriff did not immediately arrest the school officer for child abuse and opted for paid vacation instead. The sheriff did not say how old the boy was, only stating that he was younger than 12 and in the sixth grade.
Brame also refused to identify the officer saying only that he had been with the department for two years and has had no previous incidents. After outrage from the media and county alike, Brame was finally forced to fire the deputy on Monday.
According to Vance County District Attorney Mike Waters, the extent of the boy's injuries could determine potential charges.
Vance County Middle School officials issued a statement Friday decrying the violence:
"We are aware of the incident that occurred at Vance County Middle School involving a school resource officer. We are deeply concerned by the actions that took place. School and district officials are working closely and in full cooperation with the local authorities to address this matter consistent with school board policy and state laws. The safety of our students has been and continues to be of the utmost importance to our district. Should you have further questions, please direct those to the Vance County Sheriff's Office."
After watching the video, we see that the "safety" of the students is in jeopardy when this officer is around.
Below is this most disturbing video:
As horrifying as this video is, it is sadly not an isolated one. Young children — even those with disabilities — often find themselves on the receiving end of police state violence while attending public school.
Colton Granito, an 8-year-old boy with autism, threw a tantrum during class. Instead of following the boy's IEP plan, police were called. Colton was handcuffed, transported to jail, and forced to sit in a cell for hours wearing a straight jacket. He was subsequently charged with assault and sentenced to probation.
The photo below is of a 10-year-old child handcuffed, laid out on the back of a police cruiser. The boy's name is Ryan, and he has autism. He misbehaved at school and was also arrested and treated like a criminal.
In September of 2014, we reported on body cam footage showing a 9-year-old special needs boy handcuffed as his father pleaded with the officer to release him.
That same month, a highly disturbing video of cops manhandling a 13-year-old autistic child as he screamed for help emerged on Facebook.
If you truly want a glimpse into the horrid effects of the police state on all school children, take a scroll through our archives, at this link.
"The State represents violence in a concentrated and organized form. The individual has a soul, but as the State is a soulless machine, it can never be weaned from violence to which it owes its very existence." -Mohandas Karamchand Gandhi