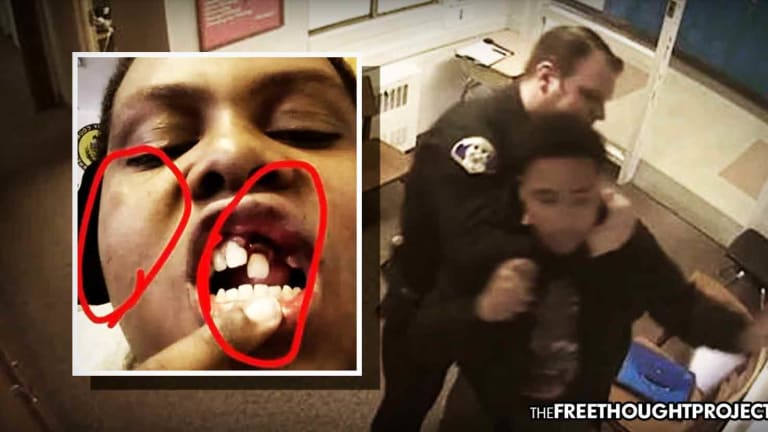 Taxpayers Held Liable After Video Showed School Cop Knock Child's Teeth Out for No Reason
The Pennsylvania taxpayers are shelling out over a half million to pay for a school cop whose brutal history has been documented in several disturbing videos.
Churchill, PA — There's probably no better example of why the government needs to get out of the business of education than the following story that took place at Pittsburgh's Woodland Hills High School. The school's resource officer, from the Churchill Police Department, was caught on film assaulting a student, knocking his teeth out and completing a years-long sequence of abuses now ending with the taxpayers shelling out the funds.
After the latest incident in 2017, a group of several student filed a lawsuit and accused the school of creating a culture of verbal abuse and excessive force that allowed resource officers to shock students with stun guns and body slam them.
On Tuesday, the group reached a settlement that will split more than a half million dollars among the parents and children.
As the Altoon Mirror reported:
A video from 2009 shows Shaulis shoving a student into a locker without apparent physical provocation, then shocking the student with a stun gun and arresting him.

One in 2010 shows a behavioral specialist lifting a student up against a locker and slamming him into the ground, breaking the student's wrist.

In 2017, Shaulis was accused of punching and knocking out the tooth of a 14-year-old freshman accused of stealing a cellphone.

An audio recording was also released of former principal Kevin Murray allegedly threatening to punch a 14-year-old special education student in the face and "knock your … teeth down your throat."
In one incident, Officer Steve Shaulis can be seen on video approaching Ahmad Williams, who was seated quietly it seems, holding only his folder and a writing utensil. Shaulis takes Wade by the wrist, puts him in an armbar, reverses his arm behind his back and then applies a choke hold.
Possibly aware of the camera's existence, Shaulis then takes Williams down a darkened hallway where he then picks up the young teenager and slams him to the ground. Williams alleges the officer slammed him on hands, injuring them. The principal, Kevin Murray then comes over and pushes Williams' head to the ground. Shaulis then tazes Williams three times.
The officer was reassigned pending an internal investigation and now his status is currently unknown. Many who've seen the video have already concluded their own investigation and they believe the officer should be criminally charged. However, no such charges ever came.
"Too much has happened at Woodland Hills High School in the past six months for this to be ignored," attorney Tom Hollis said.
"All children — regardless of race, gender or disability — are entitled to an education free of violence and abuse," another attorney, Tim O'Brien wrote in a statement.
Attorney Phil DiLucente, Principal Murray's attorney, attempted to exculpate his client from the incident, even though Hollis said the principal and another officer were present and did nothing to help the child. "My client was not involved in the incident and casting his name in this light with respect to the alleged incident is not only inflammatory, but completely unnecessary and only done to damage his reputation," Mr. DiLucente said in a statement. But DiLucente's statement is inaccurate at best. Murray actually can be seen in the video helping Shaulis to taser Williams. In other words, Shaulis and Murray ganged up on Williams in an apparent assault on the child.
Mr. Hollis said both Officer Shaulis and the principal need to fired. "Where there's smoke, there's fire," he said. "This tells me there'a problem at Woodland Hills High School that needs to be corrected."
Luckily for the other students, the principal finally left the school last year—after resigning—but only after a mountain of victims began to pile up.
The most egregious actions attributable to Shaulis happened last year. Que'Chawn Wade, another student, in April was asked to come to the office at Shaulis' request. Shaulis was investigating the case of a missing cell phone. The officer reportedly told Wade he was responsible for the phone. Wade walked out into the hallway. Shaulis then allegedly called Wade a "f'ing faggot" supposedly overheard by another student.
Shaulis then grabbed Wade, dragging him back through the waiting area into his office. He apparently threw Wade against the wall, against a chair and then to the ground, all the while being punched on his waist and back of the head. The officer, who claimed Wade was resisting arrest, then mounted Wade MMA style and punched out his front teeth.
The attack wasn't caught on film but the initial encounter was, apparently showing Wade with his hands up, being compliant with the officer's authority and commands. Hollis told reporters his client will have to have four more dental surgeries to ensure the tooth stays in place.
Now, only after multiple children were hurt, will anyone be held accountable. Sadly, however, it will be the taxpayers and not the officer or the principal.