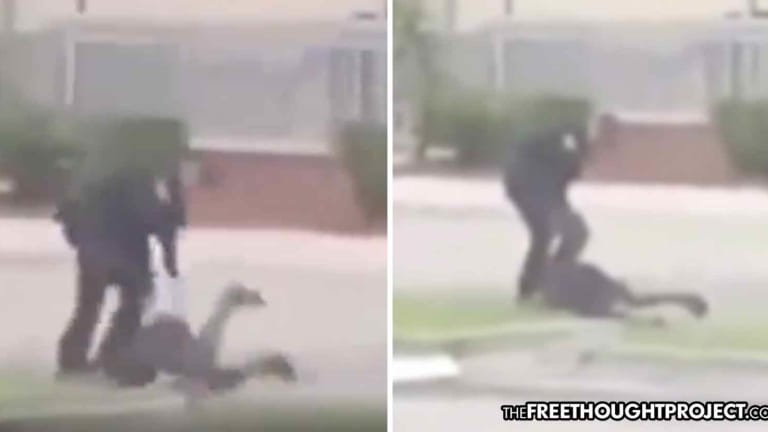 WATCH: Massive School Cop Picks Up 11yo and Smashes Him Into a Concrete Curb
A disturbing video captured a massive school police officer picking up a tiny 11-year-old boy and smashing him down into a concrete curb.
Fort Pierce, FL — Shocking footage was posted to Facebook this week showing a St. Lucie County Sheriff's deputy savagely body slamming a tiny sixth grader outside Lincoln Park Academy. The video has gone viral and it now has parents concerned that their children are not safe when cops like this are patrolling their schools.
According to police, the student was suspended on April 9 and instead of leaving, he was "running around the school campus and not responding to any commands by the school staff."
The report said the student was disruptive and he and another student chest bumped.
According to authorities, the child is in a Diversion Program and was arrested five days earlier.
As WPTV reports, 
The incident report said the student was being disruptive in the Dean's office while waiting for his parents to pick him up, and eventually walked out of the office and ignored commands by school staff members.

The Assistant Principal asked the deputy to help bring the student back to the office since he was going to be suspended.
Although it is not seen in the video, the deputy said the student "continued walking with his fist clenched and had an agitated expression on his face. His brows were turned down and he was punching his fist into the palm of his hand."
It is important to note that the student had not initiated violence against anyone prior to the police attacking him and was only accused of disobeying verbal commands. For his disobedience, he was smashed into the ground — a blow that could've killed him.
As the video shows, the massive deputy, twice the kid's size, picks up the tiny boy at least 4 feet into the air before throwing him down onto the concrete curb.
Luckily, the kid was not killed and will live to hopefully one day improve his behavior. However, he will likely now resent police for the rest of his life.
"That's kind of rough to be at a school campus, he didn't have to slam him down like that," said General Platt as he watched the video while picking up his twins on Wednesday.
"I would have freaked out if I saw that in person," said Jazmine Arias as she was waiting to pick up her sister. "He's a kid, I don't think a little kid should be thrown to the ground like that."
"If the kid was fighting him back and he felt like he was in some kind of danger, then I could justify his actions, but it didn't appear to be that way," Platt said.
The sheriff feels differently about the situation and is defending his deputy.
"Our school resource deputy is very familiar with this student and knows he has a violent history, including possessing weapons," Sheriff Ken Mascara said.
"At the end of the day the deputy did everything he could to diffuse the situation, and his use of force fell within the legal and our agency guidelines," Sheriff Mascara said.
Apparently it is department policy to pick up 11-year-old boys and smash them into the concrete for not listening.
According WPTV, the student is now facing a number of charges, including assault and disorderly conduct. He was taken to the hospital briefly and left with a band-aid. His grandfather tells WPTV he is now undergoing a mental health evaluation in Lake Worth Beach.
Judging from his history, this student was clearly troubled. But sadly, the only 'help' he got that day was violence. When violence is the go-to tool for public servants, especially the ones in schools, it's no wonder this kid acts like he does.
CROSSING THE LINE? | This viral video of a deputy taking down a St. Lucie County student is drawing the rounds on the internet and raising concern among parents.Read the Sheriff's response here --> https://bit.ly/2U9eDRF

Posted by WPTV on Wednesday, April 10, 2019