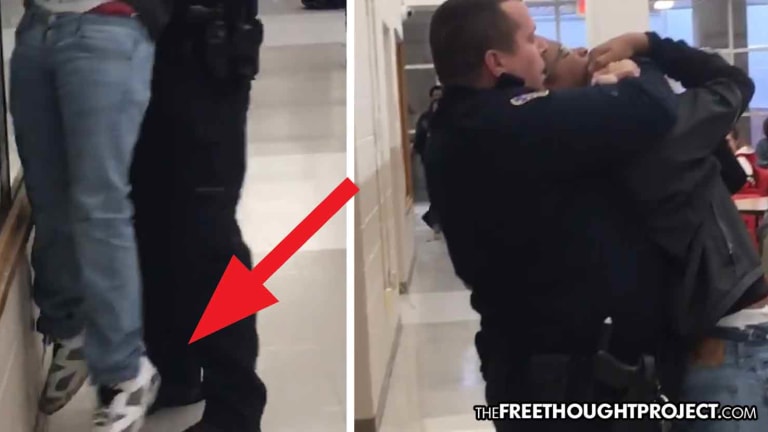 WATCH: Cop Suspended for Choking Child, Lifting Him Off the Ground BY HIS NECK
An school cop was immediately suspended this week after video showed him choking a child so hard, he lifted him off the ground.
Camden, AR — Thanks to the power of video, a school resource officer at Camden Fairview High School was immediately suspended after it showed him assaulting a student. The parents of students at Camden Fairview can sleep well tonight knowing that Officer Jake Perry is currently no longer on the job.
Perry's actions were so over the top that Camden Police Boyd M. Woody immediately issued a press release on Monday decrying the incident and announcing his suspension.
"On this date at 8:50 a.m. I was notified by my staff that there had been an incident this morning at the Camden High School involving a Camden Police Officer. I was shown a video of Officer Jake Perry in an altercation with what appears to be a student. Officer Perry is assigned to the High School as a School Resource Officer (SRO).

Effective immediately, Officer Perry has been relieved of duty pending an investigation.

As the Police Chief, I will not tolerate misconduct from officers and this matter will be dealt with accordingly and I will be transparent in doing so."
Woody later told the Camden News that he "will deal with the matter accordingly and I will be as transparent and open with everything I do for anybody that ask. I'm just an hour into this thing so I really don't have a lot other than, yes I have seen the video posted on Facebook. I had just a brief conversation with Officer Perry and he is now giving statements to the investigators. I assigned one of my captains from the CID over this investigation and we will have an outcome hopefully by the end of the week."
"We will look in to everything then I will give my findings to the mayor and make this public," Woody said. "I would like to add that the onset of this the video does appear that force was excessive. Just from what I saw on the video is the reason we are going to do this investigation and handle it accordingly. And like I said, I won't tolerate it if its true."
Camden Fairview Superintendent Fred Lilly also released a statement regarding the incident.
"I (Superintendent Lilly), have been informed that the officer involved has been relieved of duty pending an investigation by Camden Police Department (CPD). Camden Fairview School District (CFSD) will fully cooperate with the CPD's investigation. In order to prevent similar incidents from occurring in the future, CFSD will work with the CPD to ensure that current policies and procedures for all SROs stationed at CFSD schools are reviewed and revised if necessary. CFSD's first priority is, and will continue to be, to provide an excellent education to all of our students in a safe environment."
While neither the department nor the school stated what happened leading up to this incident, the student who uploaded the video to social media stated that the child being choked by Perry was in a heated argument with another student and before it became physical, Perry stepped in.
As the video below shows, even if the student had been fighting, the actions of this cop — picking the child up off the ground by his neck — can cause serious injury or death. He was literally hanging him. He could've crippled the child for life or even killed him.
A Facebook user claiming to be a police officer agreed, commenting on the video: "I don't know what happened before the video started. As a trained officer, there are different ways to restrain someone. Especially a kid, he's not a man! He could've killed him!!"
Indeed, this is the exact way Eric Garner spent his last moments alive — with a cop's arm around his neck squeezing the life from his body.
Chief Woody said that the officer was wearing a body camera and that footage is being reviewed as well. We will update this story as it unfolds.
Sadly, this type of violence against student by officers is nothing new. If you truly want a glimpse into the horrid effects of the police state on school children, take a scroll through our archives, at this link.