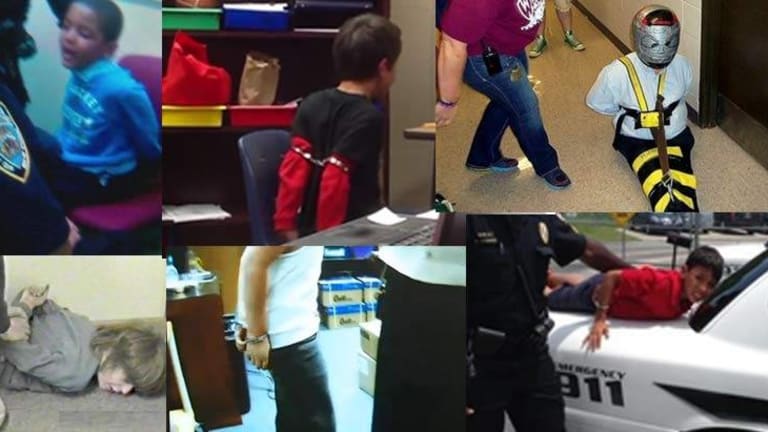 Public School Horror: Officials and Police are Torturing Tens of Thousands of Children a Year
Horrifying reports are far too common of children being handcuffed, put into duffle bags, ducted tape to chairs, locked in solitary confinement, and worse.
On Monday, we witnessed the disturbing video of a small 8-year-old student being bicep-cuffed by a cop and screaming in agony for several minutes. After watching such a thing we are left to wonder, how could this be possible in a supposed civilized society? What kind of school system believes that doing this to a child will improve their education experience?
The reality is that this video provides a rare glimpse into a frighteningly common practice in US public schools. Restraint and seclusion are used tens of thousands of times every year across the US, and that's not counting the 15% of school districts that fail to report data.
Some school authorities actually believe this practice has educational or therapeutic benefits to the student, despite there being zero evidence. In fact, there is plenty of evidence that it poses physical and psychological danger, described in more detail below.
70% of children subject to restraint or seclusion have disabilities, just as the boy in the aforementioned video. Only 19 states have meaningful protections against these practices, and only 18 states even require parents to be informed when their children are put in restraint or seclusion. Restraints that impede breathing are forbidden in only 20 states.
To top it off, juvenile detention centers and mental health facilities have a far more defined legal landscape for the use of restraint and seclusion than public schools, where there is no federal law addressing this practice. Attempts were made to enact laws in 2009-2010 after a GAO report found shocking revelations, but nothing materialized.
In a striking bit of irony, we find perhaps the most comprehensive source of information on the issue is provided by the US Senate Health, Education, Labor, and Pensions Committee. The 2014 report was put together after several cases of students being traumatized or killed due to being restrained in school.
"This past August, an Arizona teacher used duct tape to restrain a second grader to a chair because she was getting up to sharpen her pencil too frequently. In December 2011, a Kentucky school district restrained a nine year-old child with autism in a duffel bag as punishment. The child's mother witnessed him struggling inside the bag while a teacher's aide stood by and did nothing. In Indiana, a teen was repeatedly left secluded in an unmonitored room for hours at a time during January 2011. On one occasion, he was prevented from using the bathroom and urinated on the floor. As punishment for urinating, he was secluded again in the same room the following day, where he screamed and banged on the door to be let out. When no one came to his aid, he attempted suicide by hanging himself. Thankfully, he survived. A sixteen-year-old boy with disabilities in New York did not. He died in April 2012, after being restrained face-down by at least four school staff members for allegedly refusing to leave a basketball court."
Despite the clear emotional and physical trauma that can result from being restrained or secluded, in the few instances where it is discovered, families find no sympathy in the court system.
"A fourteen-year-old Georgia boy committed suicide after being repeatedly left alone for hours in a room comparable to a prison cell. School logs document that school personnel were aware that the boy had suicidal tendencies when they locked him in the room, but a court found that the actions of the school and staff involved did not constitute "deliberate indifference" to the child's well-being.

A Minnesota teacher reportedly secluded an 8-year-old girl with communication, attentional, and hyperactivity disorders 44 times in one school year, despite objections from the mother and an independent behavior consultant. The mother transferred the girl to private school and then filed suit against the school for failing to provide a free and appropriate education. The court dismissed the claim in part noting that such a challenge becomes irrelevant once a child transfers to a new district, even if he or she was in an "intolerable situation."

A Florida teen was diagnosed with post-traumatic stress disorder and placed in a psychiatric facility as a result of a school's use of dangerous restraints and repeated seclusions. However, the court did not find the school's actions to be excessive or egregious."
Who is behind the continued use of restraint and seclusion, in the face of repeated stories of tragedy and studies showing the lasting harm? The National School Boards Association and the American Association of School Administrators, to name a couple. They say they need "maximum flexibility," asserting that ""the use of seclusion and restraint has enabled many students with serious emotional or behavioral conditions to be educated not only within our public schools, but also in the least restrictive and safest environments possible."
This primitive mentality, based on no evidence, is countered by several modern studies.
"In 2005, the Alliance to Prevent Restraint, Aversive Interventions, and Seclusion issued a report detailing the risks associated with the use of these practices and providing guidance to parents about how to protect their children from abuse. In 2009, the National Disability Rights Network issued the first of three reports chronicling the wide variety of injuries and deaths that have occurred as a result of the use of seclusion and restraints, followed by similar efforts from the Council of Parent Attorneys and Advocates, and the Council for Children with Behavioral Disorders. Even if children suffer no physical harm as the result of the use of seclusion and restraints, studies have shown they remain severely traumatized and may even experience post-traumatic stress disorder. As a result of their experiences, children who have been restrained have reported nightmares, anxiety, and mistrust of adults in authority. Students who are forced into unmonitored seclusion may also suffer psychological harm, including feelings of anger, depression, humiliation, despair, and delusion."
The good news is that many school districts are adopting humane, effective methods of dealing with troubled students.
"Positive Behavioral Interventions and Supports (PBIS) is an evidence-based, data-driven framework proven to reduce disciplinary incidents, increase a school's sense of safety, and support improved academic outcomes for all students. More than 19,000 of the approximately 100,000 U.S. public schools are implementing PBIS and saving countless instructional hours otherwise lost to discipline. The premise of PBIS is that engaging instruction, combined with acknowledgement or feedback of positive student behavior, reduces the need for unnecessary discipline and promotes a climate of greater productivity, safety, and learning. 22 PBIS schools apply a multi-tiered approach to prevention, using disciplinary data and principles of behavior analysis to develop school-wide, targeted and individualized interventions and supports to improve school climate for all students."
What do you think? Can we trust that a centralized, top-down education system will end the epidemic of child restraint and seclusion that traumatizes so many children? Can PBIS overcome the primitive mentalities that grip so many School Boards and administrators?