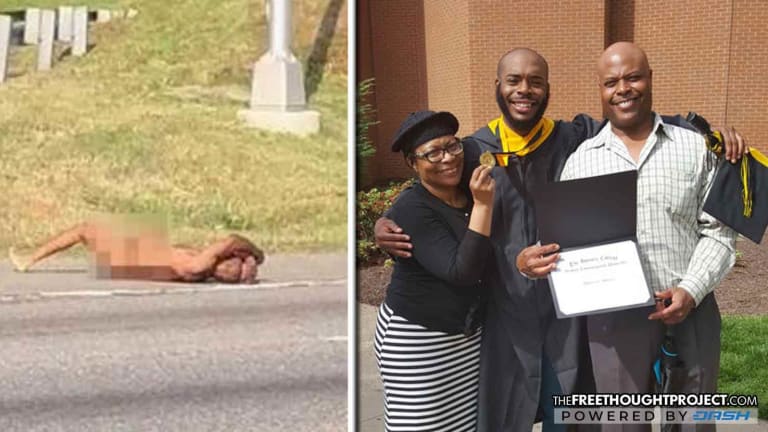 'Being Naked Does Not Remove a Threat': Says Chief as Cops Kill Unarmed Naked Teacher
A college honors graduate and high school science teacher was shot and killed by police this week while he was entirely unarmed and naked.
Richmond, VA — The family of Marcus-David L. Peters—an honors graduate and high school science teacher—is asking for answers after a Richmond police officer shot and killed him while he was naked and unarmed. Not only did the officer swiftly escalate to unnecessary deadly force against a naked man, but now the department is telling the public that it was justified.
According to reports, the shooting happened along I-95 in Richmond after Peters lost control of his vehicle, sending it crashing into the trees. Police say that Peters then exited the vehicle, entirely naked, and began running into and then rolling around on or near the interstate.
Police say that Peters had previously struck another vehicle prior to crashing and then fled the scene. After a brief chase, he crashed and then ran naked up the northbound lane of I-95. Police claim Peters then charged an officer who had no other choice but to resort to deadly force against the naked and unarmed man who 'charged the officer.'
"Peters emerged from his disabled vehicle and ran into the northbound lanes of I-95," Richmond Police spokesman Gene Lepley said. "He was not wearing any clothes… [we 're trying to figure out] why he didn't have any clothes on."
Police claim the officer first deployed the taser which proved to be ineffective, so the officer then shot the teacher, who later died at a local hospital.
"Our officer attempted to use a taser on the person and it failed," Lepley said.
"The attack continued and the officer drew his service weapon and discharged it striking that man."
Police have yet to release the name of the officer involved. According to WTVR,
The RPD officer, a male with ten years of service, has been placed on administrative leave which is standard procedure while the Department's Force Investigation Team (FIT) conducts its investigation. The FIT detectives will interview the officer and any other eyewitnesses that can be located. They will review the officer's body-worn-camera video and any other video or photographs that can be located. Such images can be submitted to the RPD using the Crime Stoppers P-3 app which has its own category labeled "95 Incident."
A 'safety analyst' for the local news channel claimed that he's seen naked men strangle multiple officers to death and went on to justify the use of force.
"An unarmed person does not necessarily mean that you cannot be killed by an unarmed person," NBC 12 safety analyst Mike Jones said. "I've seen cases where officers have been strangled with the bare hands of a suspect."
The Free Thought Project searched for instances in which unarmed suspects have strangled on-duty police officers to death, although we could not find any.
The police chief echoed the claims of the safety analyst, noting that being naked doesn't mean that a person can't kill you.
"We are all deeply affected by what happened here – by the loss of life," Richmond Police Chief Alfred Durham said in a statement released by Richmond Police. "Our officers do not take the use of deadly force lightly. I think it's important to remember that being naked does not remove a threat. So far, the eyewitness accounts we've heard have been consistent: our officer tried using verbal commands, then used non-lethal force first by deploying his Taser before using his service weapon."
While it is indeed possible for an unarmed naked man to pose a threat to an untrained individual, the idea that a trained police officer couldn't figure out another way to suppress this threat without killing Peters is disturbing.
Indeed, as TFTP has reported, DeKalb County Police Officer Robert Olsen in Georgia, shot and killed an unarmed naked man under very similar circumstances—and he was charged.
According to Barbara Peters, her son grew up in Middlesex County and graduated cum laude from Middlesex High School in 2011. His school selected him to be the speaker at graduation and he was even featured in a special on the local news.
"Each and every one of you has something special to offer the world," Peters said during his speech, according to the reports. "You have your own unique gift. We are all assets to society."
He went on: "The trying times of life will only make us strong individuals. Nothing in this life that has value is going to come easy."
According to the Richmond-Dispatch, Peters went on to attend VCU, graduating in 2016 with a biology degree and cum laude honors; he also minored in Spanish, psychology and chemistry. While at VCU, he attended the school's Honors College, served as a resident assistant and volunteered in doctor's offices, the family said.
"His pursuit for a career as a trauma surgeon would unknowingly take a detour as he discovered his passion for education," the family said in a statement.
Before being killed by police, Peters was a science teacher at Essex High School.
"The hopes for these additional lessons were to help students develop fundamental skills for overall success," Peters' family said. "He would often say, 'The students just need to know that someone cares about them and need a role model to look up to.' He tried his very best to do just that."
Peters was obviously in some sort of mental distress, whether it was drug related or health related was unclear. What is clear, however, is that police were unable to resolve a situation involving a naked unarmed man—without killing him—and society has lost an amazing person because of it.