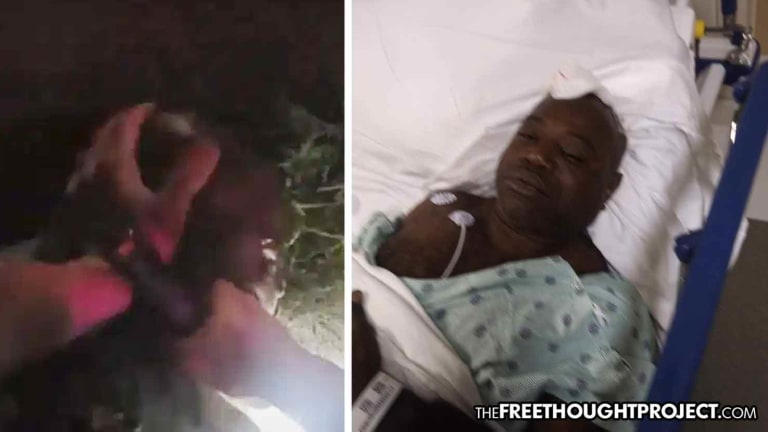 Secret Body Cam Shows Cops Break Man's Jaw, Ribs, Arm, & Skull with His Flashlight
Police kept the body camera footage secret which showed an officer beat a man nearly to death with his flashlight.
Monroe, LA — For two years, the Louisiana State Police kept a secret a recording that showed one of their troopers attempt to kill a man with his flashlight. This week, that video was released and we now know why they didn't want it to see the light of day.
On that fateful night in May of 2019, Aaron Larry Bowman hadn't committed a crime and had only been accused of "improper lane usage" when he was beaten nearly to death. Bowman did not resist arrest or attempt to flee, yet he was pulled from his car by police and thrown to the ground.
As police were putting him in handcuffs — over an alleged traffic citation — Trooper Jacob Brown saw an opportunity to inflict deadly violence and pulled up to the scene and jumped out of his car because he "was in the area and was trying to get involved," according to a recent investigation into the violent trooper.
Armed with his 8-inch aluminum flashlight reinforced with a pointed end to shatter car glass, Brown jumped on top of Bowman and unleashed his fury.
"Give me your f--king hands!" Brown yelled. "I ain't messing with you."
Brown continued pummeling the compliant man as other officers held him down. As the flashlight blows kept coming, Bowman pleaded with the officers to stop beating him, telling them that he is a dialysis patient and that he had done nothing wrong.
Bowman continued to tell the officers that he wasn't resisting, saying, "I'm not fighting you, you're fighting me."
"Shut the f--k up!" Brown responded. "You ain't listening."
By the end of the attack, Brown had unleashed 18 blows to Bowman's head, face, and body. In the gruesome footage, Bowman can be heard moaning on the ground, saying, "I'm bleeding!" and, "They hit me in the head with a flashlight!"
Bowman was left with a broken jaw, three broken ribs, a broken wrist and a gash to his head that required six staples to close.
After they beat him nearly to death, police charged Bowman with battery of a police officer, resisting an officer and the traffic violation for which he was initially stopped, improper lane usage.
Brown covered up the video by putting in his report that his interaction with Bowman was a "citizen encounter" and not a use of force. Investigators pointed out that this was "an intentional attempt to hide the video from any administrative review" — and it worked.
State police didn't investigate the attack on Bowman until 536 days after after it happened. What's more, they only began looking into it after Bowman filed a lawsuit against them.
Once the investigation was launched, Brown resigned to avoid accountability. The AP reports that Brown has a tainted and bloody history with a whopping 23 use-of-force incidents with 19 of them involving Black people.
Brown has since been arrested and charged.
According to the AP, "aside from the federal investigation, Brown faces state charges of second-degree battery and malfeasance in Bowman's beating. He also faces state charges in two other violent arrests of Black motorists, including one he boasted about last year in a group chat with other troopers, saying the suspect is "gonna be sore" and "it warms my heart knowing we could educate that young man.""
For those who recall, this is the same department who beat Ronald Greene to death. Like Bowman, the state police kept that video secret as well. Greene's family was told he died in a car wreck, but the body camera footage revealed that he was fine after the wreck and police subsequently tortured him to death on the side of the road. Greene's death happened within weeks of Bowman's attack.
"I kept thinking I was going to die that night," Bowman told the AP. "I don't want nobody to go through that."