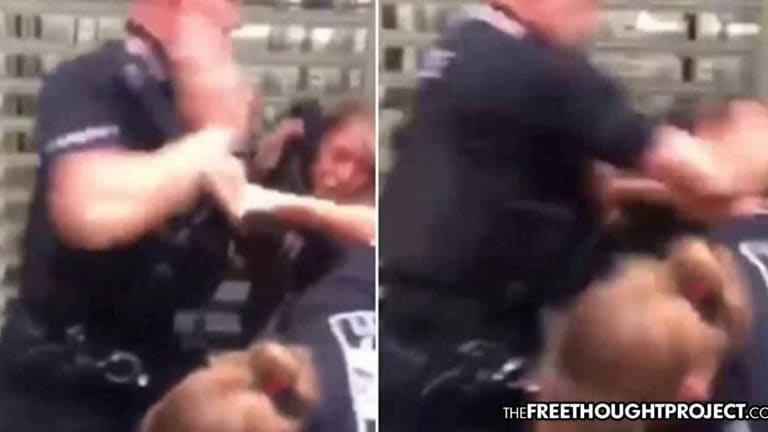 Social Media Erupts in Outrage as Video Shows Cop Hit 14yo Girl In the Face
Graphic video of a police officer hitting a 14-year-old girl in her face has sparked a firestorm of debate online with both support and ire for the officer.
Debate has sparked online with many people calling for an officer to be fired while others are defending him after he was seen on video hitting a 14-year-old girl in the face during a violent arrest.
According to police, they were responding to a disturbance and when they arrived they began to arrest the 14-year-old girl. As the video shows, the girl did not want to be arrested and was heavily resisting.
During the struggle, as a male and a female officer attempt to get the girl under control, the male officer delivered a palm strike to the teenager's face, shocking the crowd around them and causing a firestorm of debate online.
As the video shows, a woman can be heard screaming "get off her" while a male voice cries "this man's smacking up a little girl... she was smacked... you are losing your job."
The chaotic scene, which involved police from Lancashire, UK, involved several other struggles between civilians as the police attempted to get the girl into custody.
Eventually, more officers arrive the they are able to arrest the 14-year-old girl. According to police, the girl and a 52-year-old woman were arrested for suspicion of assault on a police officer.
When the video was posted to Facebook Monday afternoon, critics of the police tactics lashed out at officers. Some of these posts were compiled in an article for the Mirror.
One man wrote: "If (we'd) done that to one (of) our children they would take them and lock us up."
Another added: "We don't see what lead to this situation but I don't think it's right a man slapping a 14-year-old child in the face. No need for this at all."
A woman asked: "I wonder how many people defending that officer would still defend him if it was your child in the video.
"If this was a parent doing it they'd be up for assault and have social services banging on the door. The police are not above the law."
However, some of the others took note of the fact that both the female and the male officers were injured during the melee and came to their defense.
Jade Davies wrote: "Don't resist arrest, have some respect then you won't get slapped or arrested.
"She was scratching that coppers face off... can use reasonable force legally and that's what he did."
The Lancashire police released a statement Monday night detailing the officers' injuries and the state of the investigation into the incident. It reads as follows:
We are aware of a video circulating on social media which shows a young woman being restrained by officers in Accrington town centre. As a result of this incident, one officer sustained a bite wound to her arm and another suffered a cut to his head. They have both attended hospital for treatment. A 14-year-old girl and a 52-year-old woman have been arrested on suspicion of assaulting a police officer and are currently in custody. We understand this footage may appear concerning, however, officers are trained to use restraint techniques which may look shocking to untrained onlookers. A full investigation into the circumstances surrounding this incident will take place in due course.
Below is the graphic video. In the comments below, let us know whether or not you think the officer's use of force was justified.