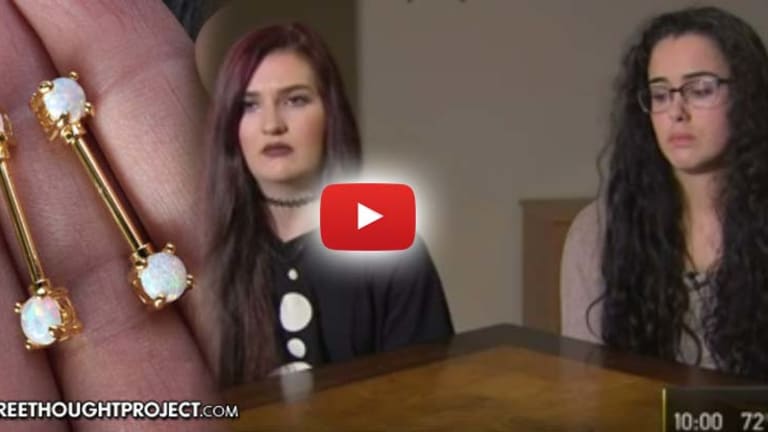 Cop Forced Two Teen Girls to Remove Their Tops and then Ripped Their Nipple Rings -- One With Pliers
A male cop has been put on administrative duty and two female teens are suing after their nipple rings were ripped -- one with pliers.
Fort Worth, TX -- A Texas state trooper has been placed on administrative duty after two teenage females he arrested had their nipple rings forcefully removed -- one with pliers.
The two women came forward after they were injured while being processed into jail for riding in the back of a vehicle in which the trooper found a single pill. 18-year-old Tayler Myers and 19-year-old Courtney Palacios were returning to Fort Worth from a concert in Houston when Trooper Michael Tice stopped them.
While processing them into jail for a single pill in the driver's door, Tice told the two teens to remove any piercings. When they asked where they can go to remove their nipple rings, the male trooper told the two females to do it right there -- in front of him.
"And then we told him, 'Well, where do we go to take out our nipple rings?'" Myers said. "And he was like, 'You are going to have to do it right here, in the open.'"
The teens complied. They simply turned around, lifted up their shirts and each removed one of their nipple rings. However, both of them had trouble with one of them.
"We ended up getting one of them out," Palacios said. "We each got our right one out. But we were having trouble with the left. It was not coming out at all."
At this point, the trooper intervened and went to his vehicle to retrieve a set of pliers.
When he got back, he told the girls to try one more time to remove the piercings, but they could not. That's when things took a turn for the worse.
In spite of the trooper already being in clear violation of these girls' rights, he brought it to a new level of sick.
"He came up to me and he got really close to it, and he was just staring," Palacios said. "He's like, 'I think it unscrews from the left side.' So then, without gloves or anything — and I could see dirt under his nails, it was extremely disgusting — he gets on there and he tried to twist it and he starts shaking from trying so hard and he ends up pulling it and ripping it and it starts bleeding."
In an interview with NBC 5, Palacios described the pain and how it made her start screaming. She begged for him to stop.
"I'm like 'ow, ow, ow, ow, ow,' saying it really loud," she said. "He finally stops and backs away and he just stares at me. He didn't say sorry or anything or acted like it was a big deal."
With her nipple bleeding, Palacios then watched her friend undergo a similarly vile procedure as a female trooper took the pliers and tried to remove Myers nipple ring -- while Tice stood by and watched.
"I feel like it's not right, what he did, at all," said Myers, whose father is a Fort Worth police sergeant and mother is a police dispatcher, according to NBC 5.
The two young women have since retained an attorney and are planning legal action against the trooper.
"He has violated every policy and procedure known to police work," said Fort Worth attorney Curtis Fortinberry, a former Fort Worth officer. "That is just absolutely mind-boggling that he would do this."
Finally, after being subjected to such inhumane treatment, Palacios was released and went to the hospital on her own where she was treated for her injuries. She is expected to recover.
According to NBC 5, the two women also were cited for having alcohol in the car and Palacios was charged with having a fake identification card.
After they were released, the two teens were interviewed by Texas Rangers who took pictures of Palacios' injury for evidence.
In what world would this treatment be considered okay? The officer's callous disregard for the teenagers' privacy by making them remove their shirts in front of him speaks to the brutal nature of police in America today.
These young women had not harmed anyone, yet they were subject to prison camp treatment by those sworn to protect them. Disturbing indeed.
[author title="" image="https://tftpstagingstg.wpengine.com/wp-content/uploads/2016/03/magorist-e1456948757204.jpg"]Matt Agorist is an honorably discharged veteran of the USMC and former intelligence operator directly tasked by the NSA. This prior experience gives him unique insight into the world of government corruption and the American police state. Agorist has been an independent journalist for over a decade and has been featured on mainstream networks around the world. Follow @MattAgorist on Twitter and now on Steemit[/author]