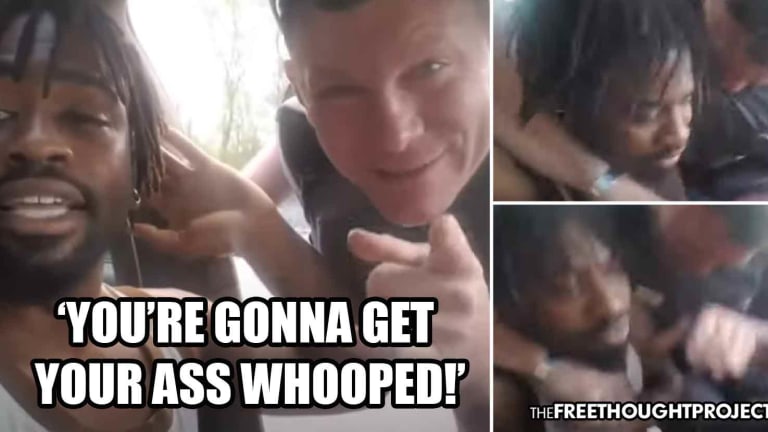 "Watch the Show Folks": Cop Poses on Livestream as He Savagely Beats Man Over Traffic Stop
A crazed state trooper couldn't hold back his rage before he posed for his victim's livestream and proceeded to beat the hell out of him.
Richmond, VA — A disturbing video was shared with the Free Thought Project this week showing Virginia State Trooper Charles Hewitt, violate the constitutional rights of and assault Derrick Thompson. The trooper knew he was being filmed and even posed for the camera before savagely attacking a man over a minor traffic offense.
The details of what unfolded that fateful April day last year are now the subject of a lawsuit against the Virginia State police. Thompson is being represented by Joshua Erlich of the Erlich Law firm.
This week, Erlich sent a letter to Virginia State Attorney General Mark Herring, to let them know about the intent to sue and the abuse endured by his client. According to the letter:
On April 20, 2019, a Virginia State Trooper stopped Mr. Thompson's vehicle. The Trooper alleged Mr. Thompson's inspection sticker was expired and that she detected an odor of marijuana. She announced her intent to search his vehicle. Mr. Thompson did not consent to the search, and the Trooper returned to her patrol vehicle to call for back-up.

Fearful of police violence and alone in his vehicle, Mr. Thompson, placed his cell phone on his dashboard to film the interaction. Approximately ten minutes later, two additional Virginia State Troopers arrived. Mr. Thompson requested each of the Troopers provide their name, badge number, and identification. One Trooper ignored Mr. Thompson's request entirely, while another claimed he had forgotten his name and badge number.

Mr. Thompson made the same request of Hewitt, indicating that he was a taxpayer and believed his request to be justified. Hewitt responded, "You pay about forty cents of
state taxes". Hewitt, after contacting dispatch to inform them "this one's a little snippy," did identify himself to Mr. Thompson.
"Today, we sent a letter to @MarkHerringVA about Virginia State Trooper Charles Hewitt. In April 2019, Derrick Thompson was driving to work when Hewitt terrorized and assaulted him," tweeted Erlich.
As the video shows, Thompson is not resisting in anyway, has both of his hands up, and is simply not willing to get out of the vehicle over an allegation that a cop smelled a plant. "Sir, my hands are up, and we are on camera," Thompson says as the Trooper becomes more enraged. Hewitt then responds by telling Thompson that "you are gonna get your ass whooped in front of f*cking lord and all creation." Thompson says again and again that his hands are up and he's not resisting. However, the enraged Hewitt doesn't seem to care. He looks to the camera, poses with his soon-to-be victim and says "Watch the show folks" as he attacks Thompson. Though the camera goes blank, you can still hear Thompson pleading with his attackers to "please get off my neck" as Hewitt continues to beat him. Instead of listening and getting off of his neck, Hewitt starts shouting, "how do you like that motherf**ker?" as he continues his attack on Thompson. Thankfully, Derrick survived. Other people have not been so lucky. As you watch the video below, remember that this is a stop over an allegation of an expired vehicle sticker. However, once the cops claimed to smell a plant, they then claim the right to escalate to the point of the violence shown in this most disturbing footage to look for said plant. As trooper Hewitt's actions show us, posing with his victim, smiling, and then violently snapping, it's as if he enjoyed it. Well, now he is internet famous.