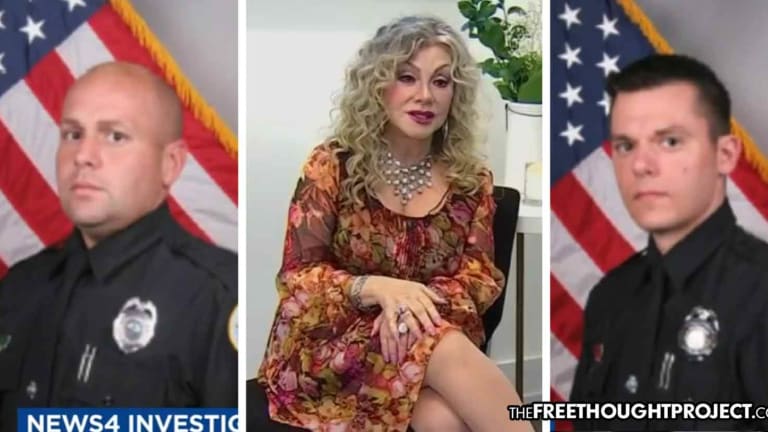 'I was Ambushed' Dolly Parton's Sister Says Cops Attacked, Choked Her for Defending Her Home
The sister of Dolly Parton, acclaimed musician, Stella Parton is speaking out after she says police attacked her in her own home.
Nashville, TN — It is no question that black lives are disproportionately taken at a higher rate by police. Despite making up just 13% of the population, black people made up 24% of those killed by police last year. They were also 1.5 times more likely to be killed while unarmed. This is the reason the Black Lives Matter movement exists — because of the extreme disparity. That being said, police are not afraid of attacking and killing white people as well and to ignore their deaths and suffering would be irresponsible.
Showing just how willing police are to initiate violence against anyone and everyone, is the case of Stella Parton, the sister of country music, theme park, and family entertainment icon Dolly Parton. An acclaimed independent artist herself, Stella is now speaking out after she says cops assaulted her in her own home, including using a choke hold.
Parton lives in the affluent area of Nashville known as Oak Hill — home to the governor's mansion — with a median household income of $150,000. Her white skin and money, however, was no defense against police coming in her home and allegedly assaulting her.
Though she is only now speaking out about the alleged attack, the incident unfolded in 2015, when Parton says she accidentally set off her home's alarm system. Instead of calling to confirm, Parton says police simply showed up shining flashlights in the front yard. This caused Parton — who was unaware she triggered her alarm — to grab her gun to defend her home.
Parton says once she realized it was the police, she put the gun down and informed them it was there.
"I pointed and I said there is a gun there – I have a license to carry it because I've had two break-ins already," Parton said.
"Did you do anything to threaten these officers?" asked News4 during an interview this week.
"Oh, heavens no," Parton said.
"Did you do anything with the gun to threaten that you were going for it?" asked News4 Investigates.
"No. I pointed at it," Parton said.
Police disagree, however, and claim Parton picked up the gun.
In the internal report, they say they warned Parton to stay away from the gun, and that she stated, "You can't tell me what to do," and picked it up.
The officers said they used "soft restraint" to take away the gun.
But Parton said one of the officers put her in a choke hold, while another grabbed her arms, according to News4. What's more is the fact that TFTP has reported on countless instances of other folks holding items like vape pens, spoons, screw drivers, or even knives, and getting riddled with bullets instantly.
Are we to believe that police completely threw their training out the window and simply walked up to a person wielding a gun and "softly" grabbed it from them? Not likely.
Parton tells a much different story than police, claiming that she thought she was going to die as police officers choked her out while holding her arms
"I was saying to myself, 'Please God, don't let them injure me or kill me. Because my kids will never know what happened to me,'" Parton said.
Parton said as she begged the cops not to hurt her, they became defensive.
"I felt like I was being Ambushed," she said. "I said boys, don't do this to me. And he said, we're not boys! I said, 'O, honey,' and he said, 'I've been to Iraq.'"
After being injured during the incident, Parton says she filed complaints of excessive force on the cops involved in her alleged assault, both with the police department and the district attorney's office.
The department investigated themselves, however, and predictably found no wrongdoing on behalf of the officers.
The chief of police at the time was Chief Steve Anderson, who recently announced that he will be retiring — a move Mrs. Parton says she is welcoming.
"I think police chief Anderson needed to resign," Parton said. "That's why I say we have to have police reform. And the police have to start policing themselves."
Sadly, however, when any group within government is given the authority to police themselves, that is the last thing that actually happens. This is the reason that nearly every high profile police killing is followed by countless reports of the offending officer's lengthy record which has been shielded from public view as the department "policed themselves."