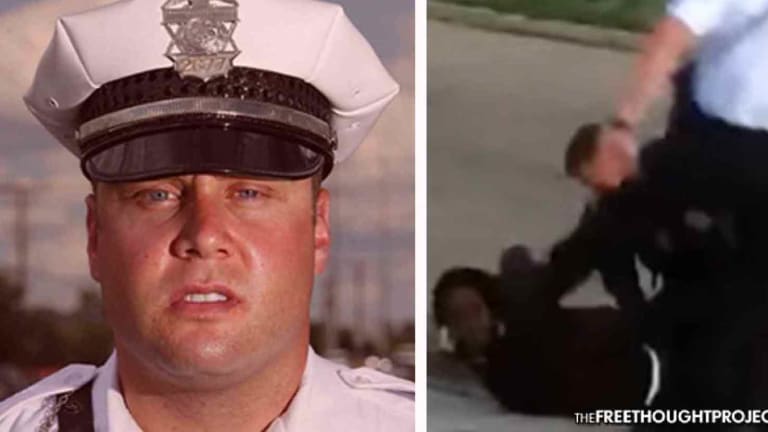 WATCH: Cop Fired for Curb Stomping Handcuffed Man is Quietly Rehired as Taxpayers Foot the Bill
A crooked cop was fired after a video showed him curb stomping a compliant handcuffed man. However, thanks to a corrupt system, he's since been reinstated and is back on the street.
Columbus, OH — After being fired for walking up to a handcuffed man and stomping his head into the curb, an Ohio cop is back on the job thanks to an insultingly corrupt system that empowers and rewards bad police officers.
In July of 2017, Officer Zachary Rosen was fired after he was seen on video committing an atrocious act of assault. Now, however, the Fraternal Order of Police has managed to get the abusive cop reinstated to the Columbus Division of Police.
As TFTP reported at the time, Columbus Police Chief Kim Jacobs had only recommended a 24-hour suspension for Rosen. However, the Public Safety Director, after reviewing the video, and Rosen's past, decided he should be fired.
TFTP predicted he would be back on the job.
In April of 2017, the Free Thought Project was given the video by the man who filmed it showing Rosen walk up to Demarco Anderson — who was face first on the ground and handcuffed — and stomp his head.
"The strike/stomp was an untrained technique and was found to be unreasonable," police said in a statement last month.
"Based on what we see in the video taken on Saturday, April 8, 2017, the action taken by one of our officers does not meet the standards by the Columbus Division of Police," a CPD spokesperson told the Free Thought Project last year. "It appears to be inconsistent with the values and training we instill in our officers."
However, it now appears, as we predicted, that none of these findings led to any significant form of discipline. In fact, the police union at the time actually recommended no punishment and has openly criticized the 24-hour suspension.
According to the union, no discipline was required — for curb stomping a handcuffed and compliant man.
As the video shows, the other officer appears to have Anderson under control as he puts handcuffs on the soon-to-be victim. After the cuffs go on, that's when Rosen comes running up and stomps his face into the curb.
According to our source for the video, police were looking for Anderson for suspicion of firing a gun in the area. When they approached him, he ran. The police also confirmed this.
After a brief foot chase, Anderson was tasered, fell to the ground, and then placed in handcuffs. The video begins after the tasering.
After Rosen stomped on Anderson's face, he starts looking around. At that moment, the officers realize they were just recorded committing a crime.
"Can I help you?" asks Rosen, in an obvious attempt at intimidating the man filming. However, he did not back down and continued to record.
After police needlessly assaulted Anderson, he tries to explain that he was running because one of the officers pulled out a gun and he got scared. He then accused the officers of planting drugs on his person as well.
Police claim to have found crack cocaine and a pistol on Anderson.
According to our open records request to the CPD, Anderson was charged with Improperly Discharging Firearm at or Into Habitation, Having Weapons While Under Disability, Obstructing Official Business, Resisting Arrest _ causing physical harm to law enforcement officer, Aggravated Menacing, and Possession of Drugs.
Whether or not any of these charges are true is unknown. However, it should be noted that police have been caught plenty of times planting drugs and guns on entirely innocent people.
It should also be noted that according to ABC, Anderson pleaded not guilty to charges including improper handling of a firearm and aggravated menacing.
"Anderson was a victim of a crime because of Rosen's actions and the officer should be fired," said Sean Walton, an attorney representing Anderson.
"Kids in school who are suspended or expelled are getting similar or worse punishment," said Walton, who called the chief's recommendation at the time "laughable."
Indeed, this situation would be 'laughable' if it wasn't indicative of a serious problem among police in America. Cops can terrorize, beat, and even kill innocent people — on video — and face no consequences.
As TV10 reports, Columbus Mayor Andrew Ginther criticized the decision to overturn Rosen's firing. The mayor released the following statement Monday:
"We disagree with the decision of the arbitration of Columbus Police Officer Zach Rosen. We believe the Public Safety Director's decision for termination was the correct one. However, we respect and will abide by the legally-binding arbitrator's decision. The details and timing of his reinstatement are being determined by Police Chief Kim Jacobs."
Whether or not Anderson is guilty of the crimes he's been arrested for has yet to be determined. However, if he is guilty, his case is now tainted because of this officer's choice to stomp his face into the ground.
Make no mistake, there will be someone punished for Rosen's crimes. However, it will come in the form of a lawsuit and it will be the innocent taxpayers of Columbus who pay for this crooked cop and the crooked cops who refuse to hold him accountable.