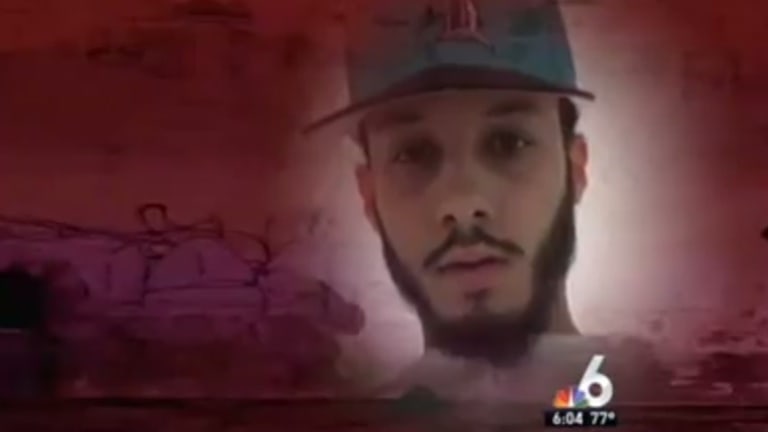 Police Officer Sees Graffiti Artist "Tag" a Building, So He Runs Him Over With His Car
Miami, Florida - 21-year-old street artist Delbert Rodriguez Gutierrez is now in critical condition and facing death after a police officer in a patrol car ran him over during a chase. Delbert's artist name is "Demz," and police claim that they caught him tagging a building around 2am on Friday morning, near the intersection of NW 5th Avenue and 24th Street, in Wynwood.
Wynwood is an art district in Miami where graffiti is extremely common, and sometimes artists have agreements set up where they are allowed to tag on buildings. However, it is not clear whether or not Gutierrez had permission to be where he was, and police claim that he fled as soon as he saw the flashing red and blue lights of the police car.
Detective Michael Cadavid chased after the young artist in his unmarked patrol car, eventually running him over. After the incident, Cadavid claimed that Demz jumped out in front of the car and could not be avoided.
He was quickly rushed to Jackson Memorial Hospital, where shortly after he was listed under critical condition with a severe brain injury.
"He shouldn't be in the hospital with a brain injury right now, he should be out here doing graffiti with me. He probably shouldn't have ran, you know, considering that it is Wynwood and it's an art district and everyone is basically doing graffiti, the cops might have just given him a chance," Rodriguez's friend Neo told NBC 6.
The police will surely say that this attack is justified because Demz ran, or "resisted arrest", but is this truly a justification for running a man over with a car? Is being non-compliant, and running away from people who are known to be violent actually a justifiable reason to kill someone?
Coincidentally, the incident happened just hours before a protest against police brutality was scheduled in Miami, in remembrance of Israel "Reefa" Hernandez, the young man who was killed by a Miami Beach Police officer last year when he was shocked with a taser.
Naturally, the police are callously blaming Gutierrez for his own death. "I understand she is extremely upset, and rightfully so, and that her son is in the hospital," Miami police union President Javier Ortiz said by text. "However, for every action there's a reaction. If he would have not been committing a crime and then running from law enforcement, this could have been avoided. Her son is in our prayers."
Rodriguez's mother, Nannette Kaniaris, and other family members sat in at vigil at his hospital bedside Friday night. Kaniaris said doctors told her it would take a miracle for her son to recover.
"I don't know that he's going to be here tomorrow," she said.
John Vibes is an author, researcher and investigative journalist who takes a special interest in the counter culture and the drug war. In addition to his writing and activist work he is also the owner of a successful music promotion company. In 2013, he became one of the organizers of the Free Your Mind Conference, which features top caliber speakers and whistle-blowers from all over the world. You can contact him and stay connected to his work at his Facebook page. You can find his 65 chapter Book entitled "Alchemy of the Timeless Renaissance" at bookpatch.com.