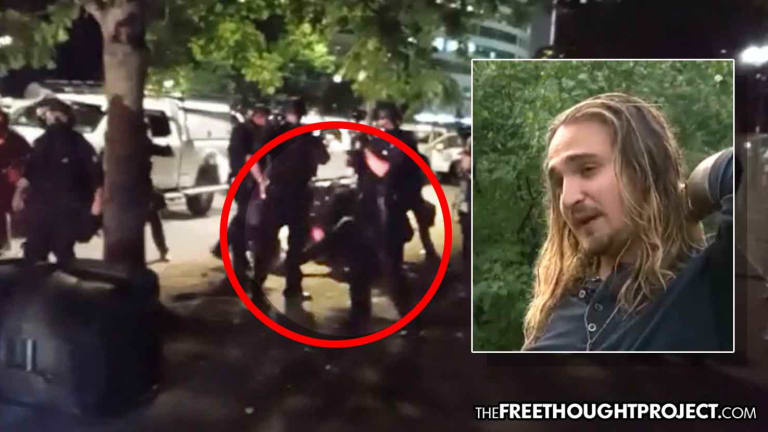 WATCH: Student Left Hemorrhaging After Cops Allegedly Sodomize Him With Baton
A college student attending a protest says he was falsely arrested and then forcibly sodomized by a police baton leading to permanent injury.
Denver, CO — The Denver police department has opened an internal investigation into their officers after a man claimed he was forcibly sodomized by a cop during an arrest.
According to police, 23-year-old Michael Jacobs was being placed under arrest during a protest near Civic Center Park on July 29 for disarming a police officer. Police claim Jacobs attempted to take an officer's pepper ball gun — which is not backed up by video evidence and disputed by Jacobs and his attorney.
Jacobs disputes the claim that officers had probable cause to arrest him at all. The college student says he was rattling a fence during the protest to get an officer's attention when he was taken down from behind.
"I was grabbed from behind, it felt like it was from my neck, no warning, no 'you're under arrest,'" Jacobs said.
A portion of the video shows people shaking a fence near the park and then the take down. Exactly what transpired before this video is unclear and is a matter of Jacobs' word verses the police.
As the video shows, an officer runs at Jacobs as several other officers pile on top. In the brief video, you can see an officer use his baton against the student.
During his arrest, Jacobs said that an officer came up to him as he was face down on the ground and sodomized him with an object he thinks was a police baton.
"As I was on the ground, and as I was completely helpless, someone took what felt to be a nightstick and just shoved it up my butt. After that it was pretty much done," Jacobs told KDVR.
"It was the traumatizing experience I've been through in all 23 years of my life."
After the arrest, Jacobs went to the hospital where he conducted a rape kit and says doctors who evaluated him two weeks later found evidence of rectal and anal hemorrhage, KDVR reported.
"I've been having to go to GI doctors since and have them explain to me why I have hemorrhoids bleeding out of my [sic] rectum," Jacobs said.
"I mean, the people that are there to protect you, to do something so wrong, it's like I have panic attacks now, which I've never experienced before."
Jacobs now faces charges which his lawyer has dismissed as bogus.
As the Denver Channel reports:
A probable cause statement released by the Denver Police Department claims Jacobs was part of a group trying to push down a gate at Lincoln Park and adds that they managed to bring it down and get inside.

But in the video, Jacobs is outside of the fence.

The police report states Jacobs violently resisted arrest and even grabbed an officer's pepper ball gun. It's a claim Jacobs and his attorney, Dr. Matt Greife, dispute.
"That could not be further from the truth," Jacobs said.
"This was a cover charge," Greife told KDVR. "They have to charge him with something to justify why they went to him in the first place."
"To say that he attempted to disarm a police officer off their pepper gun or pepper ball gun, that's nonsense, he was on the ground way too fast," Dr. Greife said.
Griefe told the Denver Channel that cops have refused to release the body camera footage he says would exonerate his client.
"We should know what the police reports say. We should know what the body cams tell us," Dr. Greife said.
Jacobs is now facing a felony charge of attempting to disarm a police officer and is due back in court at the end of the month. Greife is now moving to have the charge dropped against his client, noting that their failure to release the body camera footage means they have no evidence to convict him.