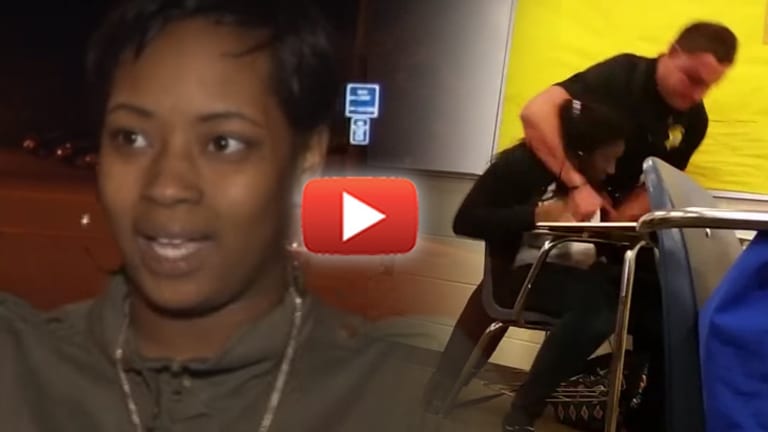 The One Student Who Spoke Up Against the Cop Attacking a School Girl, Was Arrested For It
Everyone is asking, 'Why didn't anyone speak up with the cop attacked a student?' Someone did, and she was arrested for it.
Richland County, SC — As we reported earlier this week, a viral video shows a cop slam a female student into the ground while she was peacefully sitting at a desk. Now, we have learned that the student who filmed the attack was actually arrested.
18-year-old Niya Kenny told WLTX that she filmed the incident because she was horrified by what she witnessed. Kenny likely knew that without video evidence the police officer responsible for the attack would not be held accountable.
"I was screaming 'What the f? what the f is this really happening?' I was praying out loud for the girl. I just couldn't believe this was happening. I was just crying, and he said, 'since you have so much to say you are coming too.' I just put my hands behind my back," she said.
"A man used that much force on a little girl, a big man, like 300 pounds of full muscle. I was like no way, no way, you can't do that to no little girl," she added.
The incident reportedly began when the student who was attacked was caught using her cellphone in class. The teacher asked her to leave and she refused, then an officer was called and she refused to leave again. Officer Ben Fields then decided that a student disobeying him was reason enough to attack her in the manner that he did.
Richland County Sheriff Leon Lott defended the officer, saying that he only "bears some responsibility" in the incident, and blamed the student for daring to disobey a cop.
"If she had not disrupted the school and disrupted that class, we would not be standing here today. So it started with her and it ended with my officer. What I'm going to deal with is what my deputy did," Lott said.
Deputy Ben Fields has since been suspended without pay.
" width="790" height="444" frameborder="0" allowfullscreen="allowfullscreen">
John Vibes is an author, researcher and investigative journalist who takes a special interest in the counter-culture and the drug war. In addition to his writing and activist work, he organizes a number of large events including the Free Your Mind Conference, which features top caliber speakers and whistle-blowers from all over the world. You can contact him and stay connected to his work at his Facebook page. You can find his 65 chapter Book entitled "Alchemy of the Timeless Renaissance" at bookpatch.com.