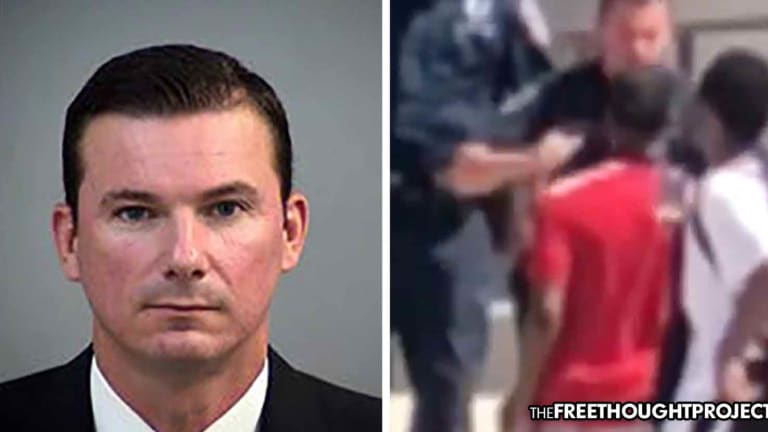 Cop Arrested After Video Showed Him Punch a Child in the Face, Then Lie About It
An IMPD police officer is facing multiple felonies after video showed him punch a student in the face, knee him in the gut, and lie about it all.
Indianapolis, IN — An infuriating video went viral last month after is showed an IMPD police officer, Robert Lawson, punched a child who is a student at Shortridge High School in the face and then lie about it on his report.
This week, 43-year-old Robert Lawson was charged with battery, perjury, obstruction, official misconduct, and false informing after a two-week investigation into a 27-second video showing the Indianapolis Metropolitan Police Department officer striking a 17-year-old high school student. The battery and false informing charges are misdemeanors while the obstruction of justice, perjury and official misconduct charges are felonies.
The IndyStar reports that Marion County prosecutor Terry Curry said officer Robert Lawson also made false statements while reporting the incident in official documentation. He made the false statements, prosecutors say, in a probable-cause affidavit in support of the student's arrest.
According to Lawson's report, he claimed that he feared the student was about to hit him, so he struck the student with an "open hand palm strike."
However, the video shows that is a lie and his hand was most assuredly in a fist.
Lawson also stated that the student's "face was clinched in anger" and that both of his hands were balled into fists. He said the student "moved his right shoulder back and bladed his body."
However, the video shows that although we cannot see the student's face, his hand is not in a fist, nor did he "blade his body."
Lawson then wrote that the "open-handed" strike was successful and he then placed the student into handcuffs. Again, however, the video shows that is not what happened. Before being placed in handcuffs, Lawson delivered a knee strike to the student's stomach causing him to collapse into the ground.
Luckily for the student, the incident was captured on video, otherwise, the department would have undoubtedly believed the officer over the child.
In a statement this week, IMPD Chief Bryan Roach said Lawson is suspended with a recommendation of termination:
The IMPD Special Investigations Unit conducted a criminal investigation into the events that occurred at Shortridge High School on August 29, and presented findings to the Marion County Prosecutor's Office. After the filing of formal criminal charges by the Marion County Prosecutor's Office, Officer Robert Lawson has been placed on suspension without pay, with a recommendation of termination to the civilian oversight Merit Board.

We strive to hold ourselves to a high standard and will continue to review this incident and others to identify ways we can improve as an agency. The women and men who serve our city remain focused on building trust with our neighbors and working together with the community to make Indianapolis a safer place for every resident.
The school district in which the officer was working when he punched the student also released the following statement about the charges:
"Superintendent Aleesia Johnson and the IPS Board of School Commissioners are supportive of the decision made today by Prosecutor Curry. We will continue to monitor this situation as it is adjudicated. We will also continue to work with everyone in our community to make sure that all of our children are provided a safe and secure learning environment."
Naturally, after Lawson was arrested, the Indianapolis Fraternal Order of Police (FOP) issued the following predictable statement urging the public not to jump to conclusions:
"We are aware of the announcement made today by the Marion County Prosecutor. We recognize such a decision is not made lightly and have confidence in the criminal justice process. As this matter moves forward, we continue to gather further information as to the specific details that led to the Prosecutor's decision. Our city's police officers are professionally trained and held to high standards inclusive of public, peer and judicial review. These prescribed steps are in place and should be based upon facts and due consideration. In such instances, we see all too often the value of ensuring a full review and fair process for anyone involved, including the accused; whether a citizen, an elected official or a police officer. Everyone in our society deserves a fair and impartial review of their actions, including Officer Lawson. In the interim, we ask for our community's continued support of our police officers while they continue to serve our city and keep us safe."
Watch the video for yourself below.