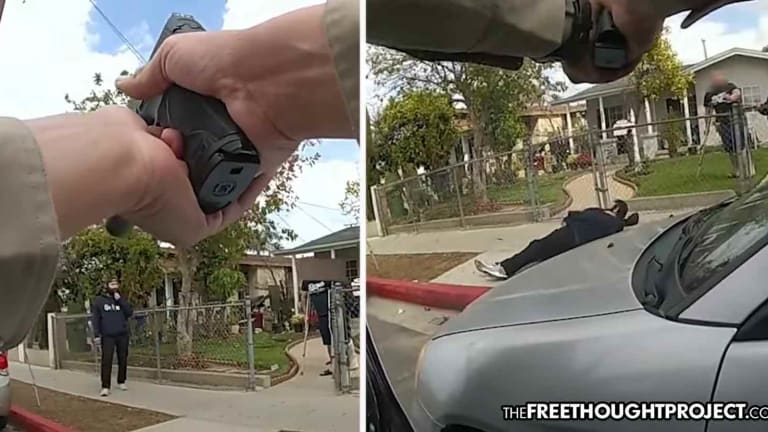 WATCH: Cops Execute Suicidal Man from 20 Feet Away, Shoot Him 8 More Times After He Falls
A man wanted to commit suicide so cops shot him until he fell down and then put 8 more rounds into his body as he lie on the ground to make sure he died.
Los Angeles, CA — Last March, David Ordaz Jr., a 34-year-old man in the midst of a suicidal depression was in need of mental health help. He was sitting in a car next to his sister, holding a kitchen knife and telling her that he wanted to die. When the Los Angeles County Sheriff's Department showed up on the scene, they fulfilled Ordaz's wishes. Now, the family is regretting their call to 911 and seeking compensation in a wrongful death lawsuit after cops needlessly resorted to deadly force.
"I'm currently with someone who is telling me they're suicidal," Ordaz's sister told a 911 dispatcher on March 14, the day police murdered her brother. "I was just wondering if you could guide me on what I can do to help them."
Ordaz's sister told police that her brother wanted to commit "suicide by cop," which is why she called 911 to ask them how to help her brother. Instead of telling her how to help her brother, however, deputies were sent to their home.
Ordaz's last moments alive were captured on body camera footage which left Sheriff Alex Villanueva with "grave concerns," according to a recent statement.
On March 14, 2021, deputies responded to a call of a man with a knife who was under the influence of drugs and wanted to commit "suicide by cop." Tragically, David Ordaz Jr. died as a result of wounds sustained in a deputy involved shooting. Our hearts go out to his family and loved ones. This event was captured on body worn camera video and a critical incident video of the event has been posted at LASD.org under our Transparency Promise webpage.  I want to clearly state I have grave concerns regarding this deputy involved shooting. One of the deputies has been relieved of duty and their peace officer powers have been suspended, pending the outcome of this investigation.
As the footage shows, despite telling Ordaz they were not there to shoot him, deputies kept their guns pointed at Ordaz while saying, "We're not here to shoot you, dude. We're trying to help you out." Another deputy on the scene was armed with a "less than lethal" shotgun.
The entire time deputies engaged with Ordaz, his family begged him to put down the knife but he would not listen. Never, in the body camera footage does Ordaz attempt to harm anyone.
Only after they shot him with a less than lethal beanbag round did Ordaz start advancing toward officers. Instead of firing another beanbag round, the officers with their pistols pointed at Ordaz decided to unload them into his body.
As Ordaz takes a step forward, they open fire, and put 12 rounds into Ordaz as his family screamed in horror. Even after Ordaz hit the ground, and was clearly not a threat, officers continued to fire.
Even if officers were justified in firing at Ordaz for walking toward him with the knife, the 8 or so more rounds they fired into his body after he fell to the ground were nothing short of murder.
According to the Los Angeles Times, the video showed "a clear policy failure" with police failing to properly de-escalate a mental health call. One expert said that LASD officers should've discussed a strategy with Ordaz's family beforehand and also had a crisis intervention specialist talk calmly to the man.
Instead of these tactics, however, police chose to end a man's life. It is important to point out that Ordaz had committed no crime — yet his life was taken anyway.
According to Villanueva, the investigation will also be handed over to the FBI for their review who may determine whether or not to charge the officers involved.
Below is the disturbing video illustrating how willing police are to "help" people out who want to commit "suicide by cop."
The unedited version of the footage " target="_blank" rel="noopener">can be found here.