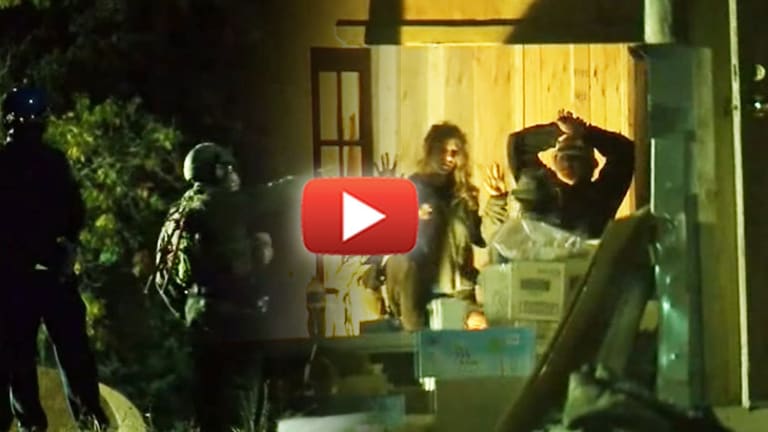 SWAT Teams Deployed to Destroy Homes Built by Charity Group for the Homeless
10 charity workers were trying to fix Denver's homeless problem were arrested and their hard work destroyed.
SWAT operators were among the estimated 70 officers deployed to Denver's Sustainability Park on October 24 to tear down "tiny homes" erected the group Denver Homeless Out Loud (DHOL). Protest organizers explained that the park had been selected because the Denver Housing Authority, which owns the property, has demolished hundreds of low-income housing units, exacerbating an already critical shortage of affordable homes. Zoning and building code restraints have frustrated efforts to build the "tiny homes" elsewhere in the city.
Had the demonstration proceeded as planned, activists would have erected a makeshift community called Resurrection Village modeled after the 3,000-person tent city built in Washington, D.C. by Martin Luther King, Jr..'s Poor People's Human Rights Campaign nearly fifty years ago. Ten activists were arrested during the Denver crack-down.
"Little Denver is a project being built by, with, and for people without housing in Denver, CO.," explains DHOL. "We seek to create affordable, sustainable alternatives to the current housing system. Tiny homes, residential structures between 100 and 200 square feet in size, [are] what we propose. Our vision is to create a community of micro-houses grouped together in a Tiny Home Village."
The group notes that Denver is experiencing a "housing crisis" with record-high rents and "cutbacks for affording housing construction and maintenance." According to Mile-High Connects, in the Denver area there are at least 6,300 homeless persons, and more than 106,000 residents who spend half of their monthly income on rent. The Denver Post reports that soaring costs of housing are overtaking household incomes, leaving many young professionals and middle-income families facing the prospect of homelessness.
Denver is among the top ten "least affordable counties for Millennials who want to buy homes," observes the National Journal. The city has long sought to attract young professionals in tech-related industries – including the newest version of "high" tech, the production and marketing of recreational marijuana.
"Out of the ashes of the global recession that started in late 2007 has risen a city where everyone wants to be," narrates an article in the current edition of Denver Magazine. "People have flooded into the capital of the New West with dreams of the snowcapped Rocky Mountains, of youthful entrepreneurship, of city streets teeming with restaurants and bars and boutiques. They have come from California, from Texas, from Florida, and from the Midwest. Close to 1,000 new souls are moving into the city each month—an estimated 12,000 people this year. Every one of them needs a place to live."
New arrivals in Denver have "moved into apartment complexes faster than units can be built," continues the magazine. "Rents are up nine percent this year alone, pushing Denver's average rents past other destination cities such as Miami and Portland, Oregon. A one-bedroom apartment downtown now can cost more than $2,000 a month. A planned complex at the remodeled Union Station will soon have two-bedroom units available for up to $3,545."
A decade ago, roughly one-quarter of Denver's newly built homes were condominiums, an affordable middle option between an apartment and a stand-alone home for young professionals. As is the case in too many other cities, however, Denver's housing market fell prey to the inevitable distortions of the Federal Reserve-engineered housing boom.
"Like most cities in the years after the late 2008 stock-market collapse, Denver's housing market came to a virtual halt," recalls Denver Magazine. "Potential buyers suddenly found themselves without work or in jobs where they took home less than they had previously. With wages slashed or salary freezes in place, people cut expenses. Without buyers, developers stopped building. People who were underwater on their mortgages couldn't sell—and many people with solid incomes and job security still found it difficult to get loans." The result was what Ron Throupe, associate professor at the University of Denver's Daniels College of Business, calls "pretty much a perfect storm that killed development."
In 2010, reacting to horror stories about poorly constructed condos, the Colorado State Legislature exacerbated the problem by enacting a law allowing homeowner associations to file class-action lawsuits against builders if two or more units in a given condo have "defects." The results were, or at least should have been, predictable: Amid proliferating lawsuits, condo construction simply stopped. Since then, construction has recovered somewhat – but new condos are much smaller, each of them having fewer than the 30 units that would trigger Denver municipal mandates on affordable housing.
By the spring of this year, the Denver Post was describing the local housing market as "a version of `The Hunger Games,' with buyers scrounging for whatever weapons they can find to remain the last bidder standing."
"If my wife and I tried to buy our house now, there's no way we could live here," observes Denver City Councilman Rafael Espinoza, an architect by profession. "We wouldn't have been part of this neighborhood. It's not like it was gradual, either. It went from affordable to priced out just like that."
Over the past several decades, various municipal administrations in Denver have embarked on federally subsidized initiatives to build affordable housing – and the problem has grown consistently worse. DHOL's quixotic and largely symbolic response was to ignore the onerous regulations and crony arrangements that have wrecked Denver's housing market and simply start building homes.