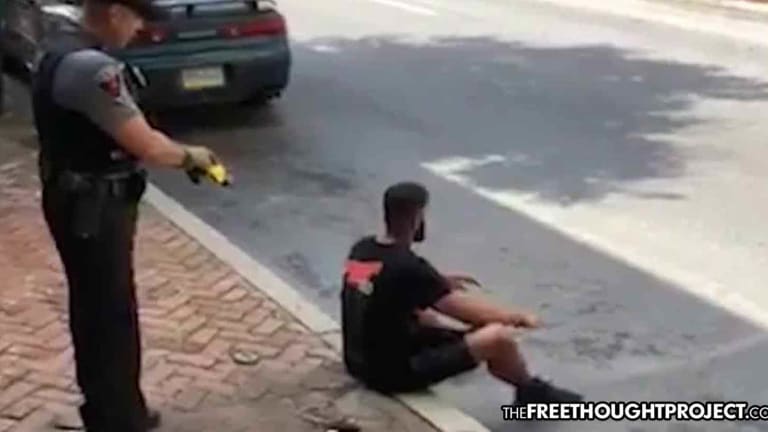 Video Shows Cop Taser Seated, Compliant, Unarmed Man in the Back — Now He's Being Sued
Disturbing video caused an uproar and a lawsuit after it showed a police officer taser a compliant and unarmed man in the back as he sat on the sidewalk.
Lancaster, PA -- Citizens, as well as the mayor of Lancaster expressed their concern after cell phone video captured footage of a police officer taser a man as he sat down on the sidewalk and complied with his orders. The deeply disturbing video subsequently went viral and is now the subject of a lawsuit against the Lancaster cop.
Earlier this year Sean D. Williams filed a federal lawsuit seeking more than $75,000 in damages against officer Philip Bernot. Despite the modest amount of damages sought, the city of Lancaster is fighting to have the case thrown out. This is also in spite of the horrendous act captured on video.
As Lancaster Online reported, in February, Magistrate Judge Henry S. Perkin in Allentown dismissed Williams' claim of excessive force against the city and Bernot in his capacity as a police officer. That means the case now is only against Bernot as an individual. The city, however, is covering Bernot's legal costs under its labor contract with police.
His trial is now set to take place in May. However, due to the current COVID-19 situation, Williams' trial could be delayed even further.
Adding to the insulting nature of this case is the fact that officer Bernot never received so much as a slap on the wrist for tasering the compliant man in the back. He didn't receive a single day of suspension.
Danene Sorace, the mayor of Lancaster, spoke out at the time in regard to the department's decision not to hold the cop accountable.
"So who is accountable?" she asked. "I am. I am accountable, as mayor, for existing policies, procedures, training, hiring practices and more. It's on me."
According to police, they were responding to a disturbance call about a man who allegedly chased after a group of people with a baseball bat. When officer Shannon Mazzante arrived on scene around 10 a.m., she approached Williams, 27, and demanded he sit down on the sidewalk. According to police, Williams did not immediately comply.
As Mazzante ordered Williams to sit, officer Philip Bernot arrived on scene and did the same. Bernot told Williams to sit on the sidewalk and in the video, we see that he eventually complies. Despite complying — albeit slowly — Bernot threatened Williams with the taser.
The video, which was posted to Facebook, shows Williams comply with Bernot's orders to sit on the curb and put his arms and legs straight out in front of him. Williams struggled to comply with the officer's unclear orders of "Legs straight out and cross them now."
Williams appears to put his legs straight out and the appears to try to cross them, just like he was being told. When Williams brings his legs closer to his body to cross them, Bernot shoots the unarmed man in the back with the taser.
The shock caused Williams to fall over and officers handcuffed him without any resistance at all.
At the time, Lancaster police refused to respond to questions about the video, releasing only a short statement noting that people not immediately complying means they could be trying to run away.
"Non-compliance is often a precursor to someone that is preparing to flee or fight with Officers," police said in a statement. "All use of force incidents, like this one, are reviewed by the Use of Force training cadre and Command Staff."
However, it was entirely clear in the video that Williams was not attempting to run away — as he was sitting on the ground and complying with orders — before being tasered in his back.
The incident prompted the mayor to issue a statement in the form of a video which she posted to Facebook.
She said the incident "affirmed my resolve to implement a body camera program here in the City of Lancaster."
The president of the NAACP, Blanding Watson also issued a statement on the taser incident.
"This event highlights the need for strengthening the accountability and trust which necessarily characterizes a productive relationship between communities and law enforcement," he said. "Such a relationship is more important than ever."
As Williams' case highlights, that accountability never came.
Williams was arrested and charged with public drunkenness. Police also said he had a previous warrant for possession of a controlled substance. As for the bat that police say was the reason for the stop, it was never found.