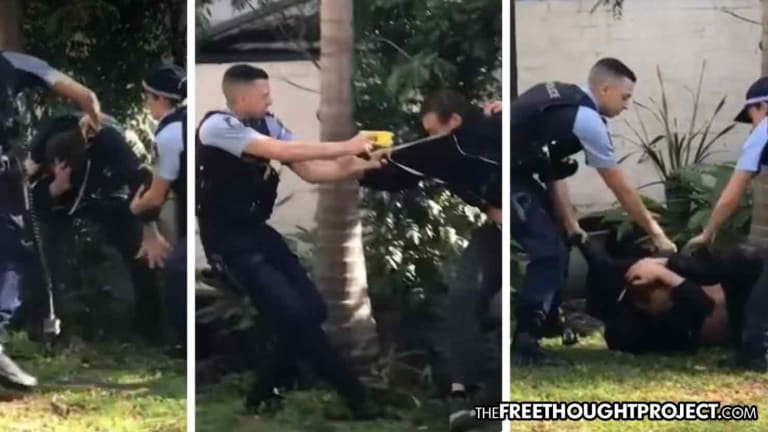 Man Hospitalized As Gruesome Video Shows Cops Repeatedly Taser Him in the Face
While on his knees and surrendering, officers began repeatedly using a taser on a man's face for no reason, injuring him so badly he was hospitalized.
Graphic footage of two officers detaining an unarmed and surrendering man began circulating on social media on Monday. According to reports, the man has been hospitalized after cops repeatedly tasered him in the face, chest, and neck during an arrest Monday morning.
"I'm not even fighting you, are you kidding me?" the man says as the cops initiated the unnecessary and dangerous violence against him.
As the video shows, when police catch up with the man, he immediately submits to them by getting on his knees and outstretches his arms. All the officers had to do was place him in handcuffs. However, they apparently wanted to dole out some street justice first.
"Fleeing should not be the sole justification for using a Taser against a subject. Officers should consider the subject's threat level to themselves or others and the risk of injury to the subject before deciding to use a Taser," according to police guidelines.
Despite the man no longer fleeing and actually surrendering to police, they disobeyed their own guidelines and subjected this man to several moments of heinous torture.
According to a report in the Guardian, the NSW police said the man was under police guard in hospital after being arrested following a foot pursuit at about 1:30 p.m. in Darlinghurst.
Police said officers were "conducting proactive patrols when they noticed a man and a woman walking on Oxford Street".
"As officers approached, the pair split up and the 32-year-old man – who was carrying a bag – fled on foot," the statement read.
"Police commenced a foot pursuit which continued through several streets, including a house in Darlinghurst.
"Shortly after, the man was located in a common garden area at the back of units on Rose Terrace, near South Dowling Street. As police attempted to arrest him, a taser was deployed.
"He was arrested and taken to St Vincent's hospital under police guard."
According to police, the man had allegedly stolen some "items," which was why they pursued him. They claimed to locate a bag with the stolen items in it after the man was brought to the hospital.
Below is that video.
The above case took place in New South Wales, Australia and illustrates the tendency of many officers to initiate unprovoked violence, regardless of which county they police. TFTP has reported on several instances of cops in Australia carrying out utterly horrifying displays of aggression.
As TFTP previously reported, horrifying surveillance footage was released showing multiple police officers aggressively assaulting and torturing a disabled man in his front yard after they dragged him from his home during a welfare check. That footage has led to the arrest of three police officers, one of whom was arrested again for beating a teenager as well.
The Independent Broad-based Anti-corruption Commission (IABC) charged officers Brad McLeod, John Patrick Edney, and Florian Hilgar for unlawful assault and assault with a weapon for beating the disabled man.
Because he was not immediately arrested after video of him beating the man in his front yard, Hilgar was allowed to strike again. Hilgar now also faces charges in a separate incident in which he beat and severely injured a teenager with his baton.
As TFTP reported, the incident happened in September 2017 and began over a welfare check.
John, a retiree from Melbourne, Australia, was supposed to be enjoying his golden years in peace—but after his psychologist called the police, all hell broke loose. Victoria Police arrived to presumably perform an unwanted welfare check. When John refused to speak with the officers, they dragged him into the yard, beat him, pepper-sprayed him, and then hosed him down with a high-pressure water hose—all while mocking him.
The entire incident was caught on video recording principally because the homeowner had installed a surveillance system after his house was previously burglarized. In the graphic video, Victoria Police can be heard taunting the elderly man, cursing at him, beating him in the legs with their batons and covering his face with pepper spray.
"You f**king idiot!...You like that?...Smells good, doesn't it?" the officers mocked him.
The man, who suffers from a bad back and emotional distress can be heard screaming "My back!" as the pack of officers manhandle him.
As the video shows, Edney is seen hitting John with his baton and stepping on his head. McLeod punched John in the stomach, sprayed him with pepper spray and encouraged Hilgar to use the hose — which he did.
Before the man in the story above was tortured in his front yard, Aussie threw a grenade into the bedroom of Miss Australia.
Crowned Miss International Australia in 2013, Felicia Djamirze was asleep in bed with her fiancé, Dean O'Donnell in 2016, when a police flashbang grenade landed in their bedroom. Accused of drug trafficking, the former Miss Australia was placed under arrest as police waited 40 minutes for an ambulance to arrive. The cops refused to allow Djamirze to see her injuries even though she suffered third-degree burns to her face and right hand. There were no drugs found.