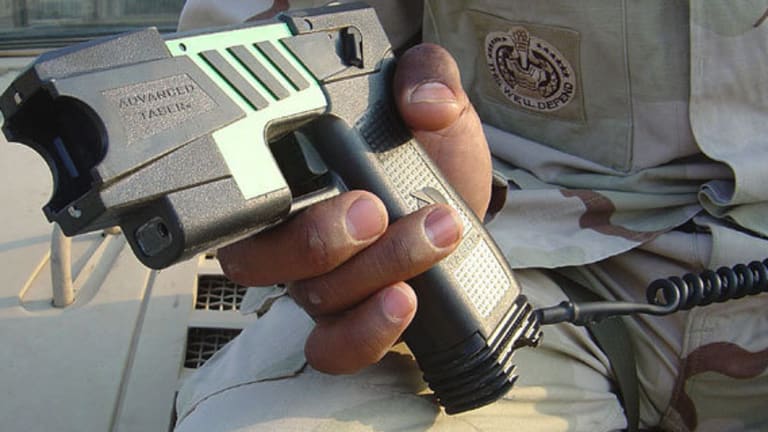 Why Taser Stock Has Surged After Ferguson Unrest
Taser International manufactures and sells electroshock weapons to police, but that is not why they are experiencing such a large market gain.
Taser International (NASDAQ: TASR) and Digital Ally (NASDAQ: DGLY) are witnessing record gains since the Ferguson, Missouri Protests that began on August 9, 2014.
According to Benzinga.com Taser International has gained 44 percent this month, while Digial Ally is up 228 percent.
The two companies, Taser and Digital, both manufacture and sell digital law enforcement cameras. Since the killing of Michael Brown, and the complete lack of video evidence in the case, law enforcement officials nationwide are ordering body cameras, causing a surge in sales.
According to Benzinga:
Digital Ally put out a press release last week saying that orders for its cameras have surged since unrest in Ferguson began.

Taser entered the law enforcement video business in 2012 and the segment's revenue doubled in the second quarter to $3.6 million of Taser's total revenue of $32 million.

Digital launched a police body camera in December and the product now accounts for 36 percent of recent second-quarter revenue of $3.4 million.
This is particularly heartening news as bodies cameras, when not turned off, tend to discourage police abuse.

Cops in Rialto, California have implemented this technology and have had some heartening results. They've seen a 60% reduction in use of force instances and an 88% reduction in officer complaints.

A discouraging downside to body cameras however, is the ability of police officers to turn them off. Just last week in New Orleans, LA, a police officer conveniently turned off her body camera prior to shooting a man during a traffic stop.

In May of this year the Free Thought Project covered the story of Christine Chippewa, who was detained by two officers who disabled a body camera as one of them shoved a flashlight down her throat while beating her.

There is also the case of officer Jeremy Dear, of the infamous APD, whose body camera has a history of malfunction followed by shootings and assaults.

The idea that police are trying to avoid future unrest by holding themselves accountable through capturing video of their own interactions, is a good one. Time will be our only indicator however, of whether or not it prevents future killings. After all, there are plenty of cases of cops killing people, knowing full well they are being recorded.