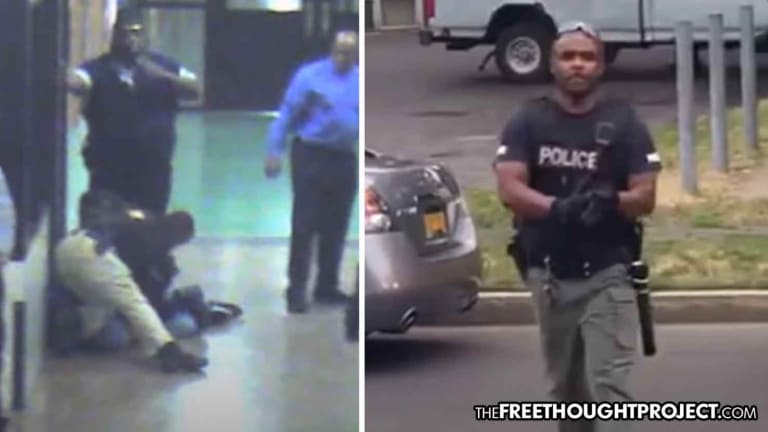 WATCH: Cop Breaks 14yo Autistic Boy's Arm, Attacks Innocent Man on FB Live—Taxpayers Held Liable
A cop with a history of rights violating violence has cost the taxpayers dearly by attacking an autistic teen and a man for filming, and he is still a cop.
Syracuse, NY -- Maurice Crawley, 52, was live streaming on his Facebook page in 2016 when he was attacked and arrested by jackboot thugs for practicing his First Amendment right. One of those thugs was officer Vallon Smith, who after years of abuse, has cost the taxpayers of Syracuse, hundreds of thousands of dollars.
This week, the city settled with Crawley and a child victim of Smith's, Jabari Boykins, a 14-year-old with autism. The taxpayers of Syracuse will be forced to shell out $200,000 per victim. According to Syracuse.com, the Common Council will vote on both settlements at its next meeting on Monday, Nov. 23. In the settlement documents, the city's lawyer denies the allegations in each lawsuit.
Despite both incidents being captured on video showing clear violations, officer Smith remains gainfully employed as a cop.
The first incident happened in July of 2016. Crawley had not committed a crime and had harmed no one when two officers from the Syracuse police department went out of their way to cross the street, assault and kidnap him. Smith was the most aggressive cop.
As TFTP reported at the time, the incident happened as Crawley was out on the streets holding police officers accountable by filming them. As Crawley is filming two officers arrest a motorist, he says, "see what's going on with these boys, make sure they're doing everything they're supposed to be doing."
Crawley then zooms in. "Look at the Uncle Tom," he said. "Yeah, Uncle Tom. Mmmhmm."
As he zooms out, Crawley films one officer frisking the woman when he is threatened by Smith.
"Hey! Say one word, your ass is going to jail, just so you know."
Crawley replied, "I didn't hear you. Say it again, officer. I'm sorry, I didn't hear you."
Asking the officer to repeat himself apparently flipped a switch inside this cop and he went into rampage mode.
"Don't f**king move, you understand me? Don't you f**king move. I'm gonna f**k you up!" Smith yells.
Since Crawley live-streamed the video, police were unable to delete it. It was then posted to the Black Lives Matter Syracuse Facebook page where it quickly went viral.
According to Syracuse.com, Crawley is an outspoken anti-violence advocate in the community.
Herve Comeau, a spokesman for the Onondaga County Justice Center, helped to organize a peaceful protest after Crawley's arrest and made an astute observation about race during the protest.
"Though the city, the mayor and the police chief have suggested that hiring black police officers would solve the problem, it would not," Comeau said.
Comeau then went on to note how the color of the officer's skin is irrelevant as long as they can hide behind the badge. "The problem is police culture," he said. "The problem is the lack of accountability. The problem is that violent police officers can do violence against black bodies without consequence."
After he is assaulted and arrested, Smith charged Crawley with obstructing governmental administration (interfering with police work) and resisting arrest. However, those charges were all later dropped.
The other taxpayer funded settlement will be going to Boykins, who had his arm broken by Smith in 2017 when he was a freshman in high school. That arrest was also captured on video as Smith is seen forcefully smashing the teen into the ground. Simth's report, and what was seen on the video contradicted each other as well. However, as Syracuse.com reports:
DA Fitzpatrick cleared Smith of wrongdoing after the Citizen Review Board ruled the officer used excessive force and referred the case to the DA's office.

The superintendent later removed Smith from the school, even though he was not formally disciplined. That move prompted backlash from the police union, which suggested pulling all police officers out of city schools.
Smith is also the subject of another lawsuit stemming from an incident in 2019 in which he is accused of using excessive force.
Below is a perfect example of why there is a growing divide between the police and the policed. Until cops start protecting American's rights instead of violating them, this divide will continue to expand and the taxpayers will continue to suffer.
If you watch the video below and attempt to dismiss it by claiming it is an isolated incident, think again. Click here to see case after case of police officers arresting people for legally filming.
If you watch the video below and think that police officers attacking children with disabilities is also an isolated incident, click this link to dispel that myth.