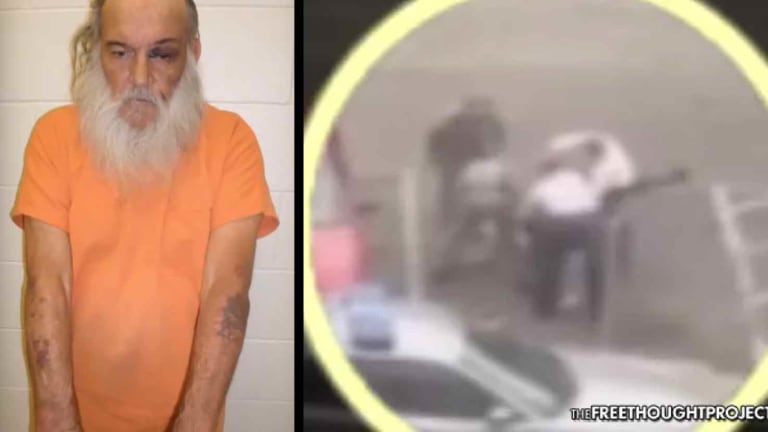 Disturbing Video Shows Cops Take Turns Beating a Disabled Elderly Man—In HANDCUFFS
The taxpayers are being held liable after four Kentucky cops took turns kicking and punching a disabled elderly man in handcuffs as witnesses watched in horror.
Louisville, KY — A recent settlement paid out by the Kentucky State Police, highlights the utter importance of filming cops. A 68-year-old disabled man was accused of attacking police officers but video evidence showed the exact opposite.
The victim, Lewis Lyttle has since been paid $130,000 in taxpayer money because officers took turns kicking and punching him while he was in handcuffs. The suit was settled in October of last year, however, police have kept it secret and even lied about it.
According to WDRB, Kentucky State Police denied an open records request for a copy of the settlement on Jan. 10, saying no settlement existed and "any documents related to a possible settlement is protected by attorney-client privilege."
However, WDRB News obtained records of the settlement from the Kentucky State Treasurer. A check to Lyttle was dated Dec. 15.
Lyttle's attorney also confirmed the issuance of the check, noting the "matter was resolved to the satisfaction of all parties."
Lyttle, who used to be a construction worker, was severely injured in the 90's and left disabled which made the fact that cops allegedly saw him as a threat even more repugnant.
The incident happened in the parking lot of a hospital on Aug. 1, 2016, as more than a dozen witnesses watching in horror as cops attacked this elderly disabled man.
According to police, Lyttle did not follow orders, became combative and assaulted officers as they tried to arrest him.
However, according to 16 difference witnesses and a cellphone video of the incident, the officers were lying and Lyttle became the subject of a violent and unlawful arrest.
According to the report, on the day of the incident, Lyttle left his home in St. Charles, Virginia, to drive his neighbor to Harlan Appalachian Regional Hospital because she was having problems with chronic bronchitis.
Lyttle may have had some drinks that day but drove his neighbor in need anyway. When the elderly man was in the parking lot, someone accused him of exposing himself as he likely urinated, so police were called.
Police then responded to the elderly man using extreme prejudice. As the first video shows, Lyttle is sitting on the ground with his hands in handcuffs as Trooper Jimmy Halcomb and KSP Sgt. Rob Farley stand over him.
Without provocation, Farley reaches down and slaps the old man across the face so hard that he falls into the pavement.
The person filming from inside the building gasps after watching the abuse. But it was only just beginning.
"He had no business smacking him in the face," one woman can be heard saying on the video.
The abuse was so bad that people watching actually thought it was fake and part of a movie being filmed nearby.
"I bet that's part of the movie, reckon?" one witness said.
As the abuse continued, another witness pulled out their phone to record it. Although we can't hear the exchange between Lyttle and the officers, because the person filming is inside, we can see that Lyttle is being entirely compliant and non-violent when he's attacked again.
The officers pick Lyttle up and for some reason—likely to justify the fact that they were beating him—they uncuffed the man. However, Lyttle remained entirely compliant.
Farley then reaches toward Lyttle's face, grabs his beard and knees the disabled man in the stomach while slamming him to the ground.
While Lyttle is on the ground, both officers begin punching and kicking him for no reason.
"They are just punching him, beating the shit out of him," said the man recording from inside a nearby building. "Four cops for one man, and as old as he is."
The cops then placed Lyttle back in handcuffs and arrested him on a slew of false charges.
According to WDRB,
Prosecutors dismissed the felony charges in January 2017, based on evidence that came to light after Lyttle was indicted. That evidence included the two cellphone videos of the incident and 16 sworn statements by witnesses who said Lyttle was the one assaulted.

In February 2017, eight months after the arrest, state police launched an investigation, eventually finding Farley used excessive force. He was suspended for 120 days and demoted from sergeant to trooper.
And we call this "public service" in the land of the free.
"Lewis is 68-years-old and has never had a criminal conviction for anything in his entire life. He has a good deal of health issues including 8 metal pins in his leg. The same leg that detective Miller kicked several times and stood on according to the video and several eyewitnesses. Even before he took that beating, he had a great deal of trouble just trying to walk around. When those bully KSP officers beat my Lewis, they beat up a then 67-year-old crippled man who couldn't have hurt them even if he wanted to," Lewis' wife said.