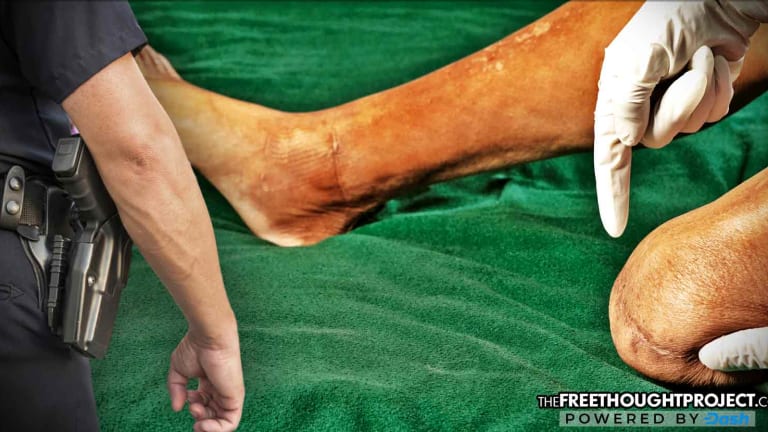 Taxpayers Held Liable After Cops Beat Handcuffed Man So Badly He Lost His Leg
The taxpayers of New York have just shelled out $375,000 after police arrested a man over drugs so violently that his leg had to be amputated.
Albany, NY — The citizens of the village of Green Island have been held liable for $375,000 to settle a federal lawsuit after police arrested a man so violently that he lost his leg.
Kevin T. Kavanaugh filed a civil rights lawsuit after a violent arrest that started when state troopers smelled marijuana. After police smelled the plant, Kavanaugh made the poor decision of fleeing in his vehicle and led police on a high speed chase.
According to the lawsuit, after Kavanaugh finally surrendered, he was brutally beaten for no reason, handcuffed and then an officer violently and unnecessarily began twisting his lower leg until the bones snapped apart.
"This wasn't just a broken ankle. Kevin had pins and screws in his ankle (from a prior injury) and they basically twisted his ankle until they popped out of the bone," said his attorney, Lee Kindlon. "They actually killed his leg, and it was dying from the toe up."
After the violent arrest, Kavanaugh was denied proper medical care leading to severe complications. Multiple other parties outside of the arresting officers were complicit in his abuse, according to the suit.
As the Times Union reports, last year, several other police agencies that were involved in the arrest — or with Kavanaugh's custody and treatment following his arrest — also reached settlements in the case. Correctional Medical Care, Inc., a Pennsylvania company which had previously provided medical services at the Albany County jail, agreed to pay $84,000. The other police agencies, including the State Police and Watervliet Police Department, paid smaller amounts that totaled roughly $13,000.
After Kavanaugh finally stopped his car, according to the lawsuit, he climbed out of the vehicle and surrendered. At this point, according to the suit, police officers threw him to the ground, beat him with a club, and began kicking him in the head.
According to police, they used the force necessary to subdue Kavanaugh. However, as TFTP has reported on numerous occasions, when people run from police, even after surrendering, police will kick, punch, or stomp a non-violent and totally compliant person.
After he was beaten and placed in handcuffs, according to the lawsuit, a Green Island police officer—who Kavanaugh could not specifically identify—grabbed his foot and began violently twisting it, causing the severe damage.
Even one of the Green Island officers, Paul Johnson, testified in a pre-trial deposition that when they were processing Kavanaugh at their station, he complained of extreme pain in his lower leg that the officer said "just looked like a dead leg, grayish white, like a wax museum leg or something."
In spite of the severe injuries Kavanaugh suffered during the arrest, he was denied the proper care and his injuries got worse. According to Kindlon, this was standard procedure for the jail's medical provider as a way to maintain their profit margin.
"CMC's actions always bothered me the most," Kindlon said. "The way Correctional Medical Care worked is they got money if they didn't send people to the hospital, if they didn't refer people out. It's grotesque the way their contract with the county operated."
Instead of receiving the surgery he needed to save his leg, Kavanaugh was sent to Albany County Jail where he was unable to walk and begged officials for days to help him.
Days after begging and being unable to walk, Kavanaugh was finally brought to the hospital where his leg had to be amputated.
As the Times Union reports, the jail has a history of neglect leading to severe consequences.
Last year, in an unrelated case, Correctional Medical Care and Albany County agreed to pay nearly $1.1 million to the estate of a Troy man who died when nurses waited more than 12 hours to call an ambulance after he suffered a stroke while being held at the county jail in August 2014.

A report issued by the Commission of Correction in 2016 determined that the care given to 24-year-old Mark Cannon was "so grossly inadequate ... it shocks the conscience."
Indeed, a man having his leg amputated is also quite shocking. Kavanaugh is set to be released at the end of next month after serving five years for the 2013 incident. Although he had ketamine in his possession as well, had Kavanaugh lived in another state with legal marijuana, he would still be free and would still have his leg.