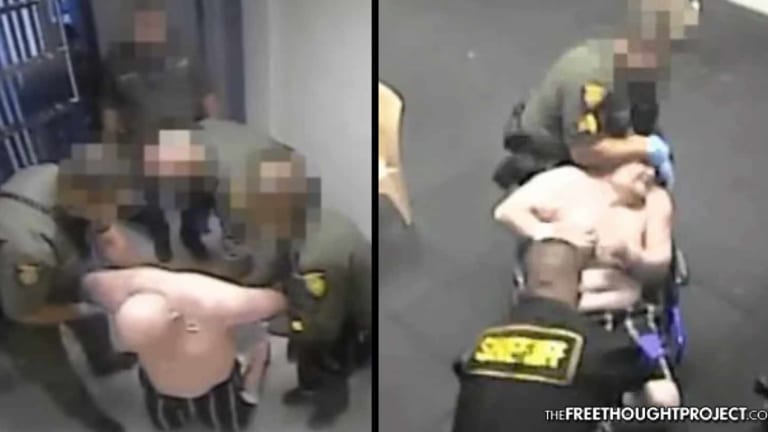 Taxpayers Pay Parents $500K After Video Shows Cops Stomp, Taser, Suffocate Their Son to Death
Parents of a mentally ill man who was beaten, tasered, and suffocated to death by police are finally getting closure in their battle to seek justice.
Reno, NV — Surveillance footage, released to the Reno Gazette-Journal through a public records request, shows the terrifying final moments of 35-year-old Justin Thompson, a man in the midst of a mental breakdown. For 30 minutes, nearly a dozen Washoe County Sheriff's deputies took turns kicking, tasering, insulting, and crushing the wind from Thompson — who noted multiple times that he could not breathe through the spit mask over his head. After seeing the video, Thompson's parents sued the county for the wrongful death of their son.
The lawsuit was filed in federal court in June and asked the county to pay wrongful death damages, the cost of Thompson's funeral, and other damages.
It was announced this week that Thompson's parents have agreed to settle their wrongful death lawsuit for $500,000.
Peter Goldstein, the lawyer representing Thompson's parents, claimed in the lawsuit that Thompson was no danger because he had been medicated at the hospital, making him docile. Goldstein also said deputies ignored Thompson's repeated warnings that he could not breathe.
"As seen in the video, the staff and deputies of the jail kicked, kneeled upon, burked and applied torturous arm bar holds, and refused plaintiff's pleas for help," he wrote. "When decedent stated he could not breathe, they did not provide any help or even begin to appreciate the level of danger and harm decedent was experiencing."
The lawsuit noted the severe injuries incurred by Thompson, including a broken rib, and cuts and bruises all over his body.
The Washoe County Medical Examiner has since listed Thompson's cause of death as a homicide — due to complications of physical restraint.
As TFTP previously reported, the tragic incident began to unfold on August 3, 2016, when Thompson was arrested. His family and girlfriend reported that Thompson is bipolar and had been off his medication for some time. During the bipolar episode, Thompson, who has no previous criminal record, was arrested on charges of domestic battery.
The clearly distressed man exhibited severe signs of mental distress and was unable to be booked, so he was placed in a holding cell. For hours after being arrested, Thompson jammed his fingers into his ears. He paced, clutched his head and stuffed toilet paper into his ears. He spent hours on the floor curled up in the fetal position before peeling off his scabby skin to use his own blood to draw on the floor, walls, and camera.
Heavily armored deputies in riot gear then raided Thompson's cell to drag him out.
Instead of admitting him for psychiatric treatment, Thompson was brought to the hospital and given an injection of Haldol, a powerful antipsychotic drug, and Benadryl, before being sent back to jail.
When bringing him back to jail, Thompson appeared docile until a deputy grabs his face while trying to take a mugshot and shoves it to the side. Thompson, whose arms were chained to his waist, became agitated, slipped out onto the floor and a struggle began.
"How's this? Does this feel good," a deputy says as Thompson appears to lie still, his wrists still chained to his belly.
In their attempt to get the mentally ill man in the stretcher to bring him to the hospital, more than a half-dozen deputies took turns kneeling on, kicking, tasering, and insulting him. Yet for 30 minutes, the swarm of officers was unable to subdue the single man.
When Thompson complains that he can't breathe, a deputy can be heard answering back, "No, you're not being compliant, Justin. We could've just rolled you through the process but you're being a d**k about the whole thing."
As the deputies continue to increase pressure on him, both mentally and physically, Thompson becomes more distressed.
"So now we are to this level and you're going to get carried in a little wrap because you can't maintain enough thought to go through this process like a man," the deputy says. "If you hurt my staff, you are going to catch a felony. Understand? We are not going to get injured by you. And if you lash out, I am going to make sure that you remember it." 
For the next 25 minutes, the video shows deputies slowly squeeze the air from Thompson's lungs until he finally stopped breathing.
Thompson was brought to the hospital where he was put on life support with no brain activity. For five days, no one even told his family where he was.
When Karen Thompson, Justin's mother called the jail she signed up for automatic text notifications on inmates. On August 7, she received a message saying her son had been released.
They looked for Thompson for over two days.
"I'm frantically calling people," she said. "I called his girlfriend. She had got the note, too, but hadn't heard from him. So, we're calling what friends we had numbers for. I was preparing to drive up there and drive the streets to look for him. We didn't know what had happened to him."
But Thompson was not free, he was in a hospital bed — brain dead.
"On Tuesday afternoon -- the 9th of August -- I have a sheriff's officer here in Kern County that comes in and tells me that my son had passed away and told me he had died of a massive heart attack," Karen Thompson said.
Thompson described her son as a caring man who she has never seen act like the person in the surveillance footage.
"Everybody always talked about how he helped them," she said. "He was always caring for other people."
As the Reno Gazette-Journal reported, Sheriff Chuck Allen even took the unusual step of criticizing the deputies' handling of the struggle before the internal investigation was complete, after he reviewed the videos obtained by the Reno Gazette-Journal through a public records request.
"I believe anyone who watches this video will understand why I was concerned about the handling of this incident and why I immediately called for an outside investigation," he said in a written statement.
"I further, and firmly, believe that some of the actions shown do not reflect the standards of the men and women who work for the Sheriff's Office. Nor are they in keeping with my often-expressed expectation that employees from this office will always treat the public we serve with fairness, equality and respect."
Unlike previous in-custody restraint deaths caught on camera at the jail, Thompson was not high on methamphetamine. His stress was induced by deputies, not drugs, and the medical examiner agrees.
This lawsuit was the only means of justice Justin Thompson's parents had and now they will finally have closure. Sadly, however, it will be the taxpayers held liable and not the cops.
As RGJ reports, Sparks police concluded an independent investigation into Thompson's death in February and found no criminal wrongdoing by the sheriff's office.
Below is that horrifying video.
This is two hours of footage from the Washoe Co. Jail showing the entire struggle that led to Justin Thompson's death. The struggle begins at timestamp 7:44. The struggle intensifies at 24:53. Deputies start life-saving efforts at 41:30. At the 1:28:30 mark, you can see the attack from a more damning angle.