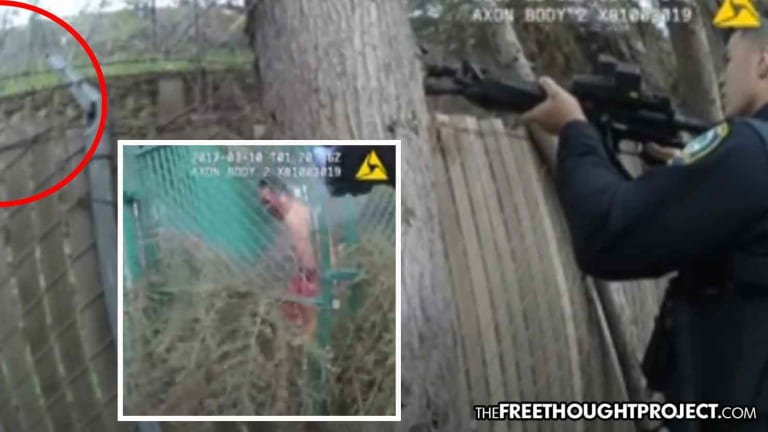 Cop Executes Unarmed Shirtless Man Through a Fence, Claiming He 'Charged Them'
A city has paid out a record lawsuit after a police officer executed an unarmed man through a fence, claiming he "charged" him.
Santa Clara, CA — The taxpayers of Santa Clara were put on notice this week that they will be shelling out a record $5.3 million settlement for an excessive force lawsuit brought by the family of Jesus Geney Montes. Montes was unarmed, shirtless, behind a fence, and posed no threat to officers when he was executed by a Santa Clara police officer. Like so many unarmed and innocent individuals whose lives are brought to a grinding halt by police, Montes was in the midst of a mental health crisis.
According to Mercury News, this is one of the largest settlements in history of the city. Though the lawsuit settled last month, the city did not announce it until Mercury News filed a public records request. The lawsuit was scheduled to go to trial this month had it not been settled in April.
"Nothing is going to bring Jesus back. The money will never make Amanda whole again," said family attorney Fulvio Cajina. "But $5.3 million does send the message that the city did something wrong. To that extent, we're very content with the settlement because we think we did get justice for the family."
After responding to the public records request, the city issued a statement pointing out that this settlement, in no way, implies they admit guilt in Montes' death.
The settlement "was a mutual agreement to support the family dealing with a loss of a family member and is not an admission of wrongdoing on the part of the city's police department or any of its personnel."
"It is with the sincere hope that settling this case will help the family begin to deal with the loss of their son," the statement continues. "The City Council felt it was in the best interest of the Sommers family and Santa Clara Police Department (SCPD) personnel to approve its insurance company's settlement of this case and not expose the involved parties to a difficult and emotional trial."
Montes was killed in 2017 and it took over four years for the family to see some form of justice. While it took four years for the family to see some form of justice, it took just a few months for the department to clear the killer cop.
On March 9, 2017, Montes was in the midst of a suicidal health crisis which prompted five visits by police to his home that day. During one of the visits, he reportedly barricaded himself inside his room, telling police "he had a gun and would shoot them if they came in."
Though police claim Montes said he had a gun, officials admitted in their investigative report that Montes' behavior during the first four visits to his home, police observed no arrestable offenses — meaning he was entirely innocent. When police came a fifth time, Montes reportedly cut himself with a small kitchen knife before dropping the knife and fleeing out of his bedroom window.
When police caught up with Montes, he was shirtless, shoeless, and standing on the other side of a fence, unarmed. As body camera footage shows, Montes presented absolutely no threat as he was completely surrounded by police, who all had guns pointed at him.
Officer Colin Stewart, whose body camera was recording the incident, repeatedly tells Montes that no one is going to shoot him. This would later prove to be false as it was Stewart who killed him.
As Montes began walking off, Stewart followed behind, eventually jumping a wall and putting himself in the same area as Montes. Clearly scared of what was going on, Montes ran away, moving behind a metal gate in an attempt to escape.
Stewart reportedly fired his taser through the fence first, but then immediately grabbed his pistol and dumped several rounds into the unarmed Montes, killing him.
Stewart would go on to claim in his report that he had no choice but to kill Montes as he was "charging" him. But as the video below shows, that simply wasn't true. Even if Montes would have had a knife and was charging, he was on the other side of a gate.
Mercury News reports that in the wake of the death, Richard and Amanda Sommers were joined by local civil-rights groups in protesting his killing and questioning why police resorted to using deadly force on their son, and Cajina reiterated that Geney Montes "was only a danger to himself."
"Once we uncovered all the evidence, it was clear there were many mistakes that happened on the day Jesus died," Cajina said. "For me the biggest mistake that caused all this is the fact that Amanda Sommers called repeatedly for help, she called five times that day. SCPD had from 8 a.m. to 5 p.m. to reach a solution for this problem."
Unfortunately, because police are limited to violence and the threat of violence as their tools, their only solution to Montes' crisis that day was to kill him. This is the reason that Stewart would not be charged, in spite of the horrifying video of him shooting an unarmed man through a fence.
As you watch the video below, remember that there are solutions to this mania that are cheaper, far less violent, and don't involve the criminalization of someone's mental health. It's simply up to us to adopt them.